GALLERY
Reserve Marines fight mock battle with Japanese soldiers near Kyoto
by
James Bolinger
February 15, 2019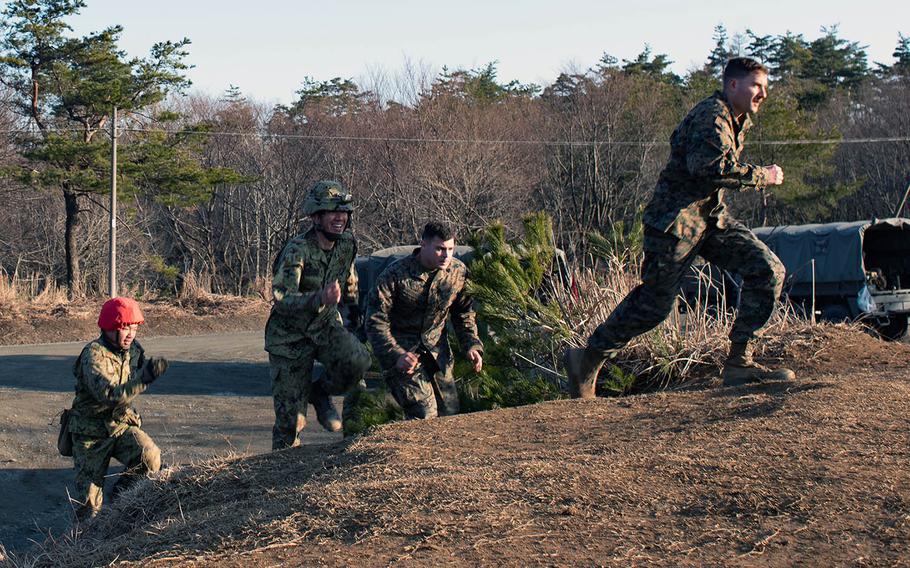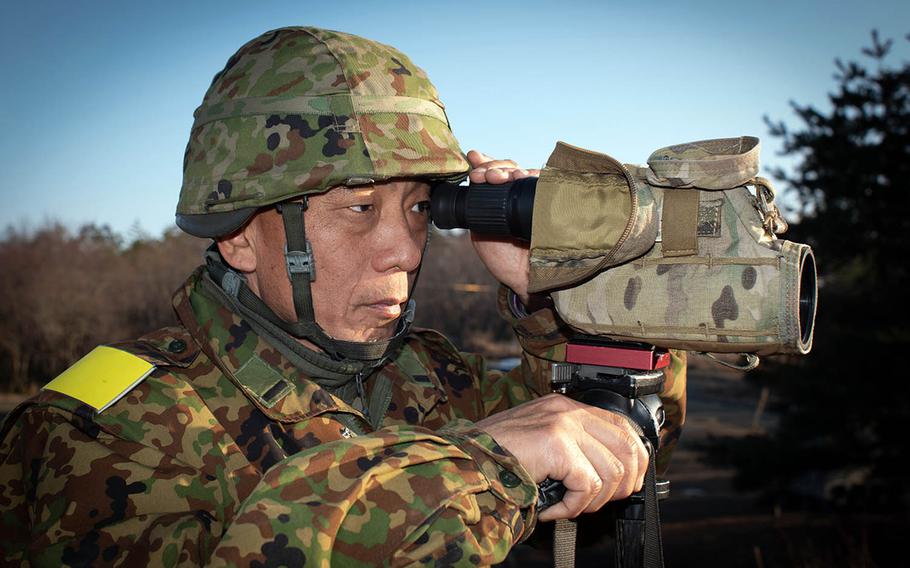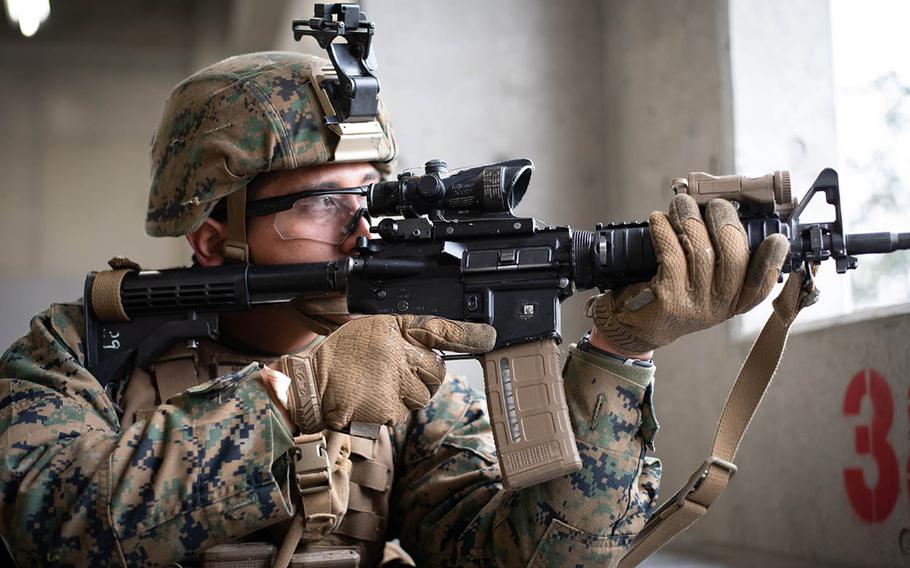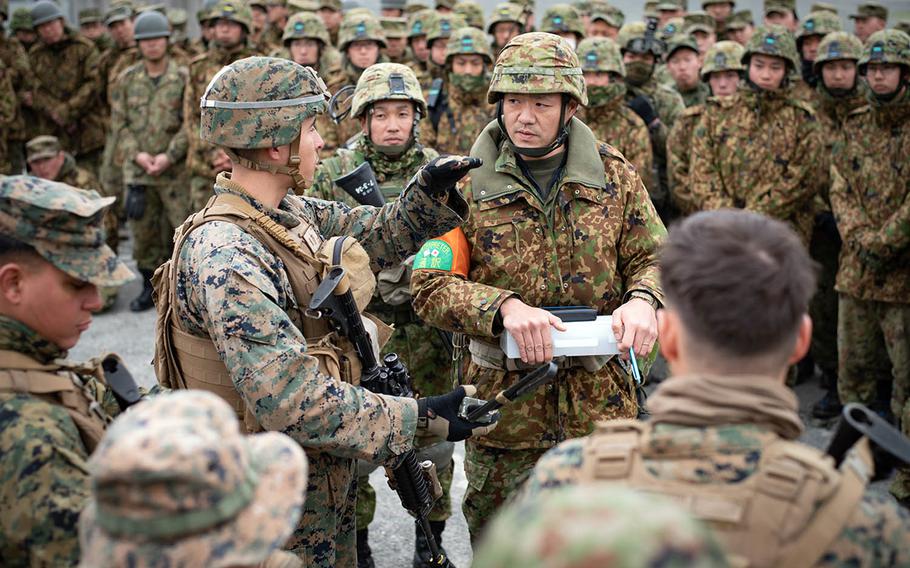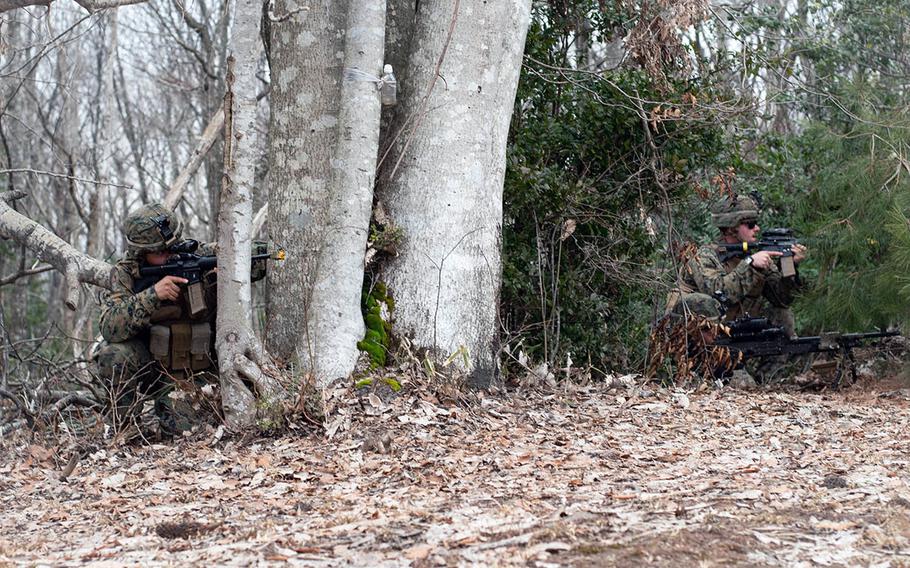 TAKASHIMA, Japan — Reserve infantry Marines and Japanese Ground Self-Defense Force soldiers fought side by side during a three-day mock battle at Aibano Exercise Area near Takashima this week as the capstone for Exercise Forest Light 19-2.
A company of riflemen from the Marine Corps 2nd Battalion, 23rd Regiment, who are on their first deployment since 2009 in Iraq, joined two companies of Japanese soldiers from 7th Regiment for a week of training, before fighting a simulated battle that concluded Thursday.
The annual Forest Light exercise brings together Marine Corps units with those from the Japan Self-Defense Forces for some training and tightening of their military relationship. This year, it was also an opportunity for more intensive training than reservists normally experience.
"This allows our company to train for common goals," said Capt. Ayrton Foy, the G Company commander. "It's something that we don't have time for during regular reserve duty. Since we are working with another infantry company, the training goals are the same. We practice patrolling, tactics, etc."
The week of training before the pitched battle included a multitude of infantry missions such as obstacle clearance, first aid, close-quarters combat and urban warfare.
This the second international exercise for the Marines of 2/23 since they deployed to Okinawa in October. The first was Forest Light 19-1 in December.
The experience of deploying as a whole battalion can't be replicated any other way, said Lt. Col. David Ortiz, the battalion commander. Most of the battalion operations stateside happen at a company level, and the companies that form 2/23 attend drill weekends in three different states: California, Utah and Arizona.
Reserve Marines train for one weekend a month and participate in a two-week annual training when they are not deployed. A Marine infantry battalion consists of a headquarters company, three rifle companies and a weapons company — usually more than 400 Marines.
The goal of Forest Light is to build a stronger relationship with the Japanese military and increase the ability for the two countries to practice actions at the battalion and company levels, Ortiz added. Forest Light 19-2 was conducted alongside Iron Fist 19 a separate bilateral exercise between the 1st Marine Division and Japan Ground Self-Defense Force soldiers at Marine Corps Base Camp Pendleton, Calif., that wrapped up Feb. 8.eThe best part of the exercise in Japan has been interacting with the Japanese, Ortiz said. The Marines get to understand and see a new culture. Japanese soldiers also do some things differently and it's good for the Marines to understand that there are different ways to accomplish a mission.
The Marines of 2/23 are scheduled to return stateside in April and will be replaced by Reserve Marines from 1st Battalion, 25 Infantry Regiment.
bolinger.james@stripes.com Twitter: @bolingerj2004
---
---
---
---