Report: US, Philippines agree on rotations to bases along South China Sea
by
Erik Slavin
April 27, 2015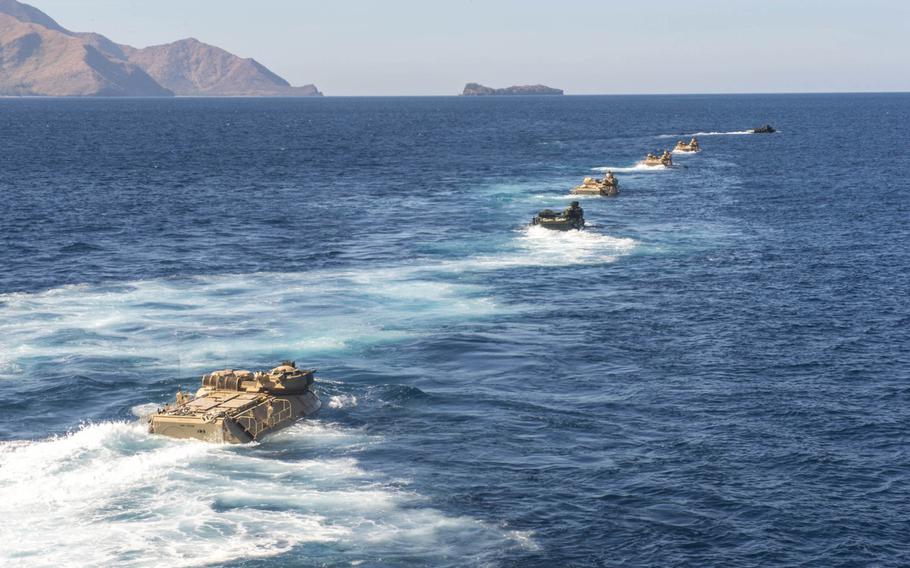 U.S. forces would have access to at least eight bases in the Philippines — including two near a hotly contested island group claimed by China — under a new bilateral defense agreement, according to a Philippine media report.
Armed Forces Chief of Staff Gregorio Catapang told Manila's ABS-CBN News that during an October meeting, he and Pacific Command chief Adm. Samuel Locklear identified eight bases that the U.S. would send troop rotations through. The rotations would happen in accordance with the Enhanced Defense Cooperation Agreement, a bilateral document signed last year that gives the U.S. military the most access it has had since the Philippines ordered the U.S. to leave its former bases in the 1990s.
U.S. access to Philippine bases, which Catapang said wasn't necessarily limited to the eight he specified, is contingent upon a Philippine court ruling over the constitutionality of the EDCA.
The U.S. Embassy in Manila was unavailable for comment on the report Monday. Pacific Command officials also were not immediately available Sunday night, Hawaii Standard Time.
Two of the specified bases, Antonio Bautista Air Base and Naval Station Carlito Cunanan in Palawan, would give the U.S. rapid access to the Spratly Islands, a collection of islets and reefs under dispute between the Philippines and China.
Recent satellite footage has shown China building artificial reefs, runway strips and other fortifications on the islands, which lie in the South China Sea and largely within the Philippines' Exclusive Economic Zone.
The Philippines is pressing its ownership claim in international court, a process expected to take years. China declined court participation and claims the islands, along with an ambiguous right to about 90 percent of the South China Sea, by right of historical discovery.
The Association of Southeast Asian Nations cast doubt on China's actions Monday in a statement that followed a one-day summit in Malaysia.
"We share the serious concerns expressed by some leaders on the land reclamation being undertaken in the South China Sea, which has eroded trust and confidence and may undermine peace, security and stability," the statement said.
During a Tokyo visit earlier this month, U.S. Defense Secretary Ash Carter called island fortification attempts contrary to the "principled pursuit of peaceful interests in the region."
Carter also acknowledged the annual Balikatan exercise, which sent 6,000 U.S. troops — more than double last year's total — to train with their Philippine counterparts.
"Philippines have long been a security partner of ours; we want to deepen that kind of security, and I think that the government of the Philippines wants to do the same," Carter said. "That is reflected in the increased activity and intensity of our exercises together."
Besides the two bases in Palawan, the six other bases named by Catapang include Fort Magsaysay in Nueva Ecija; Crow Valley in Tarlac; Basa Air Base in Pampanga; Naval Station San Miguel in Zambales; and, Benito Ebuen Air Base and Naval Base Rafael Ramos in Cebu.
Twitter: @eslavin_stripes