Report of Japan training with US Navy in South China Sea draws Beijing's notice
by
Erik Slavin
March 14, 2017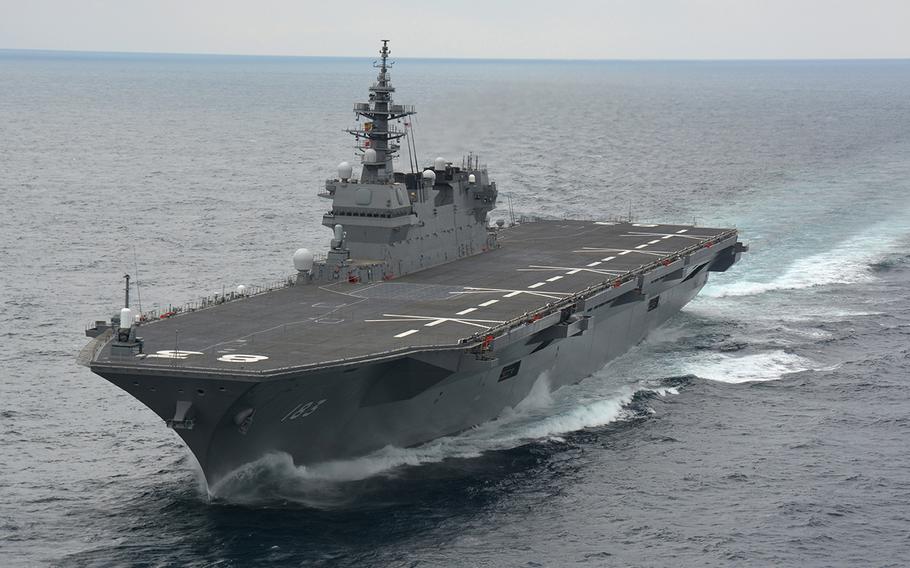 YOKOSUKA NAVAL BASE, Japan – China reacted cautiously on Tuesday to reports that Japan's largest warship may deploy on a three-month patrol to include training with the U.S. Navy in the South China Sea.
China's Foreign Ministry spokeswoman Hua Chunying said that Japan has not yet said anything publicly about its plans for the helicopter destroyer JS Izumo, Japan's largest ship since the end of WWII.
Japan plans to dispatch the ship to the South China Sea in May, three unnamed sources stated in a Reuters report on Monday. A later CNN report stated that the Izumo would also train with U.S. and Indian ships at the Malabar sea exercise later this year, citing a Pentagon source.
"If it only visits several countries normally and passes through the South China Sea normally, we have no objection and hope that the normal exchanges between the countries concerned will play a catalytic role in regional peace and stability," Hua told reporters Tuesday, according to a transcript on the China Foreign Ministry website. "But if they are going to the South China Sea with other intentions, it is another matter."
China has often criticized Japan in recent years over regional security issues and particularly over the Japan-administered Senkaku Islands, which China claims as its own.
The two nations have each scrambled jets over the islands in response to perceived incursions over territorial airspace, while engaging in low-level showdowns between vessels in nearby waters.
China claims nearly 90 percent of the South China Sea based on "historical discovery," despite claims from neighboring coastal nations. An international tribunal last year invalidated the map line used to support China's claim, but Beijing has dismissed the ruling.
Japanese officials declined to discuss Izumo's future operations on Tuesday.
"We are aware of the report but no plan has been decided for Izumo in May and beyond," a Japan Defense Ministry official told Stars and Stripes. "In any case, the Ministry of Defense and the Self-Defense Forces believe it is important to promote enhancement of friendship, goodwill and cooperation with militaries of other countries through port calls and joint exercises by our ships and aircraft," she said.
Reuters reported that Izumo would return to Japan in August, following the deployment.
"The aim is to test the capability of the Izumo by sending it out on an extended mission," one of the sources with knowledge of the plan was quoted as saying. "It will train with the U.S. Navy in the South China Sea," he added, asking not to be identified because he is not authorized to talk to the media.
U.S. Navy 7th Fleet officials referred all comment on Izumo to Japanese officials.
Meanwhile, U.S. Forces Japan on its Facebook page quoted CNN's "Japan's largest warship to train with US Navy" headline and shared the story.
The 24,000-ton helicopter destroyer, at about 813 feet in length, is roughly the size of some of Japan's WWII aircraft carriers. However, Japan's constitutional ban on offensive weapons prevents its forces from operating a purpose-built carrier.
Izumo carries up to nine helicopters and conducts some flight operations similarly to a U.S. amphibious assault ship, though Izumo lacks a Navy-style well deck used to launch assault boats.
Slavin.erik@stripes.com Twitter:@eslavin_stripes