Rash illness, commonly affecting children, spreading in Tokyo
by
Aaron Kidd
July 9, 2015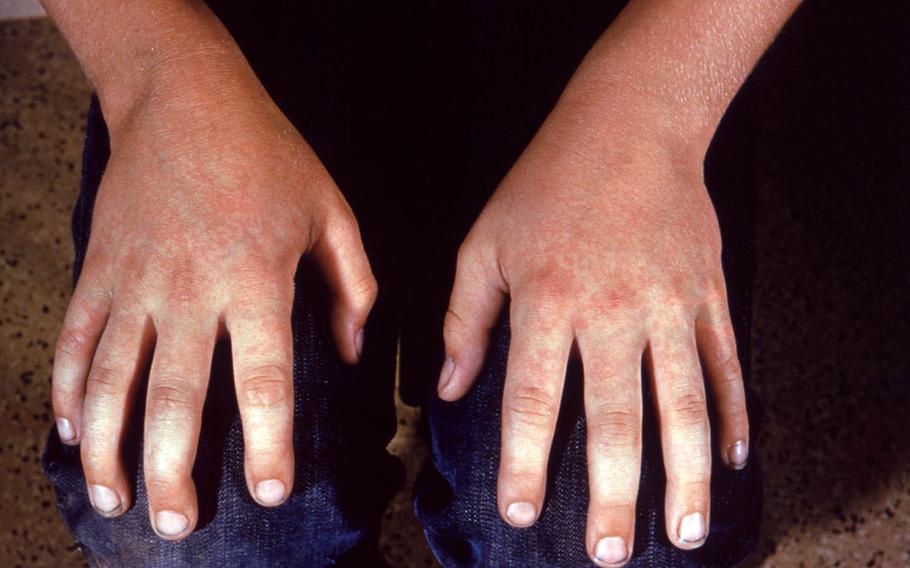 YOKOTA AIR BASE, Japan — Cases of fifth disease — a mild rash illness that most commonly affects children but in rare cases can cause expectant mothers to lose the fetus — are on the rise in Tokyo and expected to worsen, according to the Tokyo Metropolitan Government.
"The number of patients is the highest since we started tracking data in 1997," said Hirofumi Yaguchi, an official with the city's Infectious Disease Control Department.
More than 400 active cases have been reported by Tokyo medical institutions as of June 28, according to the latest data released by the city government. That's up from 331 on June 21. Most patients have been 6 years old or younger.
"The epidemic shows no sign to end at this time," Yaguchi said.
Pediatricians with 374th Medical Group at Yokota Air Base in western Tokyo say they have seen only one or two cases over the past couple of months. However, infections have been reported in communities near the base and Tama Hills Recreation Area: Tama Tachikawa, Hachioji City, Minami Tama and Tama Fuchu. Nerima, Arakawa, Taito and Adachi wards have also been affected.
Initial symptoms of fifth disease, also called "slapped-cheek rash" in the U.S. and "apple disease" in Japan, include fever, runny nose and headache, according to the Centers for Disease Control and Prevention. After several days, a rash with a rosy appearance can develop on the cheeks, and a meshlike rash can appear on the chest, back, buttocks, or arms and legs. The rash, which may be itchy and can vary in intensity, usually goes away within seven to 10 days but can come and go for several weeks.
Older children and adults with fifth disease often develop pain or swelling in their joints, and the government is urging those infected to avoid contact with pregnant women because, in rare cases, it can attack the placenta and cause the loss of the baby.
To prevent further spread of the virus, which is transmitted through respiratory secretions, the government is urging people to practice good hygiene, including hand-washing, gargling and covering up when coughing or sneezing.
Other than relieving symptoms, there is no treatment for fifth disease, which got its name because it was once the fifth most common rash diagnosed by doctors. No vaccine or medicine can prevent the infection, the CDC said.
Stars and Stripes staffer Chiyomi Sumida contributed to this report.
kidd.aaron@stripes.com Twitter: @kiddaaron