Analysis
Rare public discord between US, S. Korea raises concern about rift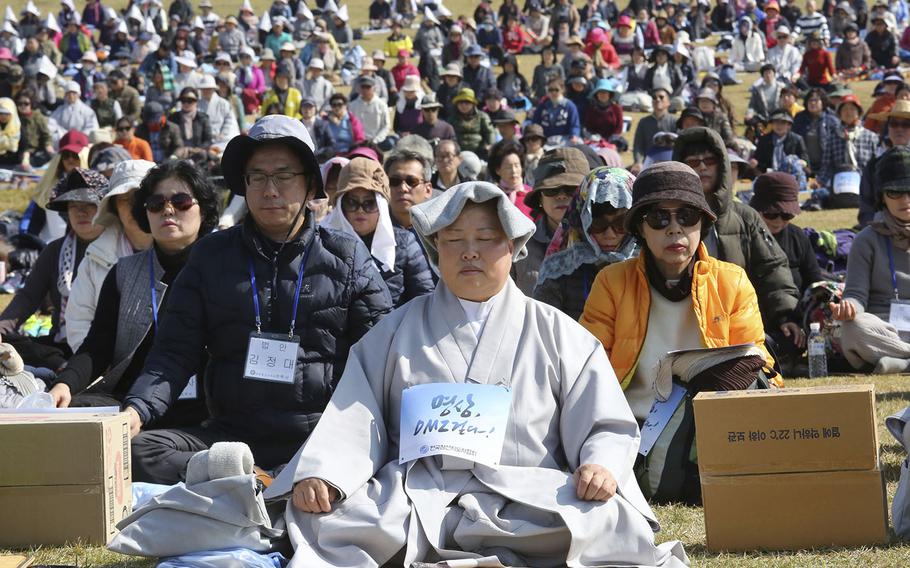 SEOUL, South Korea — A rare public display of discord between the U.S. and South Korea has raised concerns about a growing rift over efforts to persuade North Korea to give up its nuclear weapons.
At the heart of the issue are fears that Seoul is moving too fast and letting its guard down by embracing North Korea despite a lack of progress in denuclearization, although the longtime allies insist they remain in agreement on the final goal.
Under legislative questioning, South Korea's foreign minister revealed Wednesday that Secretary of State Mike Pompeo had complained to her about a recent inter-Korean military agreement.
"I wouldn't say he made strong expressions," Kang Kyung-wha said during an annual parliamentary audit. "It was discontent about how he was not briefed sufficiently, and he had a lot of questions."
The two Koreas have agreed to a series of hostility-reduction steps in and around their heavily fortified border, including halting military drills, setting up a no-fly zone and beginning to remove land mines and guard posts.
Kang also touched on a topic that is sacrosanct for the Trump administration — sanctions aimed at tightening the economic noose on the North.
She told lawmakers that Seoul was considering lifting a 2010 trade-and-investment embargo slapped on Pyongyang following a deadly attack on a South Korean warship. The unilateral measures have little more than symbolic effect and Seoul has consistently expressed support for U.S.-led international sanctions.
Kang and other government officials also quickly backtracked on the idea, which also proved unpopular with conservative lawmakers.
Controversial commentsBut her suggestion was enough to prompt a blunt retort from President Donald Trump.
"They won't do that without our approval. They do nothing without our approval," he told reporters when asked about Kang's comments.
The president has expressed a fondness for North Korean leader Kim Jong Un and said a second U.S.-North Korean summit will be held after the U.S. midterm elections.
But he also has insisted on maintaining economic pressure on the North.
South Korean critics, meanwhile, took aim at Trump's use of the word "approval," which many interpreted as a threat to national sovereignty.
Student activists staged a protest in central Seoul on Friday, chanting "Trump needs to apologize," and waving a banner that read "South Korea is not a U.S. colony," according to the Korea Herald. The newspaper also reported that lawmakers had complained about the U.S. president's comments.
Overall, South Korean support for the alliance remains strong. But it's clear that trouble could be brewing as South Korean President Moon Jae-in seeks to improve relations with the North and restore peace, while Trump insists that Pyongyang first take concrete measures on denuclearization.
The allies also face divisions over Trump's persistent calls for Seoul to pay more to offset the costs of stationing some 28,500 U.S. troops on the peninsula and the deployment of other strategic assets, including an advanced U.S. missile defense system known as THAAD.
Negotiators from the two countries plan to begin another round of talks Tuesday on renewing a cost-sharing agreement that expires at the end of this year.
"I'm worried that the fault line between U.S. and (South Korea) is potentially greater now than at any time previously," said Euan Graham, a senior fellow at the Lowy Institute, an Australia-based think tank.
"Trump's recent comments (on sanctions and burden-sharing) threw petrol on a bonfire. Totally unforced and unnecessary," he added. "The only parties that benefit from a growing rift between Seoul and Washington are Pyongyang and Beijing."
Moon optimisticMoon — who has been dubbed the middle man as he struggles to keep nuclear talks on track — played down the differences and dismissed criticism of Trump's remark about sanctions.
"What he meant was that up to a certain point the U.S. and South Korea need to be in lockstep in terms of consultations regarding sanctions," Moon told BBC in an interview last week.
He told the BBC that Seoul was preparing for improved ties with the North but "actual economic cooperation would be possible only after sanctions are eased and exemptions are allowed."
Moon has dangled economic investment and cross-border projects such as connecting railways and other infrastructure improvements as incentives for the North to dismantle its nuclear arsenal.
But he's limited by sanctions and U.S. control over the United Nations Command, which oversees issues related to the Demilitarized Zone that has bisected the peninsula since the 1950-53 Korean War ended in an armistice instead of a peace treaty.
Moon also has joined Kim in pressing Washington to agree to a declaration formally ending the war. The Trump administration is resisting the idea, saying the North must take more concrete steps toward denuclearization.
"If North Korea takes certain measures, then the end-of-war declaration would be a political statement that would announce that the longstanding hostile relations between Pyongyang and Washington have ended," Moon told the BBC in an interview.
Moon, who took office last year as the peninsula was on the brink of war, said he wanted this to happen at the "earliest possible date."
He also expressed optimism that Washington and Seoul had a "shared understanding … regarding this view."
Balancing actBut the South Korean president faces a delicate balancing act as he tries to keep two unpredictable leaders at the table while maintaining an alliance that has lasted nearly seven decades.
Author and Washington Post associate editor Bob Woodward reported that Trump "was on the verge of blowing up the relationship," earlier this year as he sparred with Moon over trade and sharing the cost burden.
The president also was obsessed with the $3.5 billion cost of maintaining U.S. troops in South Korea, Woodward wrote in his book "Fear: Trump in the White House."
"What do we get by maintaining a massive military presence in the Korean Peninsula?" he asked during a National Security Council meeting in January. Defense Secretary Jim Mattis responded that "we're doing this in order to prevent World War III," according to the book.
gamel.kim@stripes.com Twitter: @kimgamel