Public will be informed about positive coronavirus cases on Okinawa, US military says
by
Aya Ichihashi Matthew M. Burke
April 3, 2020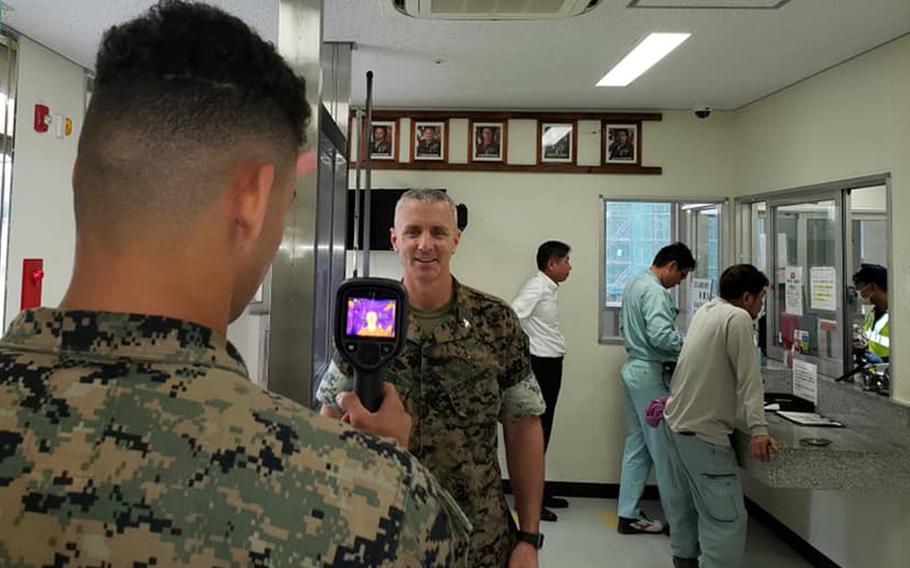 Stars and Stripes is making stories on the coronavirus pandemic available free of charge. See other free reports here. Sign up for our daily coronavirus newsletter here. Please support our journalism with a subscription.
CAMP FOSTER, Okinawa — The U.S. military on Okinawa is vowing transparency to its troops, their families and local civilian authorities, days after the Pentagon ordered commanders to stop publicly announcing new coronavirus cases on their bases.
Officials from the Air Force and the Marine Corps, whose troops make up the bulk of the approximately 30,000 U.S. service members on Japan's southern island prefecture, said they would inform the public about positive cases.
At the same time, those officials said they would no longer release a tally of how many service members are infected.
Defense Secretary Mark Esper on March 27 ordered commanders to stop reporting new coronavirus cases on their installations, citing a concern that potential adversaries might exploit that information. The Pentagon instead would continue to release near-daily updates of total cases among troops, DOD civilian workers, military dependents and defense contractors, Esper said.
On Okinawa, the "Marine Corps will communicate with our force, our families, and our local communities about positive COVID-19 cases," III Marine Expeditionary Force spokesman 1st Lt. Ryan Bruce wrote in an email to Stars and Stripes on Thursday.
"This includes informing the Okinawan Prefectural Government through official medical reporting channels," he said. "We recognize that ultimately our bases are part of the larger community, and we will provide information in a way that balances our need for operational security with our responsibility to keep our Marines, sailors, civilians, their families, and our local communities informed."
To date, no Marine Corps personnel have tested positive in Japan, Bruce said. The force plans to share on social media announcements by Marine Corps Installations Pacific when an individual has tested positive.
"If known, we will share how the individual became infected," he said. "No further details will be released about positive cases, for example: the employment/duty/SOFA status, age, or gender of the individual."
SOFA refers to the status of forces agreement that defines the legal status of U.S. military forces in host countries. SOFA status covers service members but also their families and Defense Department civilian employees.
At Kadena Air Base, the Air Force's 18th Wing said it has established a direct channel with the Japanese and prefectural governments to report details of cases on base.
"Recently the Office of the Secretary of Defense published new guidance concerning what information can be shared at the installation level with regard to COVID-19," said a message posted Thursday to Kadena's official Facebook page. "This created concern not only with our Facebook followers but with the local community."
"Simply put, the guidance states we can no longer publish a running tally of positive cases," the message said. "However, we will continue to share information about new cases in the interest of public health and safety just as we did" on Tuesday.
On Tuesday, the 18th Wing announced that an airman's visiting relative had tested positive for coronavirus. The airman had tested positive earlier.
The wing provided no further information about how the family member got to Okinawa, why he was visiting or where he had been prior to contact tracing except to say he had no contact with anyone on or off base.
Information about cases on Kadena will be shared directly with Okinawa prefecture through the Ministry of Foreign Affairs and the Okinawa Defense Bureau, which represents Japan's Ministry of Defense on the island, a prefectural spokesman said.
However, local officials were unsure what information they would be given. They were assured they would be informed about any contacts individuals on base with coronavirus may have had with the local community.
Chatan Mayor Masaharu Noguni "is relieved to hear that 18th Wing will continuously share information with us," the mayor's spokesman told Stars and Stripes on Thursday.
"Okinawa Defense Bureau officials said as soon as they get the information from the 18th Wing, they will share [it] with us if any new cases happen."
burke.matt@stripes.com Twitter: @MatthewMBurke1
ichihashi.aya@stripes.com Twitter: @AyaIchihashi