Prospect of THAAD missile system spawns uneasiness in Korea
by
Erik Slavin
March 18, 2015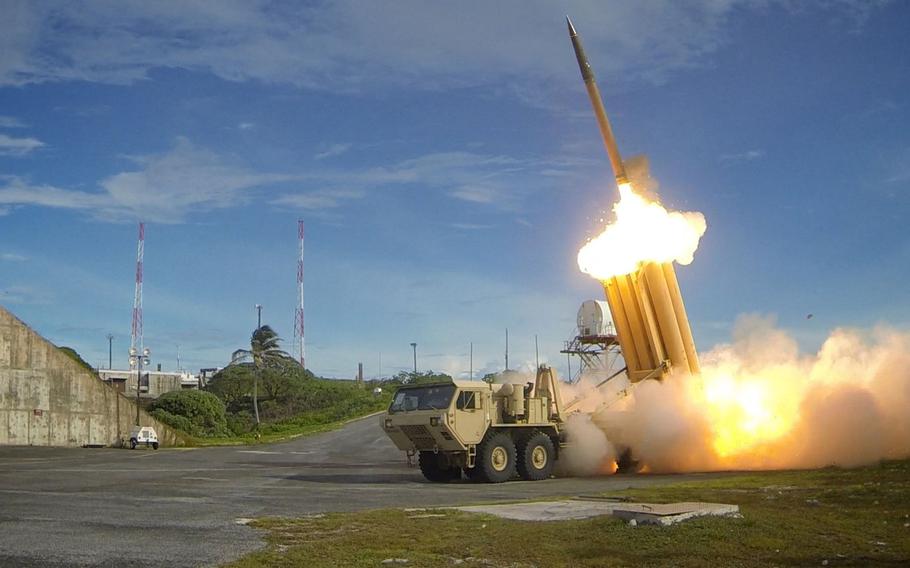 SEOUL — South Korea's uneasiness about accepting a U.S. anti-ballistic missile system raises questions about what its biggest concern is: war with North Korea or diplomatic strains with Beijing and Moscow.
The Terminal High Altitude Area Defense system, or THAAD, would give the U.S.-South Korea alliance a new layer of defense against Pyongyang's ongoing ballistic missile and nuclear weapons program. It would also bring South Korea into a U.S. ballistic defense network that China views as an attempt to counter its strategy for the Asia-Pacific region.
China maintains ambiguous claims on large parts of the East and South China seas, and has recently began reclaiming land on several rocks and islands claimed by U.S. allies. To prevent U.S. intervention on behalf of those allies, or that of Taiwan, China has embarked on a missile program aimed at denying access to U.S. ships, according to numerous Pentagon and congressional reports.
Thus far, South Korean officials have declined to discuss THAAD, publicly maintaining that the U.S. has not formally asked them to deploy the system.
Multiple military and foreign ministry officials who spoke with Stars and Stripes on Tuesday denied a media report, citing an anonymous military source, saying a deal had been struck to deploy the anti-missile systems in the event of a crisis.
However, none of these statements and denials appear to have convinced China. On Monday, China's assistant minister of foreign affairs, Liu Jianchao, reiterated China's opposition to placing THAAD systems during talks with South Korean counterpart Lee Kyung-soo, according to media reports.
On Tuesday, a thinly veiled comment from China's foreign ministry spokesman in Beijing called on South Korea to "take into account other's security concerns as well as regional peace and stability."
Later that day, Assistant U.S. Secretary of State Daniel Russel fired back at China after his own meeting with Lee in Seoul.
"Well, I find it curious that a third country would presume to make strong representations about a security system that has not been put in place and that is still a matter of theory," Russel told reporters in Seoul.
Meanwhile, Russia has protested the possibility of THAAD deployment amid degraded relations with the U.S. and opposition to anything that could be theoretically used against its own ballistic missiles.
With the U.S. and Japan in one camp and China, North Korea and Russia in another, South Korea finds itself in an uncomfortable place, said Kim Hyun-wook, professor at the Korea National Diplomatic Academy.
"If THAAD is deployed, there is a possibility that the Korean peninsula could be the center of the [two] groups' disputes," Kim said.
South Korean officials haven't shown any inclination to give China a veto over its national security; however, China is far and away South Korea's largest trading partner, so they are listening.
Some South Korean leaders also worry that THAAD could further damage inter-Korean relations after an attempt at better communication earlier this year, Kim said.
The THAAD system includes missile launchers, interceptors, radar, communications and support equipment, according to manufacturer Lockheed Martin. It can integrate with the Army's Patriot missile batteries and the Navy's Aegis-equipped ships based in the Pacific.
In September, Deputy Secretary of Defense Robert Work told a Council on Foreign Relations audience that the U.S. had been moving THAAD systems to "key relocations" in the region, including Guam.
Work said the Pentagon was considering "very carefully" whether to place the defense system in South Korea, and added that site surveys had been conducted.
"We've emphasized to both China and to Russia that these are not strategic anti-ballistic missiles … so we continue to work with the Russians and the Chinese to allay any concerns that they have, but they both have indicated concerns, without question," Work said.
Stars and Stripes reporter Yoo Kyong Chang contributed to this report.
slavin.erik@stripes.com Twitter: @eslavin_stripes