Prosecutors seek 2½-year prison sentence for Okinawa's prominent anti-base protest leader
By
Hana Kusumoto Matthew M. Burke
December 6, 2017
---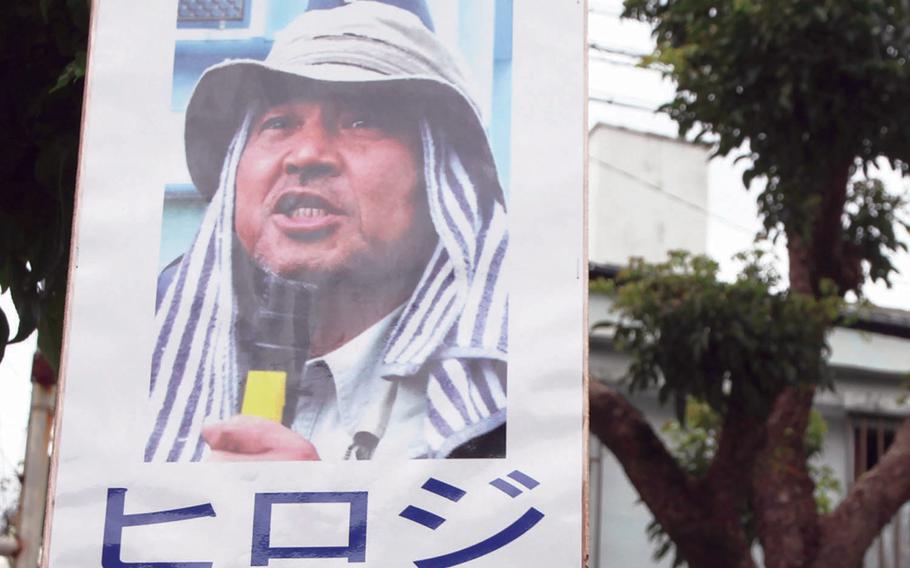 CAMP FOSTER, Okinawa — Japanese prosecutors are reportedly requesting a prison sentence of two and a half years with hard labor for the anti-U.S. base protest leader whose recent five-month detention drew international attention and condemnation from human-rights groups.
Hiroji Yamashiro, 64, chairman of The Okinawa Peace Activity Center, was arrested Oct. 16, 2016, and charged with a string of protest-related offenses — from cutting barbed wire at a U.S. installation to obstructing police and businesses.
He was released in March on a $64,000 bond while awaiting trial.
Yamashiro and his group are committed to halting U.S. military expansion within the island prefecture, including the relocation of air operations from Marine Corps Air Station Futenma to Camp Schwab in the remote northern recesses of Okinawa.
The sentencing recommendation was made by prosecutors during closing arguments Monday at Naha District Court, members of The Okinawa Peace Activity Center told Stars and Stripes after the hearing.
Prosecutors suggested in their closing statement that Yamashiro's actions went beyond the freedom of expression guaranteed by the Japanese constitution.
The defense is scheduled to give its closing argument on Dec. 20. A verdict is expected sometime around March 2018.
A spokesman for Naha District Public Prosecutors' Office on Wednesday declined to confirm the sentencing recommendation. He also declined to discuss details of their closing statements.
In the meantime, Yamashiro's supporters vowed to continue their protest efforts.
A spokesman for The Okinawa Peace Activity Center called the sentencing recommendation unnecessarily harsh.
"It was an illegal arrest, in which the government used its power to trample our protest," said the spokesman, who added that protests conducted by Yamashiro and other group members "are peaceful" and "not illegal."
Yamashiro has become a lightning rod for Okinawa's small but passionate protest movement, which is backed by an anti-base governor and popular support, in the years since he joined the group in 2000. He is often seen at protests directing action with a bullhorn.
After his initial arrest for cutting a strand of barbed wire on a perimeter fence at Okinawa's Northern Training Area while protesting the construction of U.S. military helicopter landing pads, prosecutors added other charges — some stemming from months earlier — such as obstructing officers and causing injury after a scuffle between police and protesters and the forcible obstruction of business after Yamashiro was accused of blocking a Camp Schwab construction gate with more than 1,000 concrete blocks.
During his incarceration, Yamashiro was kept in solitary confinement with no natural light after guards covered up his windows, he told Stars and Stripes last summer. He also said he was denied access to his doctor, denied treatment for a cavity and that guards kept the lights on in his cell at all times and removed towels and items he placed over his face to help himself sleep. Groups like Amnesty International and Veterans for Peace took up his cause, and protests demanding his freedom sprang up on the island and in the U.S., until he was released on bond. Yamashiro then spoke at the United Nations, toured Japan and continued his protest efforts.
---
---
---
---