Progress made identifying remains returned from North Korea last year, defense agency says
by
Matthew Keeler
August 9, 2019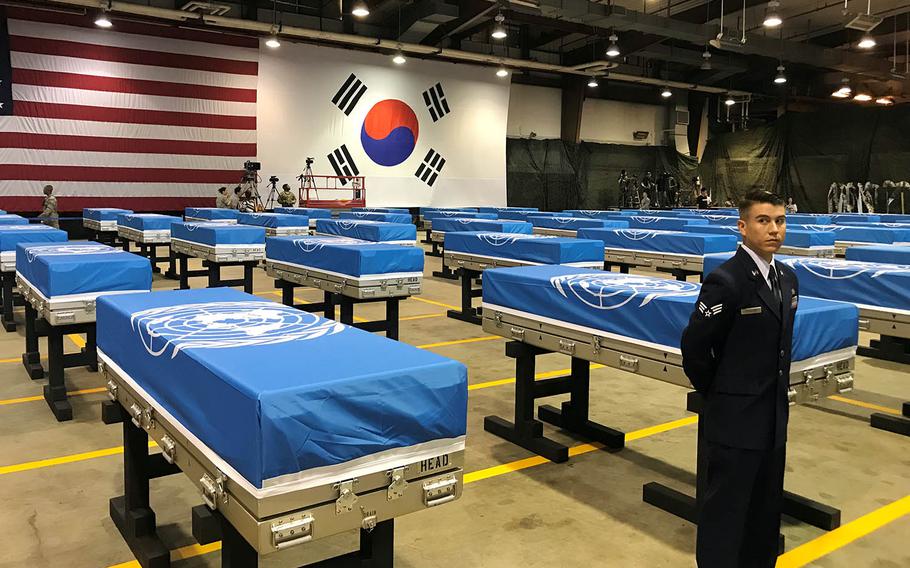 OSAN AIR BASE, South Korea — More than a year after North Korea returned 55 cases of remains, 11 American troops have been identified and more are expected in coming weeks, according to the agency overseeing the process.
The remains were flown to Osan in late July, fulfilling part of the agreement reached by President Donald Trump and North Korean leader Kim Jong Un at their first summit on June 12, 2018, in Singapore.
The cases were then transferred to another aircraft destined for Joint Base Pearl Harbor-Hickam, Hawaii, where the Defense POW/MIA Accounting Agency, or DPAA, began the lengthy identification process.
DPAA "has identified 11 servicemen from those remains and we expect more than 20 additional IDs in the coming weeks," spokesman Air Force Lt. Col. Kenneth Hoffman said Friday in an email, citing ongoing forensic analyses and DNA testing.
Several families have found closure after their long-missing loved ones were identified as being among the remains, including Army Master Sgt. Charles McDaniel and Army Pfc. William Jones who were the first to be announced in September.
"The first two cases were fast due to material evidence with a name association, which allowed a much more targeted query," Hoffman said.
More names will be released after families have been properly notified, he said.
"For the majority of the cases, which are not complete skeletons and are in relatively poorer condition, the ID is made with a heavy reliance on DNA testing by the Armed Forces Medical Examines System at Dover Air Force Base, Delaware," Hoffman said.
Last week, Vice President Mike Pence, who was at the repatriation ceremony last year in Hawaii, said in a tweet that "25 more heroes from the 55 boxes of remains" had been identified.
"As the son of a Korean War Vet, I'm grateful for the hard work by @DeptofDefense," he wrote.
Hoffman said the identification process requires multiple pieces of evidence and techniques, including skeletal biology, dental records, X-ray comparisons, histology, historical research, material evidence, life support materials and all possible types of DNA.
Once an identification is conclusive, DPAA notifies the appropriate service casualty office, which is responsible for notifying the families and making funeral arrangements to include full military honors.
More than 7,600 Americans remain unaccounted for from the 1950-53 Korean War, which ended in an armistice instead of a peace treaty. More than 5,300 of those were believed to have been lost in the North, according to the DPAA.
"Every unaccounted-for U.S. service member is entitled to one certainty: that he or she will not be forgotten," Hoffman said.
Trump and Kim agreed to recover remains as part of their four-point Singapore summit statement, which also pledged to work toward the "complete denuclearization of the Korean Peninsula."
The United States had hoped to resume joint searches in the North after the 55 cases were returned, but those efforts have stalled amid the diplomatic deadlock in nuclear talks.
keeler.matthew@stripes.com Twitter: @MattKeeler1231