Problems force 2 Japanese F-15s to land at US base on Okinawa
by
Aya Ichihashi
July 19, 2018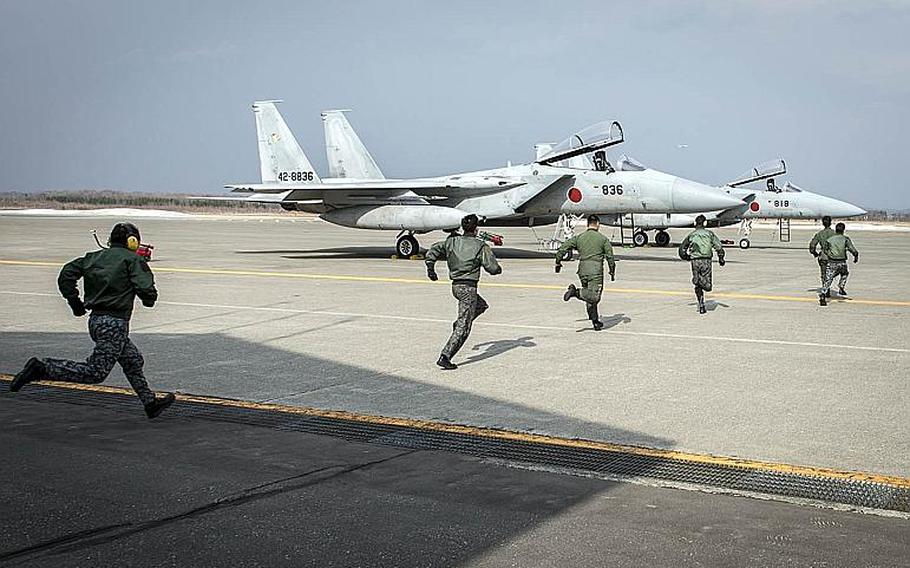 CAMP FOSTER, Okinawa — A pair of Japanese F-15 fighter jets made unscheduled landings Wednesday at an American air base on Okinawa.
The aircraft had scrambled to identify foreign aircraft approaching Japanese airspace when one of the pilots noticed that an inspection panel was open on his jet, said a Japan Air Self-Defense Force spokesman.
The jet could have continued its mission; however, the pilot, concerned that a part might fall out of the compartment and be a hazard to other aircraft, decided to land at Kadena Air Base, Okinawa, he said.
"The other jet on the scramble mission was running low on fuel so the pilot also decided to land at Kadena," the spokesman said.
Both aircraft took off again at about 8 p.m., he said.
The incident follows flight disruptions on Tuesday evening at nearby Naha Airport after two tires burst on a Japanese E-2C Hawkeye early warning plane.
The closure affected nearly 100 flights and about 9,400 passengers over two days, according to the Okinawa Times newspaper.
Naha Air Base commander Hidetada Inatsuki issued a statement Tuesday apologizing for the disruption.
"Our profuse apologies on closing the Naha Airport runway," he said. "It caused so much trouble for many people and airlines. We will find the cause of the incident and make sure it doesn't happen again."