Pompeo to ASEAN: Don't let Beijing 'walk over us' in South China Sea
by
Caitlin Doornbos
September 11, 2020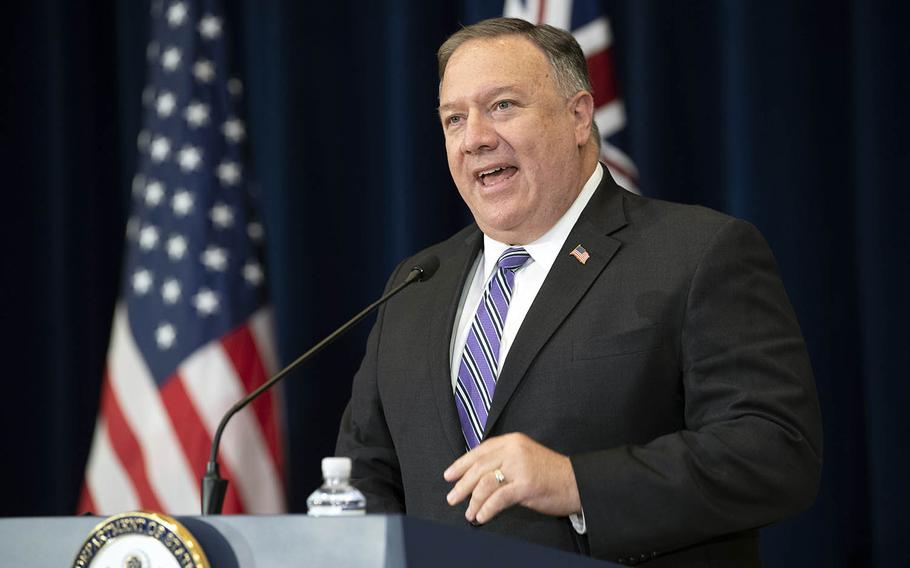 Secretary of State Mike Pompeo on Thursday urged the 10 countries in the Association of Southeast Asian Nations to act against China for building up and militarizing islands in the South China Sea, according a report by The Associated Press.
Pompeo made his plea to the top diplomats of the ASEAN nations over a video call during the group's annual conference, which was held virtually this year because of the coronavirus pandemic.
"Don't let the Chinese Communist Party walk over us and our people," he said in a recording of his speech. "… Don't just speak up, but act."
Beijing claims nearly all of the South China Sea as its territorial waters and believes it has a historic right to the region, building and militarizing 27 islands and reefs in the Spratly and Paracel island chains, according to the Asia Maritime Transparency Initiative.
Four ASEAN countries — Brunei, Malaysia, Vietnam and the Philippines — have overlapping claims to many of the islands, according to the initiative.
The United States does not recognize any nation's claims to the islands and considers the South China Sea international waters. Pompeo on July 13 announced the official U.S. stance rejecting China's claims and actions there, calling them "completely unlawful, as is its campaign of bullying to control them."
During the virtual conference, Chinese Foreign Minister Wang Yi called the U.S. "the biggest driver of militarization" in the South China Sea, the South China Morning Post reported Thursday.
The U.S. military regularly patrols the region, often sending warships and military aircraft on freedom-of-navigation operations near the Spratly and Paracel chains to challenge territorial claims, drawing the ire of Beijing.
"Peace and stability are China's greatest strategic interest in the South China Sea," Wang said at the conference, according to the Hong Kong-based newspaper.
Pompeo suggested ASEAN states "reconsider business dealing with the very state-owned companies that bully ASEAN coastal states in the South China Sea," according to the AP report.
The U.S. Bureau of Industry and Security on Aug. 27 sanctioned 24 Chinese companies "for their role in helping the Chinese military construct and militarize" South China Sea islands and "undermine the sovereign rights of U.S. partners in the region," according to a Commerce Department statement at the time.
"You should have confidence that America will be here in friendship to help you," Pompeo told the ASEAN leaders in the recording.
doornbos.caitlin@stripes.com Twitter: @CaitlinDoornbos