Pentagon travel restriction to impact 8,000 military moves to and from South Korea, command says
---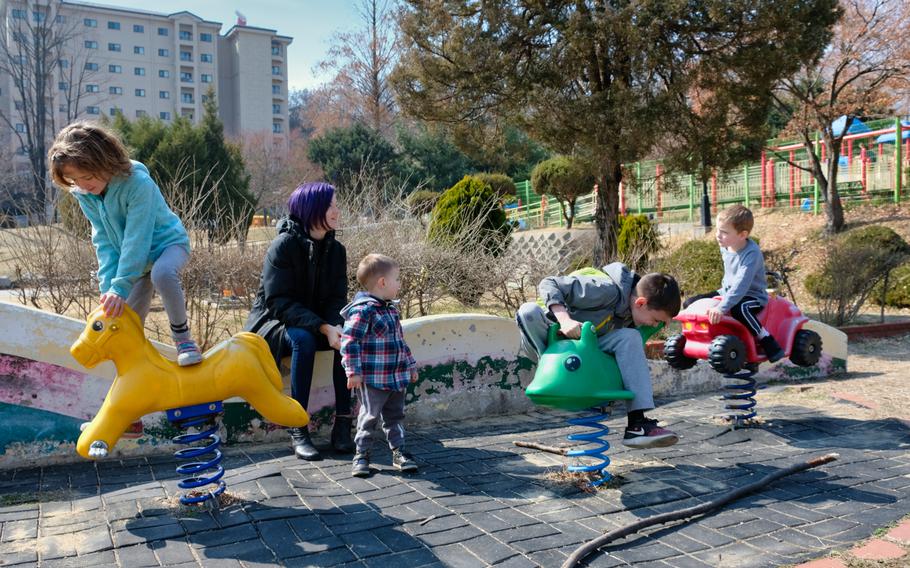 Read more coronavirus coverage from Stars and Stripes.
This story has been updated.
WASHINGTON — Almost 8,000 service members and their families moving to or leaving South Korea will be impacted by the 60-day travel restrictions, according to an estimate by U.S. Forces Korea.
"We're going to have a bulge competing with all the inbounds and normal outbounds for the months of May and June," Gen. Robert Abrams, commander of U.S. Forces Korea, told reporters at the Pentagon during a video teleconference Friday morning.
The travel policy, which starts Friday and is expected to end in mid-May, stops travel and military moves in locations that have widespread outbreaks of the coronavirus, which are categorized as Level 3 and includes South Korea.
The Army has established a 24-hour hotline to help provide information to service members and families affected by the ban on military moves to countries categorized as Level 2 and 3. The number is 1-888-276-9472 and additional resources can be found at www.army.mil/covid-19. Level 2 locations are places with a sustained community spread and Level 3 locations have widespread outbreaks.
During the 60 days, service members and families who would have left for their next duty station will be stuck in South Korea and must wait to leave for their next assignment until after the travel ban lifts, according to Abrams. This affects not just people who are leaving the country, but others who are moving there to replace them. The backlog could potentially affect when household goods are shipped, military housing or child care availability, service members who need to move for military courses or are expected to take up a command position at their next unit.
The military has its main moving season starting in the spring and ending in the fall. About 400,000 service members, Defense Department civilians, and their families are moved each year, with 40% of moves happening between May 15 and August 31, according to the Pentagon.
There are 28,500 service members stationed in South Korea.
Starting April 1, the command is also facing a furlough of several thousand South Korean nationals who support the U.S. mission on the Peninsula, if negotiations for a new Special Measures Agreement falls through between the United States and South Korea.
The contributions in the agreement pays for the salaries of more than 9,000 South Korean employees, logistical support and construction projects. Most of the contributions go back into the South Korean economy. The United States wants South Korea to pay up to $5 billion per year, a five-fold increase, to offset the costs of having Americans in the country supporting its defense.
The furlough will not impact people who support life, health, safety or minimum readiness for U.S. forces in Korea, Abrams said. However, it could exacerbate the impact of the backlog, he said.
Abrams also said he is speaking with the Pentagon about getting additional resources and retaining some South Korean nationals to help mitigate the impact of the backlog. He did not say what specific additional resources he was asking for or any specific strategy they are beginning to implement to address the backlog.
---
---
---
---