Pentagon chides China for weeklong maritime drills underway by disputed South China Sea isles
by
Wyatt Olson
July 3, 2020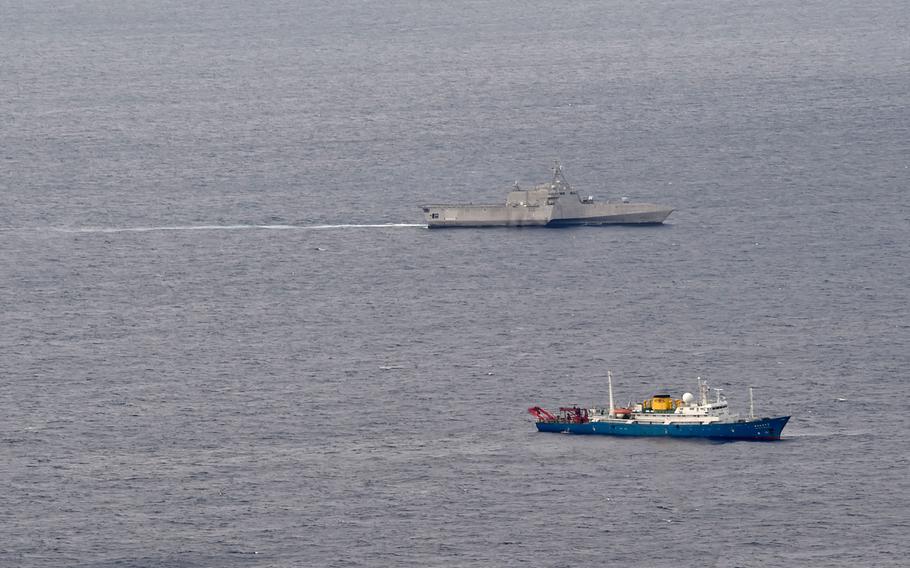 Chinese military exercises being held this week around disputed islands in the South China Sea "further destabilize" relations among nations staking claims in the waters, the Pentagon warned Thursday.
China state media announced late last month that it would conduct military training exercises in waters off the Paracel Islands Monday through Friday.
The announcement included descriptions of boundary lines that "no vessel shall be allowed to navigate within" during those days of operation. The number and types of vessels participating in the exercise were not disclosed.
"The designated area where the exercises are due to take place encompass contested waters and territory," the Pentagon said in a statement. "Conducting military exercises over disputed territory in the South China Sea is counterproductive to efforts at easing tensions and maintaining stability."
Both China and Vietnam have claimed sovereignty over the Paracel archipelago, which China calls Xisha.
The United States, among many other countries, regards much of the sea as international waters and thus open to free passage.
In what it calls freedom-of-navigation operations, U.S. Navy ships routinely transit near reefs and small islets that lie in the sea's international waters but are subjects of disputed claims of sovereignty by China, Vietnam, Philippines, Malaysia, Brunei and Indonesia.
The guided-missile destroyer USS Mustin conducted operations "in support of security and stability" in waters near the Paracel Islands in late May, according to the U.S. Navy.
The littoral combat ship USS Gabrielle Giffords was conducting routine operations in the South China Sea Monday as the Chinese exercise kicked off. Giffords operated near the Chinese survey ship Hai Yang Di Zhi 4 Hao, which over the past few months has ventured into the exclusive economic zones belonging to Malaysia and Vietnam.
The Pentagon statement said the exercise violates China's commitments under the 2002 Declaration on the Conduct of Parties in the South China Sea, which calls for all parties to avoid activities that would "complicate or escalate disputes and affect peace and stability."
China's actions also "further destabilize the situation in the South China Sea" and conflict with China's "pledge to not militarize the South China Sea," the Pentagon said.
olson.wyatt@stripes.com Twitter: @WyattWOlson