Parking problem at Osan spurs leaders to train ordinary airmen to bust violators
by
Matthew Keeler
February 21, 2020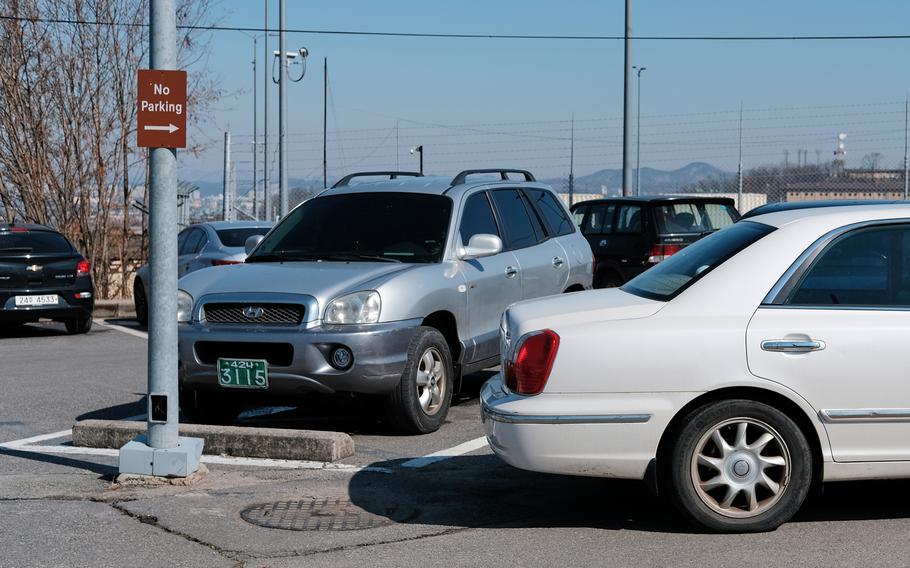 OSAN AIR BASE, South Korea — In a move to combat parking violations, Air Force leaders have resurrected a regulation allowing ordinary airmen to issue citations on this U.S. installation south of Seoul.
The program — allowed by 51st Fighter Wing Instruction 31-218 — has been on Osan's books for nearly four years and authorizes commanders across the base to appoint those outside security forces to write parking tickets after completing a mandatory two-hour training session.
As of Friday, 25 airmen have completed the training and can now issue citations.
Violations at Osan are common and sometimes blatant: parking across solid diagonal lines, parking where it's clearly not an option, parking under "No Parking" signs.
"The point of it is to enforce standards," Lt. Col. Kelly Hannum, deputy commander of the 51st Mission Support Group, told Stars and Stripes on Thursday.
"We've got parking standards for the base that need to be enforced. Our security forces can't be everywhere all the time," Hannum said. "If we have got trained, mature, parking monitors in the units that can address issues on the spot, we want to empower them to do that."
According to the regulation, the monitors may enforce reserved parking in their areas and write tickets for illegal parking, abandonment, moving violations or for having an expired registration.
Penalties for non-moving citations range from supervisor counseling to not being allowed to drive for up to six months.
Originally designed as a walking base, Osan's shopping, dining, and entertainment facilities are centralized with limited parking available. Drivers often resort to parking in spots designated for senior leaders.
"A goal of the parking program is to make parking accessible to the people who need to park, when they need to park," said wing spokesman 1st Lt. Daniel de La Fé.
"A commander's calendar is action packed from restroom breaks to when they kiss family goodbye in the morning," he added. "Everything is scheduled because they are so busy. If they have a five-minute break to run in and finally get a smoothie, or pick up their uniform from dry cleaning, they need to get that access quickly. There are just those few people where their work schedules require it."
Hannum said Osan is aware of its parking problem and is trying to tackle it.
"Unfortunately, building parking lots and garages takes a lot of money and the Air Force military construction program is focused on the primary mission," he said.
In September, U.S. Forces Korea allowed its personnel to register up to two vehicles per sponsored person. It was an effort to make South Korea a more appealing assignment for service members, Defense Department civilians and their families.
However, fighter wing commander Col. John Gonzales was granted an exception to policy for Osan due to too few parking facilities and insufficient roads to accommodate potentially hundreds more vehicles on base.
Osan has approximately 4,600 parking spaces, including a garage near the commissary, another near the exchange and two more for base residents. According to Gonzales' request, more than 8,000 vehicles are registered at Osan but many belong to those living off base.
keeler.matthew@stripes.com Twitter: @MattKeeler1231