Park dedicated to adoptees opens on former US military base in South Korea
by
Yoo Kyong Chang Kim Gamel
September 28, 2018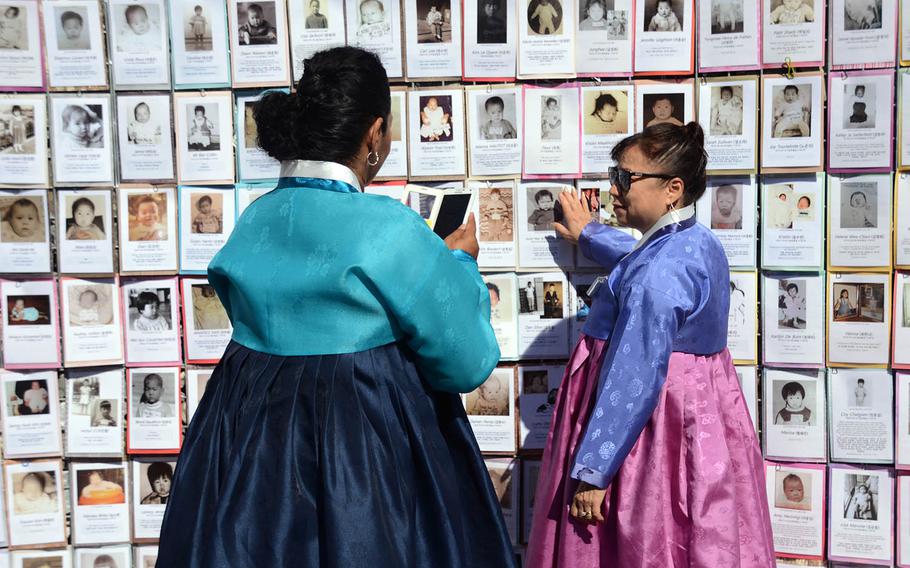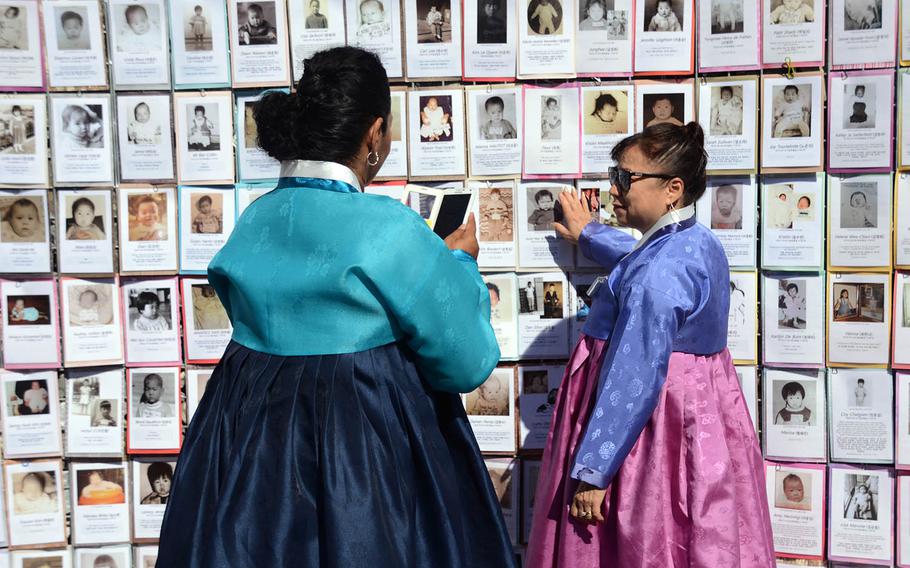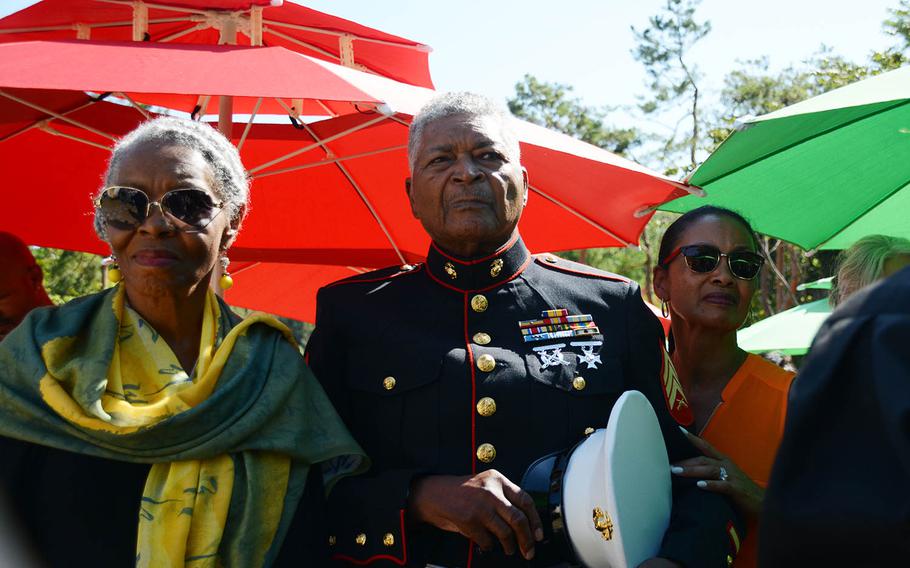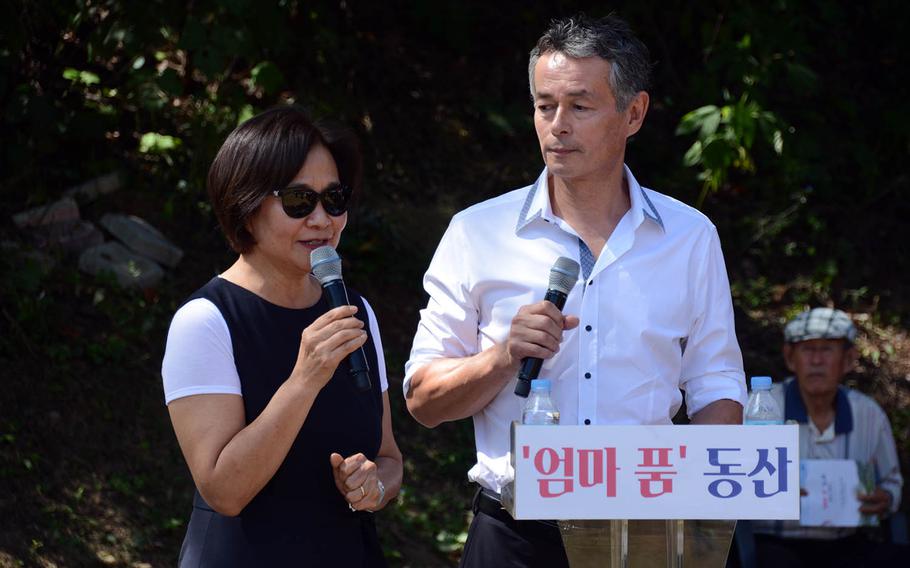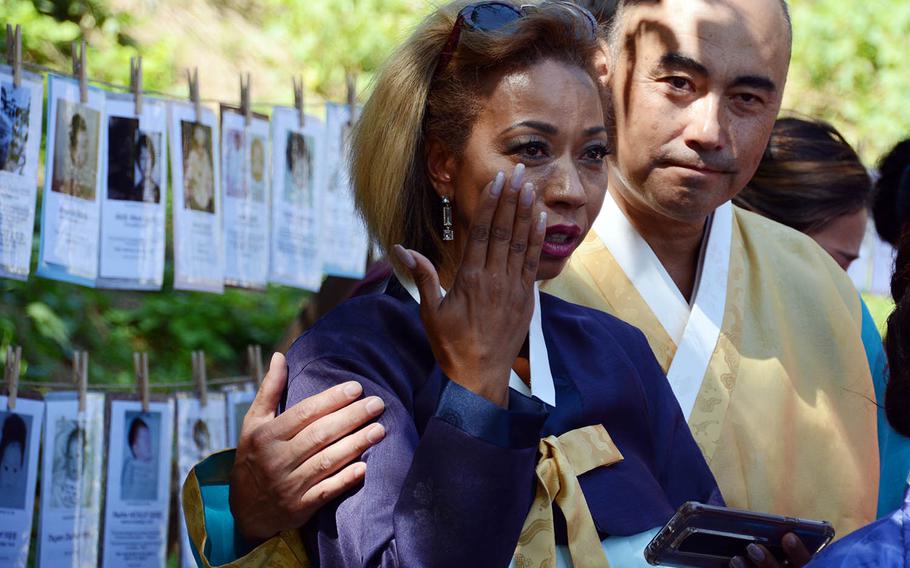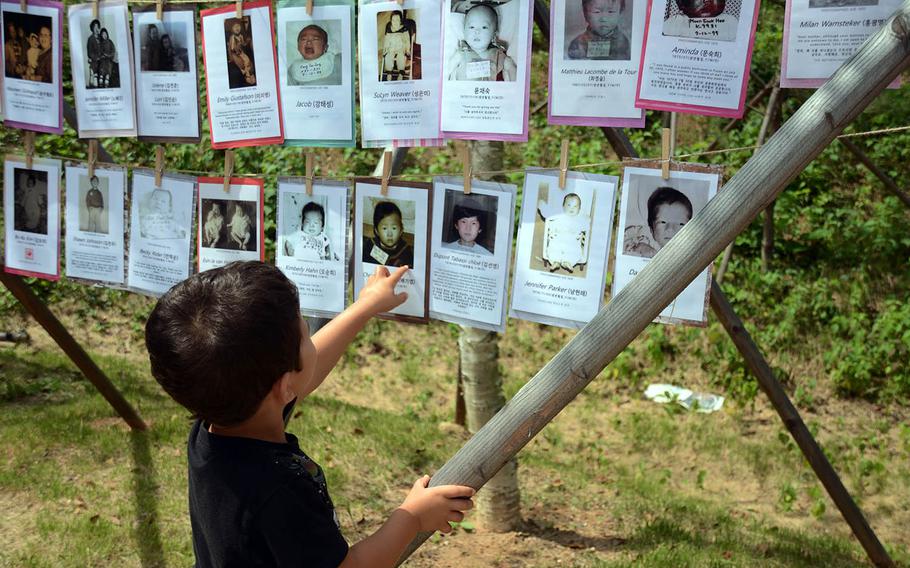 PAJU, South Korea — Sook Hee Scheibner always knew she had been adopted from South Korea at age 3 by a Quaker couple who raised her in Michigan.
What she didn't know was that her birth father had been an American soldier. Scheibner, 65, discovered her biracial heritage only last year.
"I always thought I was 100 percent Korean until I had my DNA done about a year ago through both [Ancestry.com] and 23andMe," she told Stars and Stripes.
Scheibner, 65, was among dozens of Korean adoptees who recently traveled back to their homeland for the opening of a memorial park at Camp Howze, a former U.S. military base near the front lines with North Korea.
Omma Poom, or Mother's Arms, park, which includes several sculptures, is the first such memorial dedicated to South Korean adoptees as the nation tries to come to terms with a tragic legacy of the 1950-53 Korean War.
"It serves as a permanent reminder for all future generations to never forget what has happened here," said Estelle Cooke-Sampson, who was adopted at age 6. "Our parents and family members had to make very difficult decisions through one of Korea's darkest and most tumultuous periods."
At least 200,000 South Korean children were adopted overseas after the war, prompting the nation to be dubbed by the media as one the world's biggest exporters of babies.
Most went to the United States, especially biracial children who faced stigmas because they were born to unwed South Korean women who had slept with American soldiers.
Prostitution was rampant in so-called camptowns near the bases that dotted the peninsula, and the streets were filled with war orphans who had lost their families.
War orphans Theodore Bush Hudson Jr., a retired Marine who participated in the landing at Incheon and other key battles, was so touched by their plight that he and his wife later adopted four of the children.
Wearing his dress blues, the octogenarian was accompanied by two of them as he was honored during the park's opening ceremony on Sept. 12.
"We decided that we would adopt from Korea because I had been here during the war and I saw the conditions that the kids were living in," he said. "My heart just went out to them."
The issue has been largely taboo in a conservative country with Confucian roots that places great importance on ancestors and bloodlines. The government provides benefits to adoptees who return home, but many find silence or a cold reception when they try to find their biological parents.
"I hope you will get a chance to feel some sense of home in your birth country," Paju Mayor Choi Jong-whan said to the crowd at the ceremony.
The project cost nearly $1 million, including the land, sculptures, trees and landscaping, the mayor said. He noted the symbolism of having the park on a former military base.
"Many Korean overseas adoptees were mixed-race children who have their roots in the camptowns," he said. "U.S. troops were based on Camp Howze for over 50 years."
Camp Howze The circular memorial is set on a nearly 24,000 square foot clearing surrounded by trees in a relatively remote setting deep inside the former Camp Howze, which was returned to the South Korean government in 2005.
The camp, which was named after Medal of Honor recipient Maj. Gen. Robert Howze, was one of six so-called "western corridor" bases near the front lines.
Omma Poom, which will eventually be part of a larger neighborhood park, won't be open to the public until the entire project is complete, but it will be available by appointment.
Adoptees at the ceremony, including many who traveled to South Korea as part of the "Mosaic Hapa Tour" for those with mixed heritage, welcomed the recognition.
"We are almost thought of as an invisible scar from the Korean War," said Cooke-Sampson, who was adopted at age 6. "Everything was geared towards getting us out of this country."
Cooke-Sampson, a retired general and state surgeon for the District of Columbia National Guard, said she knows little about her birth parents except that her father had likely been an African-American soldier.
"I could not be upset with him because you have to remember at that time many of these fathers were no more than teenagers themselves. It was a totally different time," she said.
Biracial heritage The popularity of adoptions among Westerners spurred a lucrative industry. Many women have said they were given financial incentives to abandon their babies.
Some women have said they were given financial incentives or felt otherwise pressured to abandon their babies. Others sought to give their children a chance at a better life or an escape from discrimination.
Kim Eunsoon, 70, said her son ended up in an orphanage after he got lost while she was looking for work. He was then adopted without her knowledge.
She finally found him living in New York after a nearly four-decade search.
"I felt like I was going to faint," she said, adding that they have not yet met but have communicated using a translation app on Facebook.
The issue gained international attention during the 1988 Summer Olympics, which were held in Seoul and helped spur the impoverished country's rapid transformation into an Asian economic powerhouse.
A new adoption law was passed in 2012 that required birth mothers to register before putting their children up for adoption. The goal was to impose order on the industry and make it easier for adoptees to find their birth parents in the future.
The government also curbed foreign adoptions, but critics fear that has prevented orphans from finding homes because South Koreans are less likely to adopt.
Scheibner, who now lives in Ridgewood, N.J., and has two children and five grandchildren, said she has grown close to her birth father's family although he died in 2014.
"He never married; he never had any other children and never knew he had a daughter," she said, standing by a wall covered in adoptees' baby photos and messages for their birth mothers, including hers.
Scheibner is still searching for her birth mother, who she believes was from the Pyeongtaek area south of Seoul since that's where her father was based.
"I'm glad that I was given opportunities, but I feel bad for my mother," she said. "It must've been difficult. Even if giving me up wasn't difficult, which I'm sure it was, but even if it wasn't, I'm sure she had a hard life."
gamel.kim@stripes.com Twitter: @kimgamel