Panetta first top US official since war to visit old Vietnam Navy base
---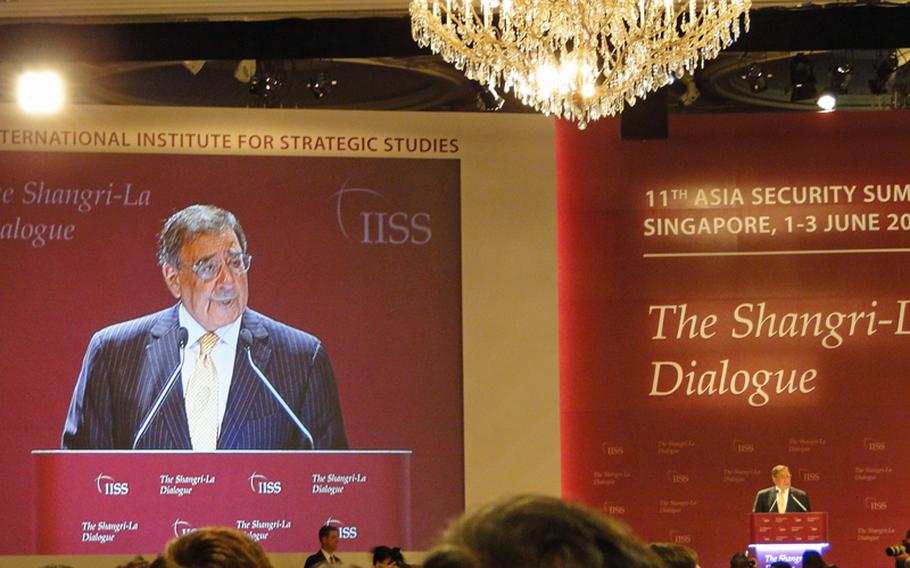 CAM RANH BAY, Vietnam – Just days after commemorating the start of the Vietnam War at the Vietnam Memorial in Washington, D.C., Defense Secretary Leon Panetta made history Sunday by boarding a U.S. ship in this deep-water bay – becoming the most senior U.S. defense official to visit the area since the end of the Vietnam war.
"This ship is America," Panetta told sailors aboard the USNS Richard E. Byrd, a supply ship docked near the former U.S. naval base. "I think it's an important symbol of how the relationship between the U.S. and Vietnam has improved."
This year marks 17 years since the normalization of relations between the U.S. and Vietnam, and Panetta said he is "very confident" that the two countries can improve their partnership.
"We have a complicated relationship, but we're not bound by that history," Panetta said, explaining that the United States hopes to develop and strengthen relations with Vietnam for the benefit of both countries.
"In particular, we want to work with Vietnam on critical maritime issues, including a code of conduct focusing on the South China Sea, and also working to improve navigation in our oceans," Panetta said, hinting at a dispute between China and the Philippines in the South China Sea over the Scarborough Shoal. "It is very important that we be able to protect key maritime rights for all nations in the South China Sea and elsewhere."
Panetta has previously stressed that the U.S. does not take sides in territorial disputes like the one over the Scarborough Shoal.
Panetta is visiting several Asian countries to discuss the U.S. strategic pivot of forces and focus to the Asia-Pacific region. He spoke to troops in Hawaii on Thursday, then traveled to Singapore for the Shangri-La security dialogue. He will meet with Vietnamese defense officials in Hanoi on Monday.
No U.S. warships have entered Cam Ranh Bay since the end of the Vietnam war 37 years ago, though a handful of other U.S. Navy vessels have visited in the past few years, according to a defense official. The bay was previously considered the "jewel" of deep-water ports in Southeast Asia and the U.S. hopes to see it develop into an international logistics hub, the defense official said.
"Access of U.S. naval ships into this facility is a key component of this relationship, and we see tremendous potential here for the future," Panetta told sailors and reporters aboard the Byrd.
"A tremendous amount of blood was spilled here, on all sides," he said. "Questions have been raised about why this war was fought, but if, out of all that sacrifice, we can look beyond wounds of the past, we can begin to build for the future."
hladj@stripes.osd.milTwitter: @jhlad
if(typeof(dstb)!= "undefined"){ dstb();}if(typeof(dstb)!= "undefined"){ dstb();}if(typeof(dstb)!= "undefined"){ dstb();}
if(typeof(dstb)!= "undefined"){ dstb();}
if(typeof(dstb)!= "undefined"){ dstb();}
---
---
---
---