PACOM chief: Environmental peril of China's island-building overlooked
by
Wyatt Olson
July 25, 2015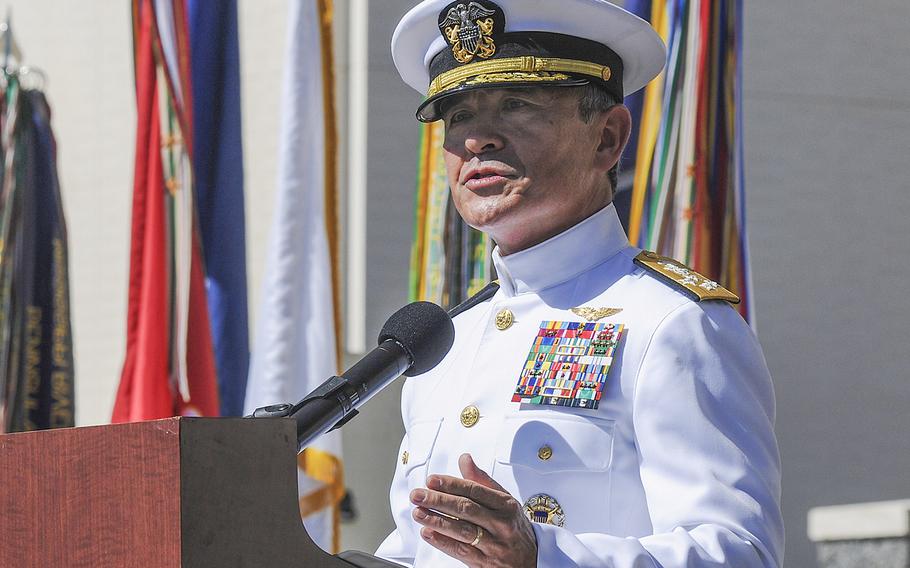 China is "essentially creating false sovereignty" and decimating a fragile ecosystem by building man-made islands on top of coral reefs and shoals in the South China Sea near the Philippines, the head of U.S. Pacific Command said Friday.
"While Vietnam, Malaysia, the Philippines and Taiwan have also conducted land reclamation in the South China Sea, their total — approximately 100 acres over 45 years — is dwarfed by the size, scope and scale of China's massive buildup," said Adm. Harry B. Harris Jr. during the Aspen Security Forum in Colorado, according to a transcript released by PACOM.
China has reclaimed almost 3,000 acres in only 18 months, he said.
The reclamation has been a growing source of concern for PACOM, which in recent months has begun more aggressively patrolling and monitoring the area around the disputed Spratly Islands.
Pacific Fleet commander Adm. Scott Swift flew aboard a routine seven-hour flight in a P-8 surveillance aircraft over the South China Sea on Sunday, sending a clear message to China that the area is a high priority.
Confrontations between Chinese and Philippine vessels have flared up throughout many years over the Spratlys, but only recently did China begin the massive land reclamation atop coral reefs and shoals with little regard to the ecosystem.
"That severe environmental impact is one aspect of China's land reclamation that I don't believe has received enough attention, because protecting our fragile environment is a global responsibility," he said.
Harris cited criticism by John McManus, a University of Miami marine biologist, who told the Washington Post earlier this month that the hasty dredging for the island-building was "devastating" and "the worst thing that has happened to coral reefs in our lifetime."
Even as President Barack Obama has designated an additional 490,000 square miles of the Pacific as a marine sanctuary, "China's destructive activities will result in the permanent loss of coral reef in one of the most important reef systems in the Pacific," Harris said.
Aside from environmental concerns, however, China's efforts to enforce its claims through assertive actions "could have far reaching consequences for our security and economy by disrupting the international rules and norms that have supported the global community for decades," he said.
Noting that each year more than $5.3 trillion in trade passes through the sea lanes of the South China Sea, Harris said that countries in Southeast Asia have managed resources in adjacent waters "because of the internationally accepted definitions for territorial seas and exclusive economic zones."
'The South China Sea is front and center in the tug-of-war between the majority of regional nations that want to maintain the status quo and China that wants to change it to suit its narrow self-interest," he said.
olson.wyatt@stripes.com Twitter: @WyattWOlson