Pacific Fleet Band smooths waters for US military involvement in region
---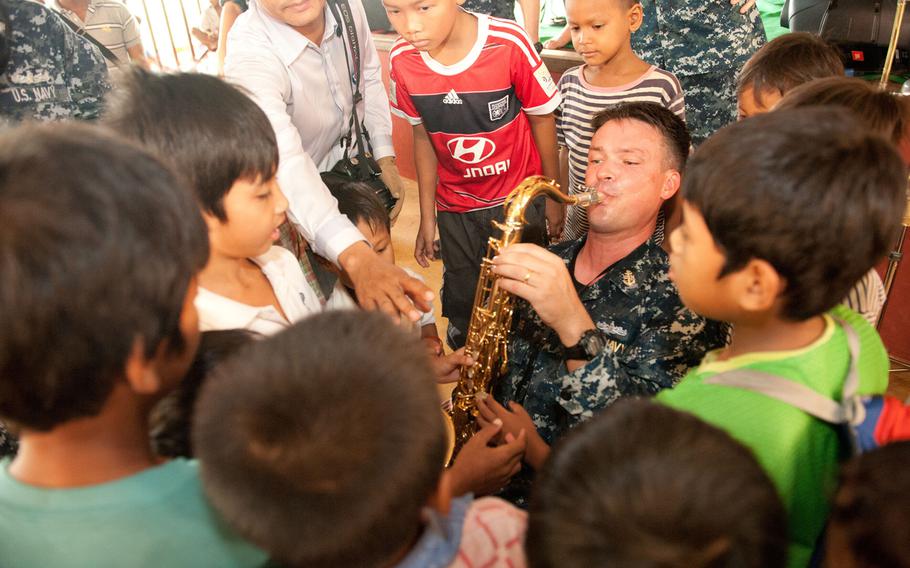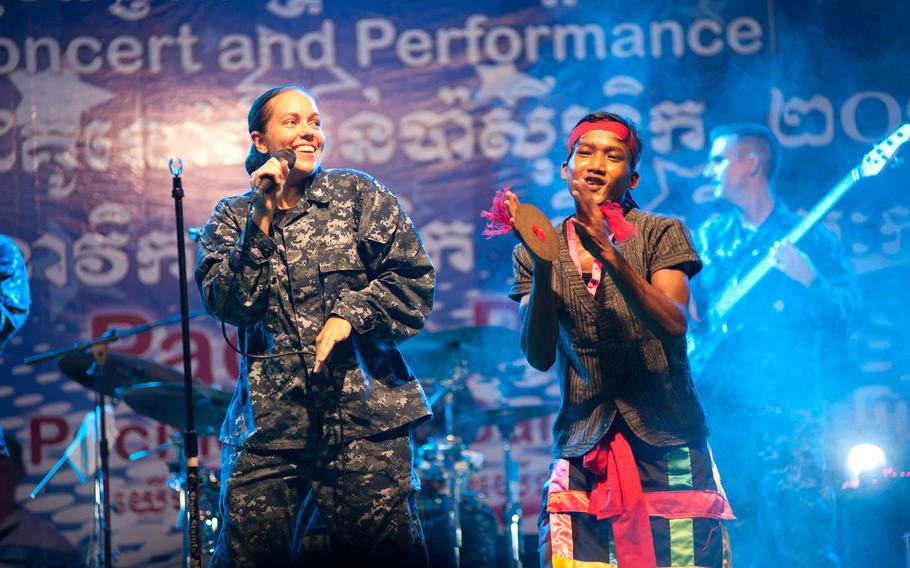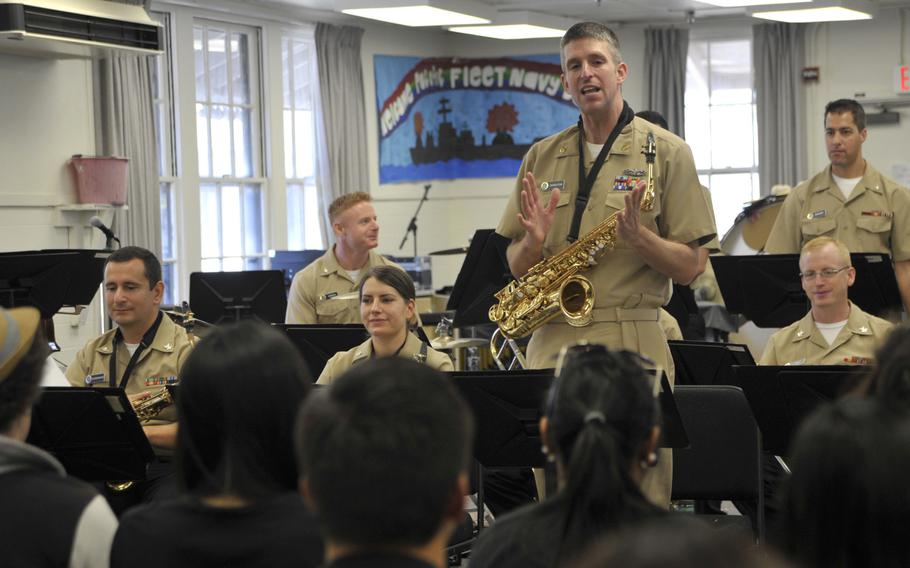 JOINT BASE PEARL HARBOR-HICKAM, Hawaii — For Andrea Sematoske, the value of Navy musicians is as plain as the words of gratitude from a fledgling instrumentalist.
Several weeks after sitting down with some Hawaii middle school students to work on fingering techniques for the difficult-to-play bassoon, Sematoske, a musician petty officer second class with the Pacific Fleet Band, received a letter from one of them that said simply: "I can now play the piece. It's fun and I don't dread it anymore."
With the arrival of new bandmaster Lt. Patrick K. Sweeten last year, members have expanded such community interactions for the 44 enlisted musicians who make up the band. With the establishment of the Music Education Outreach Program last fall, the musicians offer clinics and one-on-one mentoring to junior high and high school students on the Hawaiian Islands.
The local work augments the international outreach that has long been a staple public relations role for the band, which can trace its origins back to pre-World War II Pearl Harbor.
Later this year, the band will be part of the fleet's annual Pacific Partnership, a goodwill deployment to Asian nations that will include musical events at Fiji, Micronesia, Solomon Islands, Kiribati, Papua New Guinea, the Philippines and Vietnam. The Navy estimates the band will reach an audience of 300,000 during the mission.
The band has already held just over 500 outreach performances this fiscal year, reaching about 2.1 million people. Performances can include anything from funerals and change-of-command ceremonies to community concerts and main-street parades.
The costs of maintaining military bands routinely come under scrutiny by Congress, most recently in 2011 by Rep. Betty McCollum, D-Minn., who told a House committee that the Department of Defense had spent $1.55 billion on military bands, performances and tours over a four-year period.
"Is the United States really going to borrow from China and other foreign countries so the Defense Department can spend billions for its 140 bands and more than 5,000 full-time professional musicians?" McCollum asked during a House committee meeting in support of a bill to slash such spending.
The proposed funding cut failed, but the pressure resulted in the Air Force cutting 103 band positions and eliminating 12 active-duty bands.
U.S. Pacific Fleet was unable to provide Stars and Stripes with the total annual cost of operating the Pacific Fleet Band, but its travel budget for this fiscal year is $51,000, a Navy spokesman said.
Sweeten is quick and direct when asked why the Navy should invest in making music.
"Navy bands are equipped to open doors," said Sweeten, a trombonist with a master's degree in music.
"The outreach we convey reaches people of all languages because we know music is a universal language," he said. "We call it soft-power projection because if we can go in and perform, we leave a very positive impact wherever we go. That makes it easier for the government to come in and have discussions on other matters if we've already been there and established a rapport with the locals."
The value of the Pacific Fleet Band's soft power is not lost on the Navy's chief of naval operations.
"When I was the commander of the 7th Fleet in 2006, I would have given anything to get a port visit in Indonesia — somewhere, anywhere — but couldn't do it," Adm. Jon Greenert told a group of sailors during an all-hands call in Washington last fall, according to the Navy Times. "So we sent the Navy Band down there in civilian clothes and played a concert. It was great. We sent them back down in uniform.
"Then they said, 'OK, you can bring a ship in — a little one.' So we sent a frigate; that got things started."
The Navy now makes routine port calls to Indonesia, including 7th Fleet flagship USS Blue Ridge last year, as well as assisting in the country's search for a missing airliner in December. Bloomberg reported earlier this year that Indonesia's new president intends to overhaul its navy to mimic the structure of the U.S. Pacific Fleet.
Closer to home, the band is having a growing impact on local students through the new outreach program, with the band supporting about 60 events in Hawaiian schools this year, employing not just the band's full-blown wind-ensemble concert band, but also a woodwind sextet, woodwind quintet, brass quintet, clarinet trio, jazz combos, two rock bands and one – soon to be two – New Orleans-style brass bands.
With such versatility, Sweeten said, local school music directors have been enthusiastic about their students rubbing shoulders with these professionals.
"They're all abuzz about the Pacific Fleet Band, and I love it," he said.
The Navy band has great flexibility in both musical genres and personnel, Sweeten said.
"As a former music teacher myself, I know that spring is solo and ensemble time [in schools] so we will send out individuals to work maybe with all their trumpeters on whatever solos they're working on for contests," he said. "Send out one of our chamber ensembles to coach and motivate and teach their brass quintets or brass ensembles."
The Navy band often does side-by-side concerts with school bands, which culminate with some students joining the professional musicians to play a few numbers together.
"Band directors can use it as a reward," Sweeten said.
"We make a commitment to these education programs, to the band directors for the most part. It's a dedication. It isn't just a one-time performance. We stay connected."
Gary Washburn, music director at Honoka'a High School on the northern tip of Hawaii's Big Island said one of his students has expressed an interest to someday join the Navy band.
Those slots are highly competitive, however, and almost all the band members have a higher degree in music, with some having multiple master's degrees and even graduate-level degrees in music.
On a grander scale, the Navy band is the lead for the 30th annual combined military band concert to be held Friday and Saturday at the historic Hawaii Theatre Center in Honolulu.
The free performance brings together top musicians from the Navy, Army, Marine Corps, Air Force and Hawaii Army National Guard.
"[W]e're blessed to have this job," Sweeten said. "We're professional military musicians able to still keep one foot into the educational world where a lot of us are trained or have job experience, but we're still able to go out and represent the nation and the Navy in areas that probably none of us thought we'd get to visit within a lifetime."
---
---
---
---