Pacific Coast Guard focuses on essential missions without pay as government shutdown continues
by
Wyatt Olson
January 10, 2019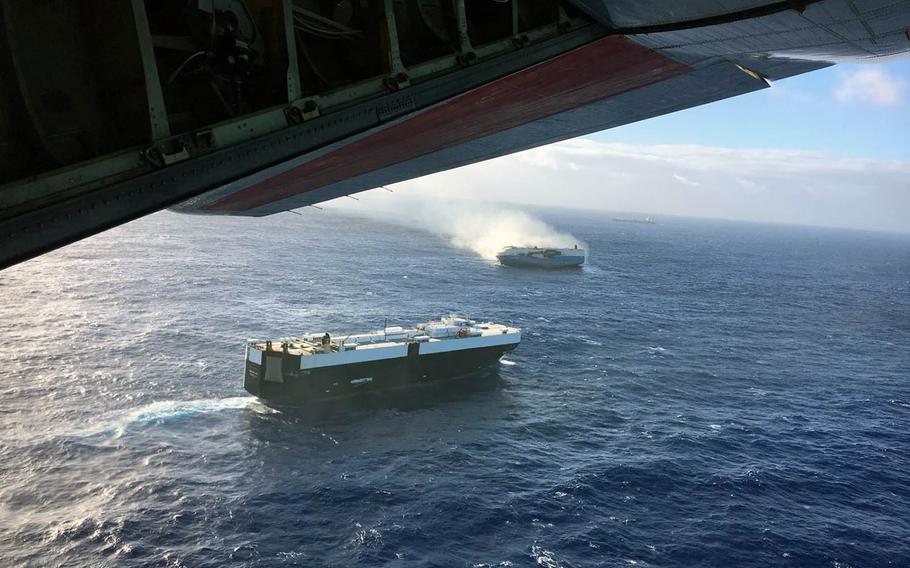 FORT SHAFTER, Hawaii — The Coast Guard's 14th District area of responsibility is a vast 12.2 million square miles in the Pacific Ocean.
It takes in most of the South Pacific, with crews and vessels for sea and air stationed in Guam and Hawaii. Other personnel are stationed in detachments in Japan, Singapore and American Samoa.
As of the beginning of the year, however, the district's 835 active-duty members — "blue-suiters," as the service calls them — and some essential civilian employees have been carrying out those missions without pay due to the partial government shutdown.
In an average year, the 14th District handles 800 to 900 cases of search-and-rescue, marine environmental protection, marine safety and coastal law enforcement. They often work closely with the U.S. Navy and America's allies and partner nations in Asia.
"We have been approved to continue essential operations for missions such as search-and-rescue, homeland safety, port security and law enforcement and environmental response — that's where our effort is," said Chief Sara Muir, a Honolulu-based spokeswoman for the 14th District.
"The plan is to continue doing those essential missions as long as necessary to do so," she said. "The Coast Guard is dedicated to ensuring the safety of life at sea and protecting people operating in this area."
Meanwhile, vendors who provide the Coast Guard with fuel, repair parts, maintenance or any other services needed to carry out missions providing for national security, search-and-rescue and environmental protection will not be paid until the shutdown ends.
"Anybody who is going to provide us something that we require to perform an essential mission, we can obligate those funds at the time but [vendors] would not receive payment until after the appropriation is complete or one of the alternative funding measures is enacted," said Lt. Amy Midgett, a Coast Guard spokeswoman in Washington, D.C.
The shutdown began Dec. 22 after President Donald Trump and lawmakers failed to come to an agreement on allocating money to build a wall along the U.S. border with Mexico. Trump insisted that $5.7 billion in wall funding be added to federal spending legislation needed to keep the government operating.
Democrats, who assumed control of the House with the new year, and a handful of Republicans oppose the funding.
The shutdown has affected about 800,000 federal workers, including those working for the U.S. Department of Homeland Security, under which the Coast Guard operates.
Coast Guard personnel received paychecks at the end of 2018 after the service was able to pull together funds for that pay period. Essential personnel are now working without pay, while nonessential employees have been furloughed.
The Coast Guard is the only military service working without pay during the shutdown. The Department of Defense is funded to the end of the fiscal year in September.
The 14th District has managed 46 cases in its region between Dec. 22 and Monday, some lasting a few hours, others for days, Muir said. Two have been major incidents.
On Dec. 31, the Coast Guard responded to a distress call from the Sincerity Ace, a 650-foot auto carrier that was on fire about 2,000 miles northwest of Honolulu.
The Coast Guard dispatched a C-130 plane from Oahu to search for mariners who had abandoned the burning ship. Crew members from four merchant ships rescued 16 of the 21 crew members who abandoned the ship. Four others were found dead in the water, and one remains missing.
Just as that search ended, the 14th District dispatched another C-130 on Dec. 3 to Taka Atoll in the Marshall Islands, where a 308-foot Chinese-flagged commercial fish carrier had grounded.
Muir described the Sincerity Ace disaster as "an example of an emergent search-and-rescue case that we're still going to respond to."
The 14th District is, however, curtailing other routine duties during the shutdown.
Among the activities curbed or delayed are boarding recreational vessels for safety checks, issuance or renewals of merchant documentation and licensing, administrative functions and training, Muir said.
Maintenance is also curtailed on the district's surface and aviation fleets, which include four C-130s, three MH-65 helicopters, six patrol boats and two buoy tenders, she said.
The Coast Guard is also cutting back on fisheries enforcement patrols in Hawaiian waters, which are done to stop unregulated and illegal fishing.
"We'll respond to emergent concerns, but we aren't doing the preemptive patrols at this time," Muir said.
"The longer the shutdown lasts, the more difficult it will become for the Coast Guard to maintain mission readiness," she said.
Most Coast Guard members joined up "to make a difference and love what they do," she said, "but the uncertainty of getting paid does weigh on the minds of our crews and creates unnecessary stress."
Muir does not, of course, know how the district's hundreds of blue-suiters would cope with loss of pay in an extended shutdown, but she could speak for herself.
"I'm going to continue to do my duty, sir," she said.
olson.wyatt@stripes.com Twitter: @WyattWOlson