Pacific Air Forces commander stresses a more dispersed, expeditionary-style fleet
by
Wyatt Olson
September 4, 2019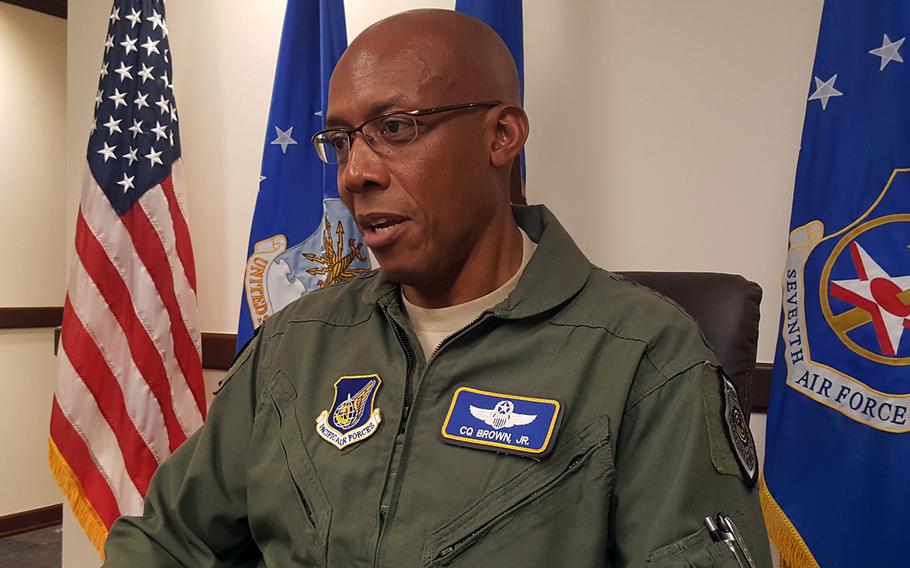 JOINT BASE PEARL HARBOR-HICKAM, Hawaii — Pacific Air Forces is moving to distribute its fleet more broadly across the theater to both enhance flexibility and reduce vulnerability as a target, the PACAF commander said Tuesday.
"I do believe if we ever went to conflict, we would be at risk for sitting static in certain locations," Gen. Charles Q. Brown said during a media roundtable at PACAF headquarters.
"We have to be able to disperse. We can't all be sitting on big bases and being big targets," he said. "The ability to move around — and have the flexibility to pick up and move fairly quickly — I think is important."
A more dispersed, expeditionary-style fleet also heightens deterrence, Brown added.
"We don't want to go to war, but I want to make it so that I decrease the level of confidence of those that might want to contest us," he said, adding that PACAF can elevate that deterrence by operating from a multitude of locations.
"I can move quickly," he said. "I can do it light and lean so I can put capability anywhere in the region."
Brown oversees a dauntingly vast area of responsibility in which PACAF is in charge of planning and conducting offensive and defensive air operations out of its major air bases in Alaska, Hawaii, Guam, Japan and South Korea.
Secretary of Defense Mark Esper emphasized the importance of the region last week when he described it as "our priority theater."
Speaking at the Naval War College, Esper said the U.S. military needed greater presence in "key locations" in the Pacific, which means "looking at how we expand our basing locations, investing more time and resources into certain regions we haven't been to in the past."
Esper did not elaborate on where those locations might be.
PACAF's concept of a light-and-lean fleet calls for small teams to deploy for brief periods in diverse locations, which means working through the logistics of replenishing munitions and fuel and keeping communications open.
"We practice these in various exercises around the region," Brown said.
For example, in April PACAF airmen and aircraft dispersed from Andersen Air Force Base in Guam and rapidly resumed operations at airports in Tinian, Saipan, the Federated States of Micronesia and Palau.
The exercise fleet included F-16s, F-15C Eagles and C-130s from Japan, C-17s and F-22s from Hawaii and personnel from Guam and Alaska.
Brown said PACAF is now "codifying" what has been learned from such dispersal exercises so that the new paradigm can be implemented across the Air Force when applicable.
Last month, Brown and Air Force Chief of Staff Gen. David Goldfein visited Australia, the Philippines and Vietnam, which cooperate with the U.S. military in widely varying degrees.
Under the 2014 Enhanced Defense Cooperation Agreement, facilities are being built on five Philippine military bases for visiting U.S. troops. The U.S. will also stockpile equipment and supplies at those sites.
Brown said the Pentagon is considering expanding beyond the five locations.
"There is discussion about trying to do maybe more sites," he said. "I think it's important that we actually make sure we get the initial sites right."
Meanwhile, Vietnam is looking to acquire a fleet of Beechcraft T-6 training planes from the United States – a departure from its usual aircraft supplier, Russia, Brown said. The Air Force is working with Vietnam on site surveys for their location, he said.
Vietnam officials Brown met were unrestrained in their criticism of China's incursions into Vietnam's exclusive economic zone and were anxious for diplomatic support from the United States, he said.
On Aug. 22, the U.S. State Department issued a statement criticizing China's "interference with Vietnam's longstanding oil and gas activities" in the South China Sea.
No one is talking about expanding a U.S. military presence into Vietnam, two nations that were locked in a bitter war just 50 years ago. But the relationship between the former enemies is warming, Brown said.
"It's rife with opportunity," he said. "We kind of see things the same way in the region."
olson.wyatt@stripes.com Twitter: @WyattWOlson
---
---
---