GALLERY
Overseas schools shouldn't feel budget squeeze, Carter says
by
Armando R. Limon Seth Robson
April 9, 2015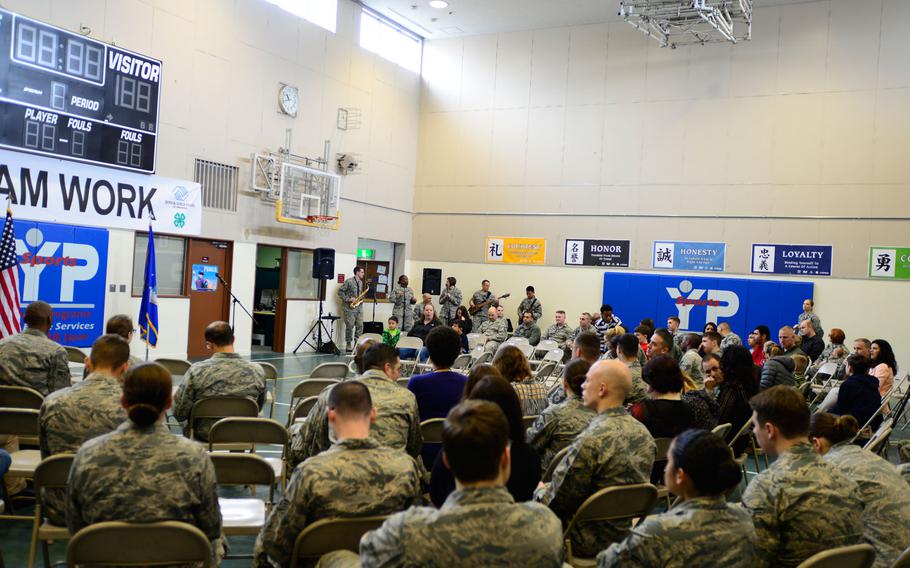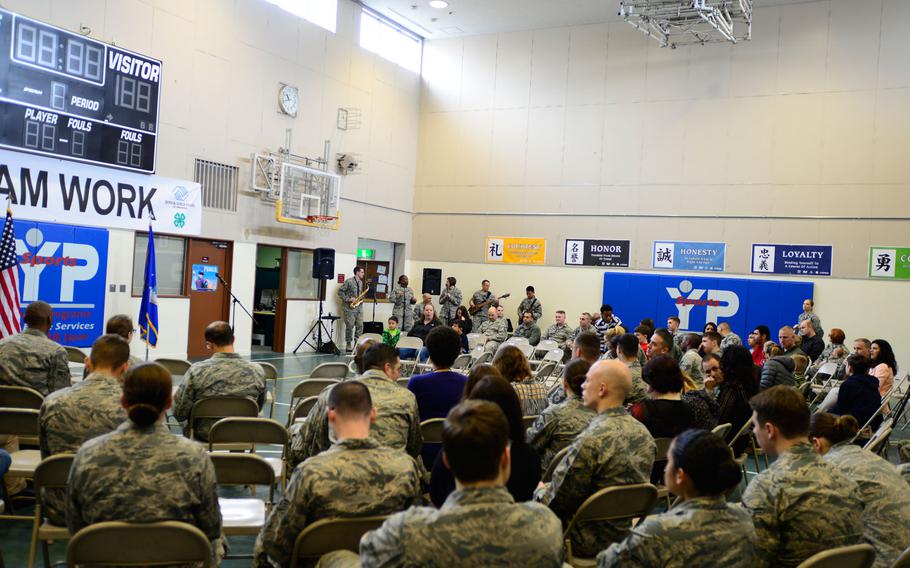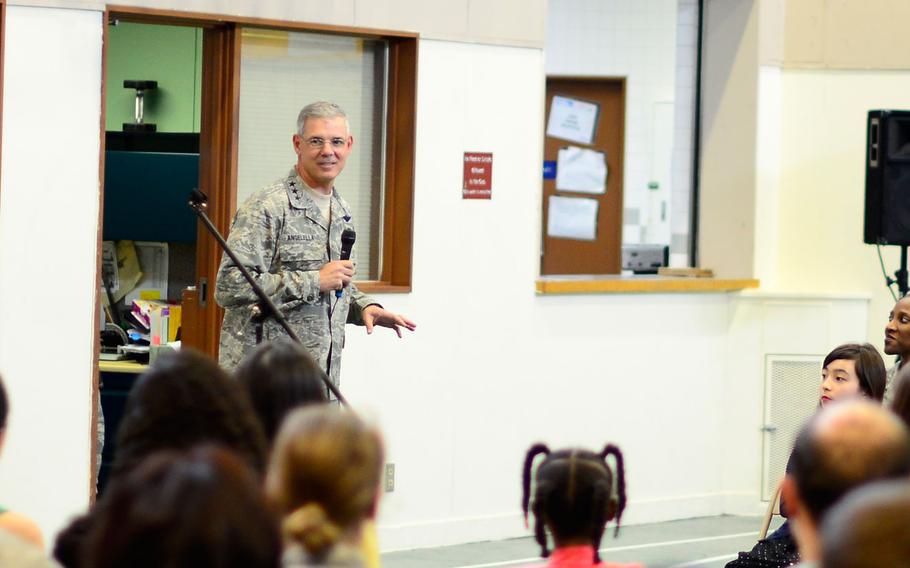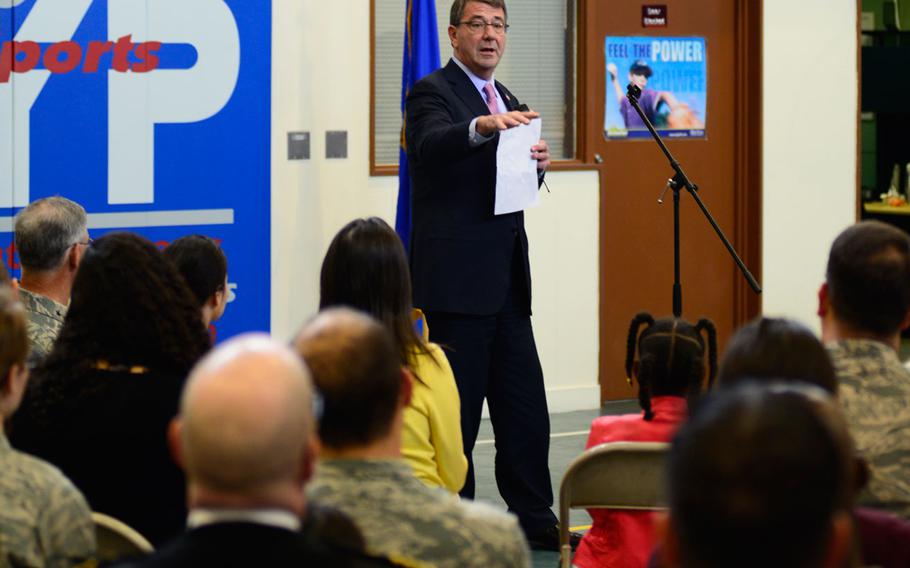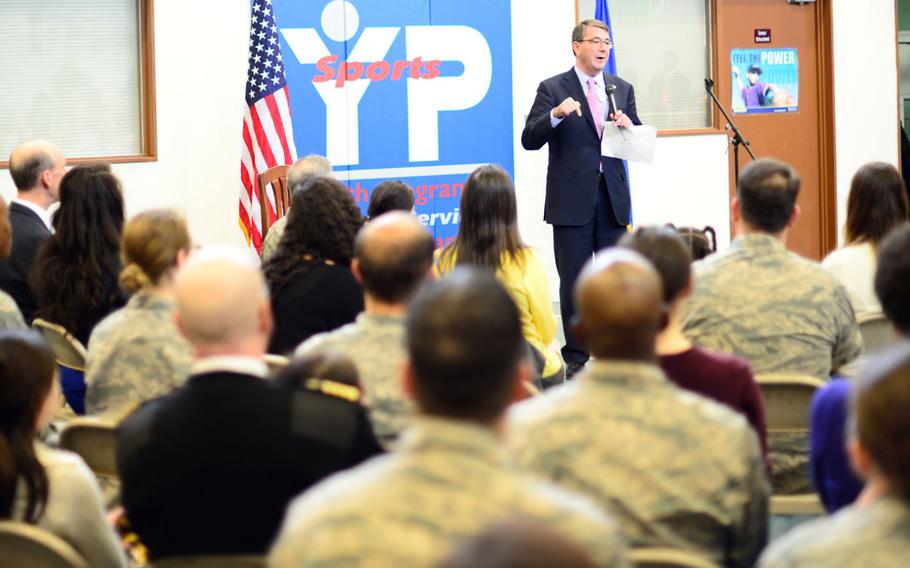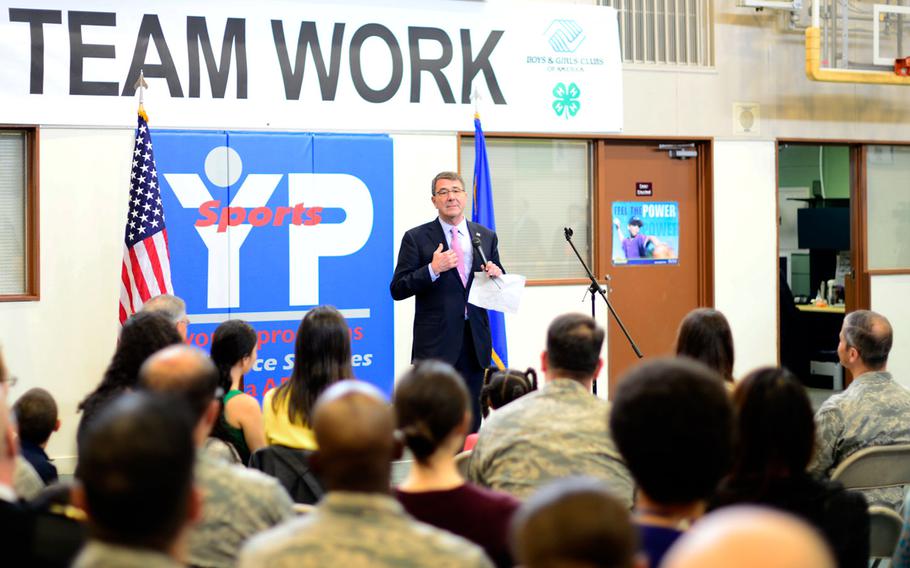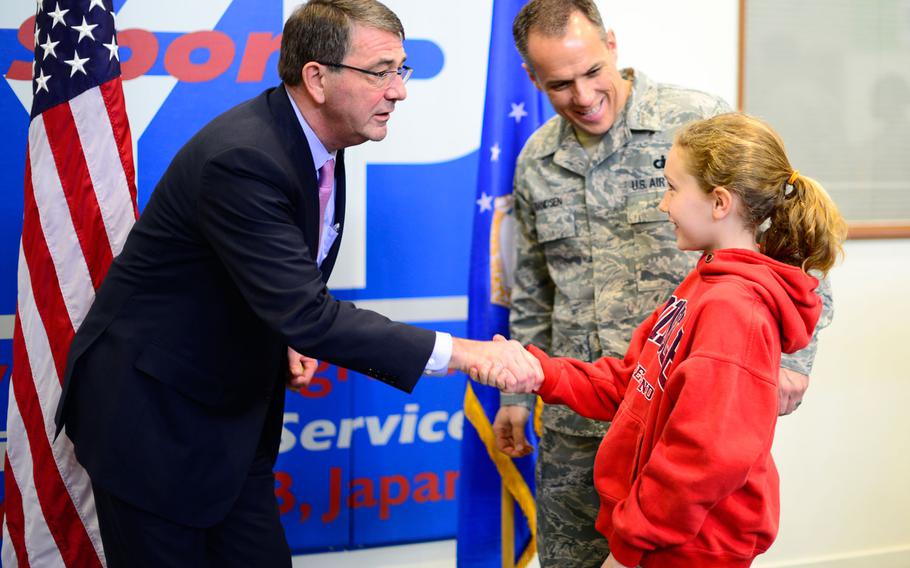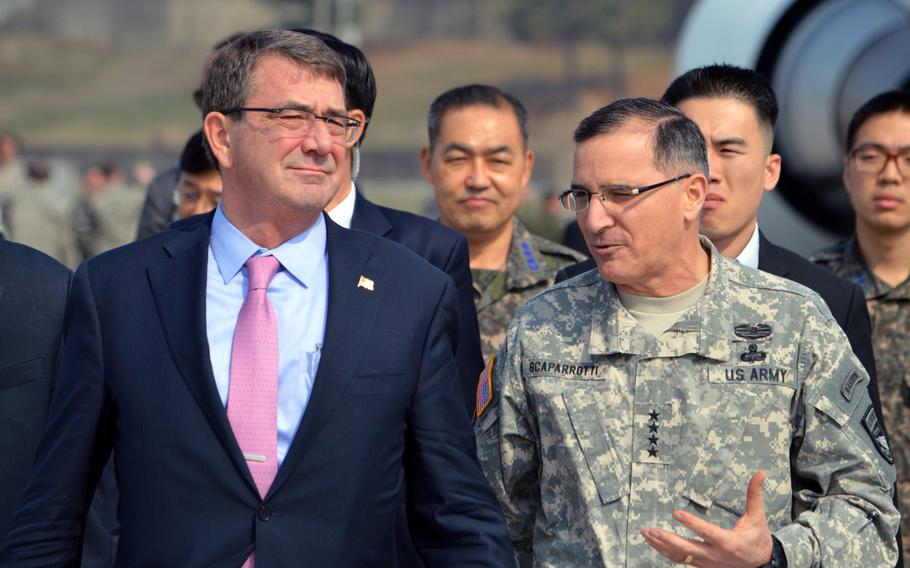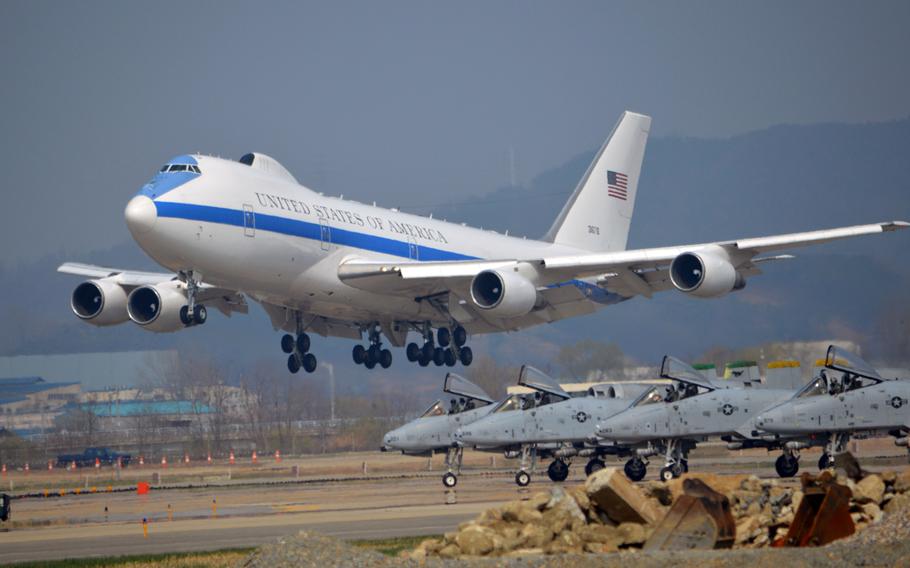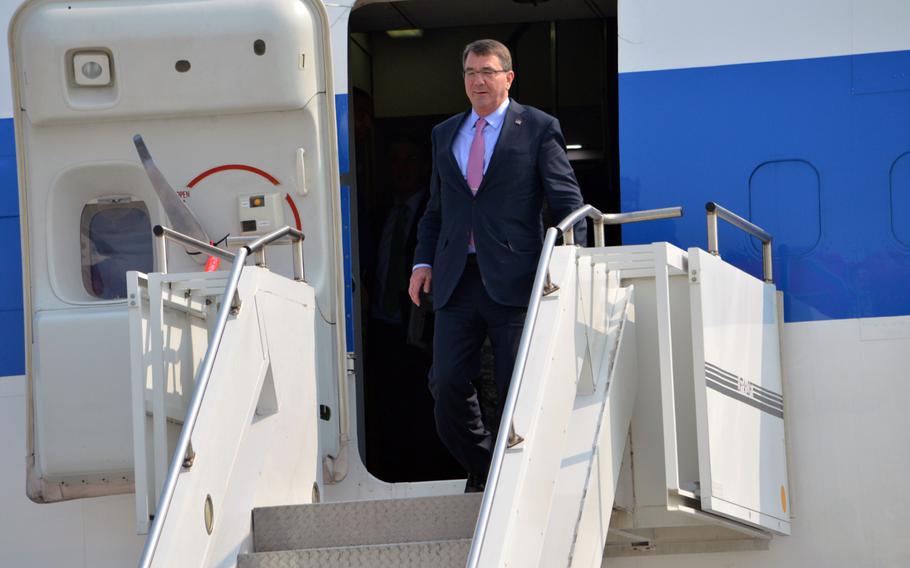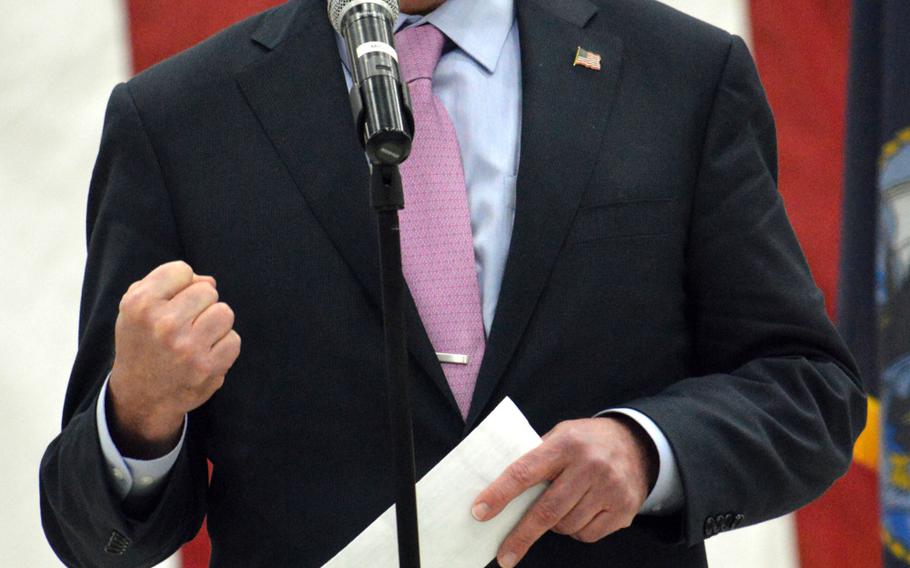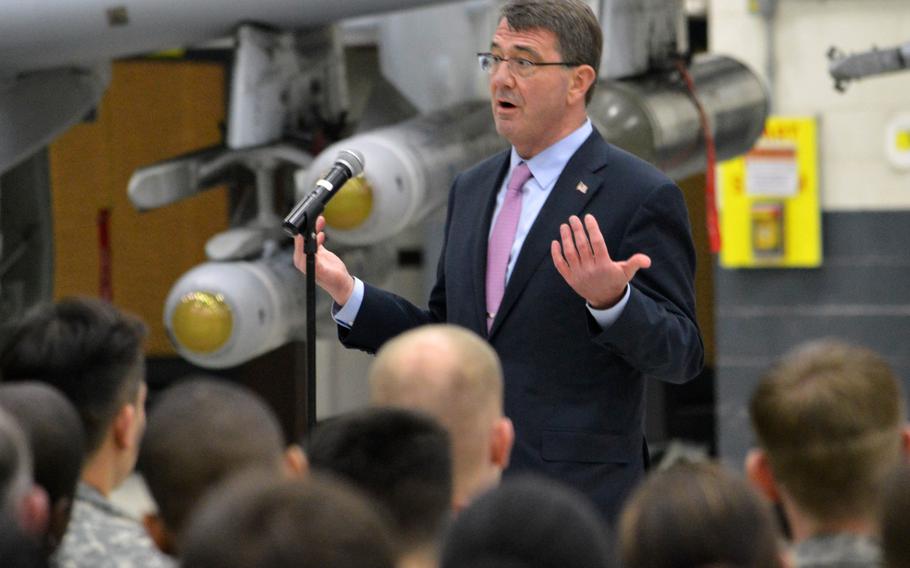 This story has been updated.
U.S. Defense Secretary Ash Carter told about 300 troops and family members that they were a big part of the reason why Asia is relatively peaceful and prosperous compared with "the mess in the Middle East."
"You are part of a winning formula out here," he said during a gathering at a youth center at Yokota Air Base, near Tokyo.
It was one of two stops at air bases in Japan and South Korea on Thursday as he continued his first trip to the region as U.S. defense secretary.
Standing in front of a large sign that read "Team Work," Carter also thanked the military kids for supporting their parents.
"By doing that you are sticking up for the whole country," said Carter, who was making his first trip to the Pacific as defense secretary.
Children of servicemembers move around more than other American kids, but they also have the chance to understand different cultures and make friends around the world, he said.
One of those in the attendance, Air Force Capt. Jake Roney, brought up the cost-cutting measures under consideration for military retirement and commissaries. The military is trimming its budget drastically under sequestration, and Roney asked Carter if there were plans to make changes to the Defense Department schools.
The defense secretary said changes to military benefits are being carefully considered and won't happen suddenly. He didn't directly address the possibility of changes in how the Department of Defense Education Activity operates in the U.S., but he said there are more opportunities for military children to go to schools off base there.
"We know you want your kids going to school in an environment that you know is safe and is high quality and with other kids who will be lifelong friends," he said. "I don't see us making changes in our overseas schools."
However, another audience member, Air Force Master Sgt. Miguel Saucedo, told Carter that he thought there were more opportunities for military kids in the U.S. High schools in Japan are cutting back on football, basketball, baseball and wrestling competitions to save money. Officials haven't responded to parents' complaints, he said.
Saucedo told Carter that if he'd known about the limited school sports for military kids in Japan he would have opted for a different assignment or left his family in the U.S.
"That gap between us and the States isn't getting closer," he said. "It's getting wider."
From Yokota, Carter flew to Osan Air Base, South Korea, where he held a brief town hall with about 200 airmen, and spoke about the need to rebalance U.S. forces "after so many years in Iraq and Afghanistan."
"Security is like air," he said. "If you have it you don't think about it. When you don't have it you constantly think about it."
He repeatedly thanked the troops during a 10-minute speech, then took questions from the crowd.
One servicemember asked about the effectiveness of rotational forces currently being used in South Korea, a move made in recent years by the Army.
Sending rotational forces improves combat readiness and unit stability, Army leaders have said — setting leadership roles and not having to worry about having to replace individual soldiers during the deployment make the unit's time in South Korea easier.
"It is a better overall system, especially for the Army," Carter said. "The reality is, personnel arriving in dribs and drabs" affect the overall capabilities of forces in Korea. An airman at Osan also asked about the possible changes in the current military retirement system.
"Nobody is going to change the game for those who are in the system," Carter said.
If there were changes to be made, those in the current system would be given the option to keep their current retirement plan or opt into a yet-to-be-determined system.
Carter is expected to meet various South Korean politicians and military officials on Friday before flying to Hawaii.
robson.seth@stripes.com Twitter: @SethRobson1
limonjr.armando@stripes.com Twitter: @LimonStripes