Overseas military exchange stores thrive in face of 'retail apocalypse'
by
Seth Robson
September 5, 2018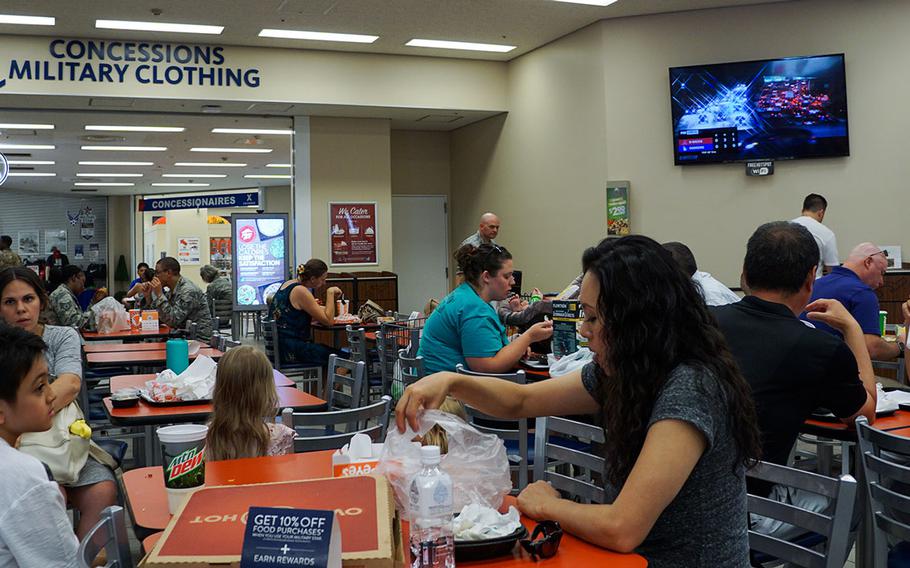 The so-called retail apocalypse may be hollowing out shopping malls from coast to coast — but that's a world away from government-run stores overseas that turn a healthy profit selling tax-free goods to a captive market.
Despite a booming economy, at least 94 million square feet of retail space will be closed in the United States this year, according to data in a Business Insider report published in April. That's on the heels of more than 100 million square feet shuttered in 2017.
Hundreds of stores operated by big-name retailers such as J.C. Penney, Sears, Kmart and Toys 'R' Us have closed their doors this year.
But the situation is different for servicemembers stationed overseas who can shop at on-base malls run by the U.S. military. Exchanges and commissaries don't face the same threats as stores back home that blame an oversupply of retail space and growing ecommerce for the closures.
Last year, the Army and Air Force Exchange Service reported $376 million in earnings and generated $219 million to support military quality-of-life programs such as on-base gymnasiums, bowling alleys and childcare centers. That's only $5,000 less than what exchanges generated for military communities four years ago, according to AAFES.
It returned $26 million to Pacific military communities in fiscal year 2017 and $11 million so far in 2018.
Those statistics don't include the Navy Exchange and Marine Corps Exchange, which serve Navy and Marine Corps bases.
Resonating with shoppers A visit to the Yokota Community Center — a three-story shopping mall at Yokota Air Base in western Tokyo that houses an exchange, food court and numerous other shops — reveals an organization that appears to be in good health.
When a sale is on, customers can be seen lined up at cash registers, carts full of discounted items from brands such as Under Armour, Nike, Apple, Kuhl, Estee Lauder and North Face. At lunch, after work or on weekends, food court tables are crammed with people munching fast food and other goodies.
"What resonates with the typical American resonates with military shoppers," said Col. Scott Maskery, commander of AAFES Pacific, which comprises 35 exchanges in Japan, Okinawa, Korea, Guam, Saipan, Hawaii, American Samoa and Kwajalein.
"We give very competitive prices on all our products," he said. "Part [of that] is to do with the tax-free benefits but also supply chain management."
Troop numbers are among the factors that determine exchange sales. During World War II, there were as many as 6,000 stores worldwide. These days there are only 122.
Other things driving the success of exchange stores include independent shops selling everything from souvenirs to exotic furniture, first-run movies at on-base theaters, national brands and in-store concept shops specializing in products from the likes of Martha Stewart and Michael Kors, Maskery said.
Overseas exchanges also aren't subject to state-level red tape such as high minimum wages mandated in some U.S. cities. The minimum wage for jobs on overseas bases is the federal minimum of $7.25 per hour.
But the picture isn't all rosy for the exchanges. Web retailers such as Amazon are popular with servicemembers who can take advantage of domestic shipping rates to overseas bases.
"Online sales have impacted some products," said Shinobu Matsui, who manages the Yokota exchange.
However, AAFES is also an e-commerce player. Its website — shopmyexchange.com — caters exclusively to Defense Department personnel.
The website offers tax-free sales and free shipping for people using AAFES' Military Star Card or on orders that cost more than $49. In the next few months, the exchange is expected to begin a service that allows shoppers to collect items purchased online at some on-base stores.
Military connections Most of AAFES' 35,000 employees — including the 5,000 in the Pacific — have some sort of association with the military.
"Eighty-five percent of our associates have a military connection," Maskery said. "They serve or they have family in uniform. Six thousand military spouses work for us, and since 2010 the exchange has hired more than 1,200 wounded warriors."
AAFES Yokota employee Jamie Blair, 33, is an Air Force spouse who grew up on Army bases and has fond memories of childhood visits to the ex-change in Vilseck, Germany.
"They had a toy shop next to the [post exchange] and it was fun going there," she said. "Renting movies was another big deal for us, because it was hard to find English films off base. It was a way for us to connect with family in the States."
At Yokota, Blair is on the other side of the counter.
"The culture for me is perfect," she said. "I have two kids, and it's some extra income."
robson.seth@stripes.com Twitter: @SethRobson1