One year after Thai cave rescue, US airman recalls harrowing effort to save youth soccer team
by
Matthew M. Burke
August 9, 2019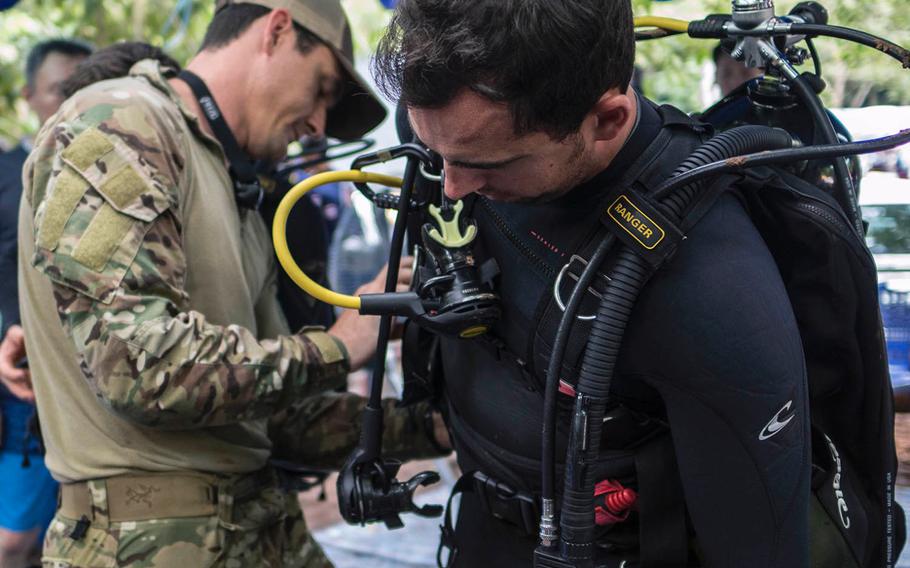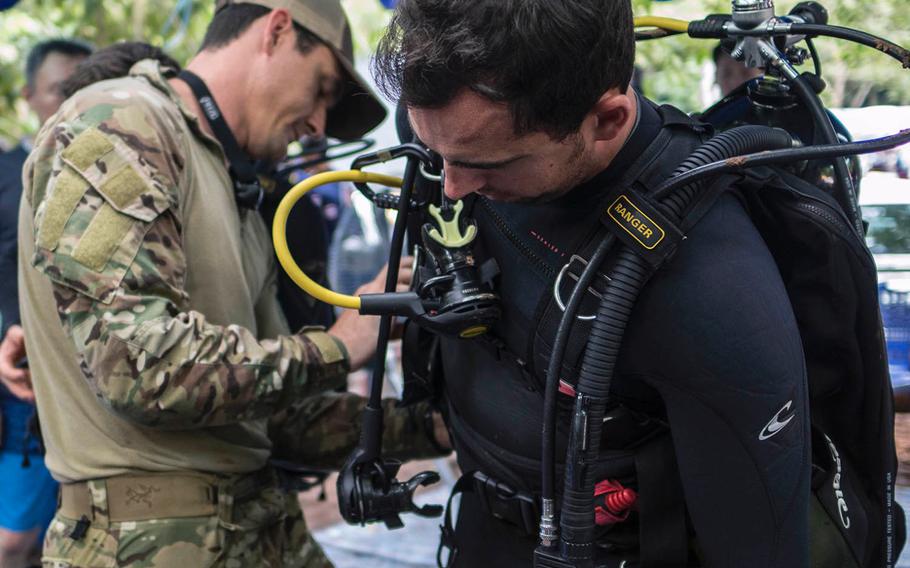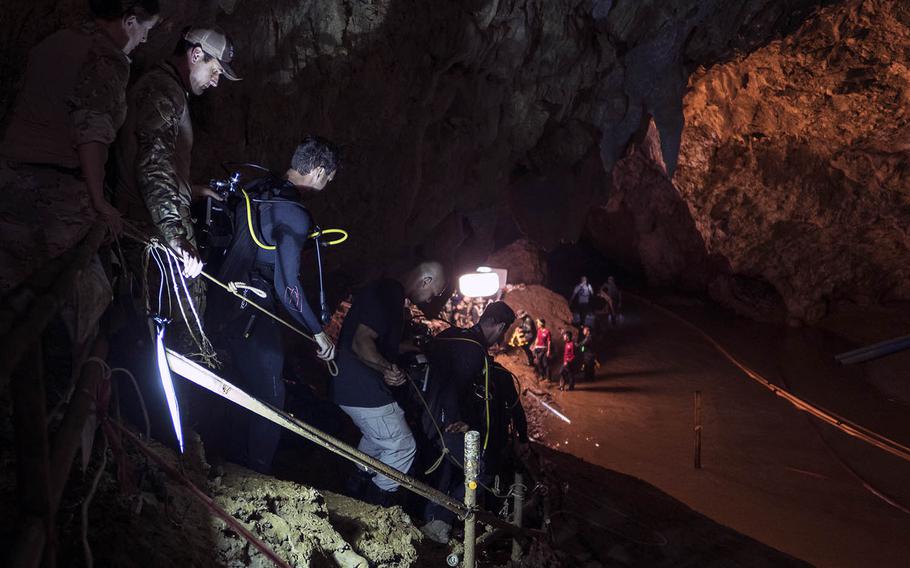 CAMP FOSTER, Okinawa — When a call came last summer for volunteers to don scuba gear, to swim into Thailand's flooded Tham Luang cave and to help rescue a youth soccer team trapped inside, Tech. Sgt. Kenny O'Brien stepped forward.
The dramatic rescue captivated audiences around the globe. All 12 boys and their coach were freed after being sedated and pulled 2½ miles through the floodwaters using ropes and pulleys.
O'Brien, 30, of Bunker Hill, Ind., a section chief with the 353rd Special Operations Group, 320th Special Tactics Squadron, at Okinawa's Kadena Air Base, has been chosen as one of the 12 Outstanding Airmen of the Year for 2019. The Air Force-wide selection was announced July 23.
In addition to participating in the Thai cave rescue, O'Brien helped save a Korean national from a tractor crash in South Korea in March 2018. Just a few months later, he was one of only two airmen on President Donald Trump's security team during his first summit with North Korean leader Kim Jong Un in Singapore. He also has three combat deployments to Afghanistan under his belt.
"If someone needs someone to go do something dangerous, I volunteer to go do that," O'Brien recently told Stars and Stripes at Kadena Air Base. "If someone needs to lead something, I volunteer to do that. … I happened to be in the right place at the right time for multiple big events."
Few events in 2018 garnered as much international attention as the Thai cave rescue, an ordeal that lasted 18 days in June and July. O'Brien found himself in a front-row seat, spending nine days in the frigid waters of the cave.
The Wild Boar youth soccer team was reported missing from the mountains overlooking their village in Thailand's rural Mae Sai district on June 23, 2018. The boys' bicycles and other belongings were found at the cave entrance.
They reportedly were caught off guard by a flash flood and found themselves stuck on a small, rocky shelf, separated from freedom by rising floodwaters.
The Thai government contacted the U.S. Embassy for assistance June 26, said 353rd SOG spokeswoman 1st Lt. Renee Douglas. One day later, a crisis action team made up of 353rd SOG and 18th Wing personnel departed for Chiang Rai and arrived June 28.
Douglas did not respond to multiple emailed requests seeking more information about the mission.
"We were just getting ready to go do dive training, of all things, actually, and then they told us to stop what we're doing, and we were on the ground in Thailand, I think, 19 hours after that," O'Brien said. "We got there, and we first had to figure out what was going on and who was in charge – and that took a very long time – and then how we could help."
Dramatic rescuePararescue is one of the 353rd SOG's specialties, O'Brien said. Called "PJs," pararescuemen are the Defense Department's primary personnel recovery force.
They made a name for themselves during the war in Afghanistan, often lowering themselves down from helicopters into the middle of firefights to evacuate severely wounded personnel from remote mountainsides.
It is also the Air Force's most highly decorated enlisted force, according to a fact sheet by the service. Awards include at least one Medal of Honor, at least a dozen Air Force Crosses and more than 100 Silver Stars.
We're tasked with getting "someone out of any bad situation you can think of, whether it's in the ocean or the middle of a firefight on the side of a mountain," O'Brien said. "We are trained and qualified to get to them and treat any medical needs they have."
The special tactics squadron also specializes in setting up airfields and creating mission support sites, O'Brien said. It can be attached to other special operations units, including Green Berets and naval special operations, or SEALs, for support. Members generally must be adept at many skills, but each person often picks one area, such as medicine, as a specialty.
In Thailand, O'Brien, who specializes in jumping, was the primary medic for the Air Force team during the initial phases of the cave rescue.
When they arrived at the cave, O'Brien and his fellow airmen were attached to a Thai special forces team. They hiked deep into the thick jungle brush, trying to find alternative entrances to the cave. The possible entrances they discovered turned out to be dead ends, O'Brien said.
The next idea to get to the trapped boys was to drill into the mountain, O'Brien said. So, his team cleared a helicopter landing zone "down to the dirt" to airlift in drills powerful enough to penetrate the earth.
"As that was happening, basically, we started to realize that diving was probably going to be the only way to get in there," O'Brien said.
The airmen were separated into two teams, one on each side of the mountain, O'Brien said. Two volunteers from each team were asked to be the first U.S. dive team inside. O'Brien volunteered.
The plan was ambitious. They would attempt to get more than 300 air tanks as far into the cave as possible, O'Brien recalled. Pumps were used to keep the floodwaters down and to create air pockets.
"We had no idea really what it looked like in there," he said. "We went in and assessed how big the chambers actually were versus what we were told, and how many people we would need, and then spent a few days actually getting all the tanks in there."
The tanks were moved all the way to an open area called Chamber 3, the largest chamber, O'Brien said. The forward air supply allowed divers to move more and more deeply into the cave.
British divers John Volanthen and Rick Stanton had spent days traversing the "narrow, murky passageways," laying out guide ropes and searching for the boys, the BBC reported. On July 2, they found the 12 teammates and their coach.
"Then the more difficult question was how we were going to get the boys out of the cave because that's just never been done before," O'Brien said.
O'Brien and his fellow airmen took sections of polyvinyl chloride, or PVC, piping and filled them with food and water. They used rocks and dirt to make them neutrally buoyant and carried them in through the floodwaters to Chamber 3, where other divers were waiting to carry them the rest of the way.
"As we were doing that, a Thai SEAL had a shallow-water blackout … between Chamber 2 and 3," O'Brien recalled. "He got caught on a rope and couldn't get himself loose."
The Thai SEAL was pulled out of the water by his fellow divers. O'Brien and his team helped resuscitate him.
"Honestly, for me it wasn't all that stressful," O'Brien said. "I wasn't in a leadership position. I wasn't making any huge decisions. Up until the three days we were actually rescuing people — that was very stressful."
'Expecting a dead child'The narrow, underwater passageways were full of cables, tubes, ropes, debris and divers going back and forth, O'Brien said.
"It was very dangerous and there was so much stuff in the water," he said.
The cave claimed former Thai navy SEAL diver Saman Gunan, 38, on July 6. He lost consciousness after running out of air while bringing tanks to the boys.
"I knew there was a chance people were going to die," O'Brien said. "It is very sad, but we had to continue on."
After the boys had been supplied, rescue planners had to decide what to do next. They calculated that moving the amount of food and water needed to keep the Wild Boars alive until the floodwaters receded was not feasible. Storms were imminent and the currents in the chambers would halt the movement of more supplies.
They needed to get the boys out immediately.
O'Brien was among the small group of U.S. airmen who were the farthest inside the cave, he said. They were in Chamber 3 with another team in Chamber 2. O'Brien believes there were nine chambers to get to the boys.
The boys would be passed underwater to O'Brien and his team, who would assess them and decide whether they needed aid or were clear to be passed to Chamber 2, he recalled. They had a rope system to move the boys down a sort of mudslide in Chamber 3.
But the children were too small, so O'Brien and his team had to put their weight on each litter and slide down with the boys to the next team of airmen, who would bring them to Chamber 2.
In Chamber 2, the airmen had built a highline rope system to get the boys over a chasm, O'Brien said. Then the Thais would take the boys and rush them out of the cave for medical attention. There was no margin for error.
"Past Chamber 3, we had no communication with anyone," O'Brien recalled.
"Everything was on timelines and you didn't know the status, so basically, I had to sit there in the water 13 times expecting a dead child to pop up. That's the only way I could think of it, because if I expected them to be alive, then I wasn't going to be ready when they weren't. That was pretty mentally exhausting."
There were issues.
In one close call, one of the boys wouldn't breathe, he said. They had to figure out how to stimulate his breathing before sending him back into the water.
"A diver actually came up in a panic and was asking if the kid was still alive," O'Brien said.
Eight people were rescued July 8 and 9, and five were rescued July 10, Douglas said.
"It was pretty stressful," O'Brien said. "Once we got them all out, you know, everyone was pretty excited."
But the ordeal in Tham Luang cave wasn't over yet. The pipes carrying water out of the cave began to burst shortly after the last boy made it through. O'Brien and an Air Force officer, to account for everyone in Chamber 3, stayed behind while it was evacuated.
"Everyone had come into Chamber 3," he recalled. "The water actually started to rise. We had to swim out."
O'Brien and his fellow airmen — who had never dived in a confined space before – played an integral part in one of the most improbable rescues in history.
"Everything was blacked out, for the most part — you couldn't see anything — and if you came up into the actual dry areas, if you didn't have a light, it was the darkest thing imaginable," he recalled. "It was a huge relief getting them all out of there. We would have been happy if anyone survived, let alone all of them."
A married father of two, O'Brien also received the Defense Meritorious Service Medal, which is awarded by the Pentagon for outstanding achievement or meritorious service in a noncombat situation.
"When we got the last kid out of the cave," he said, "that was a big moment."
burke.matt@stripes.com Twitter: @MatthewMBurke1