Olympians past and present celebrate troops, families at Yongsan Garrison in Seoul
---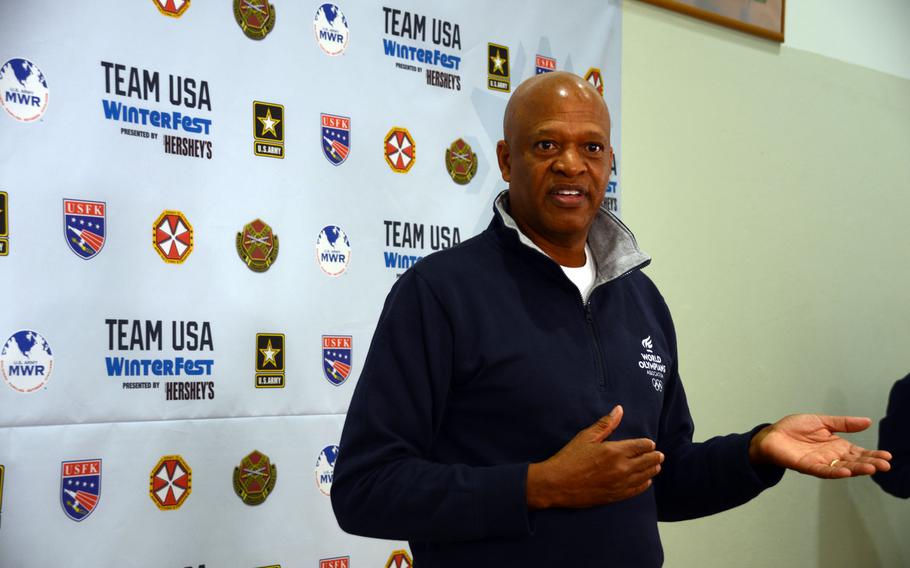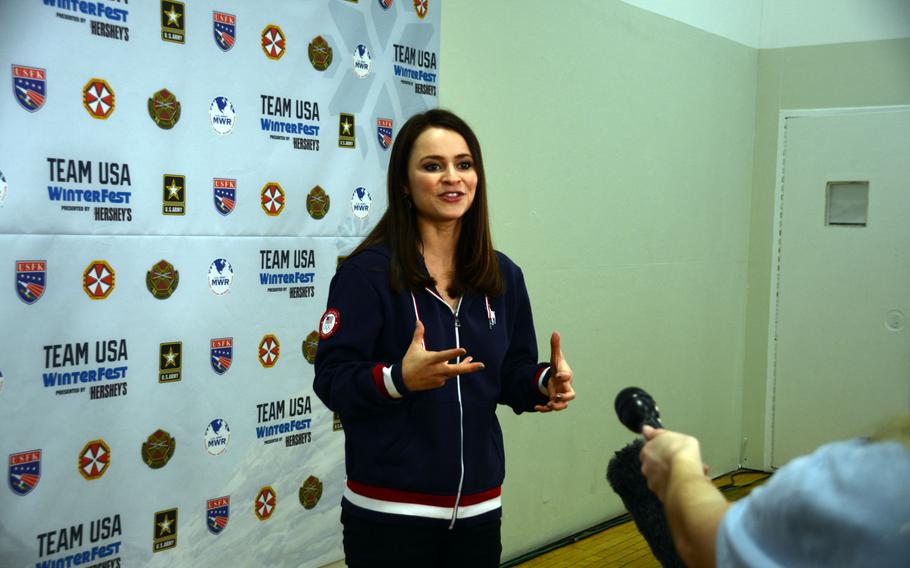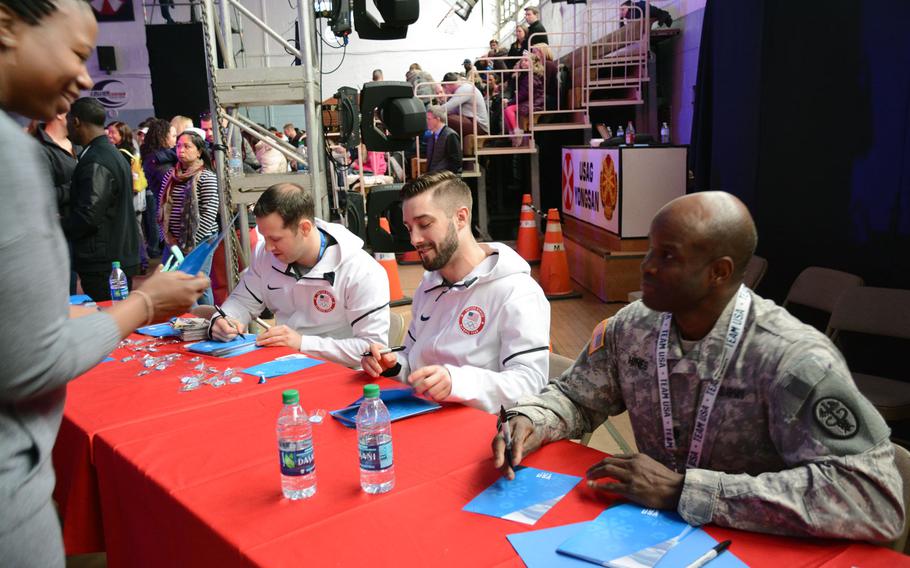 YONGSAN GARRISON, Seoul — Olympians past and present joined several entertainers to celebrate U.S. troops and their families during a festival on this military base Monday as the 2018 Winter Games being held nearby entered their second week.
"Getting to come here and meet the families and the men and women who are serving was a tremendous honor," said Sasha Cohen, who won a silver medal in figure skating during the 2006 Olympics.
She noted the similarities between Olympians and soldiers who both spend many years training for a singular moment. "I think that the sacrifice and dedication are definitely appreciated," she said.
Cohen and other athletes appeared at the Winterfest, which was held at Yongsan's Collier Community Fitness Center. Singer Rachel Platten of "Fight Song" fame, TV personality Al Roker and Cedric the Entertainer were among the other headliners.
The athletes included American soldiers who competed in the Olympics as part of the Army's World Class Athlete Program.
Sgt. Matt Mortensen and his civilian teammate Jayson Terdiman smiled and signed autographs after finishing a disappointing 10th in the doubles luge competition and missing a medal in the team relay by just about a tenth of a second last week in Pyeongchang.
"It was a little bit of a heartbreaker, but everybody put forth their best effort," Terdiman told reporters at the festival.
Mortensen, a 32-year-old National Guardsman from Huntington Station, N.Y., said he had a great time talking to his fellow soldiers and others on Yongsan. "Always a pleasure to give back to those that have sacrificed for our country," he tweeted.
The athletes welcomed North Korea's participation in the Feb. 9-25 Pyeongchang Games, which helped ease security concerns amid tensions over the country's nuclear weapons program.
"The ideals of the games are peace through sport and it's a powerful thing," said Lt. Col. Garrett Hines, who won the silver medal in the four-man bobsled event in Salt Lake City in 2002. "There has been … some level of peace during these games and that's what you want to see."
Willie Banks, a two-time Olympian in track and field who was the master of ceremonies at the festival, recalled people had similar concerns when the 1988 Summer Games were held in Seoul, reflecting the ebb and flow of tensions on the divided peninsula.
"I was often asked by the media then how does it feel to be in this tense time during the Olympic Games," he said. "My response was always that the Olympic movement I believe is above all that and it brings people together."
Banks, whose father was a Marine, said he was enjoying the opportunity to talk to the troops, saying he hopes it "will give them encouragement and to let them know that we stand behind them just as they stand behind us."
---
---
---
---