Old hand in Asia takes reins of US Army Pacific
---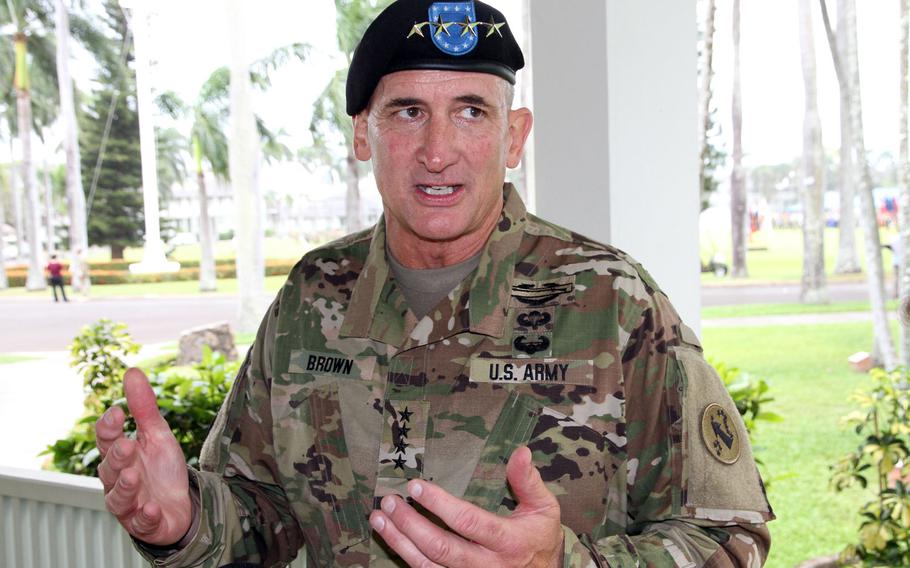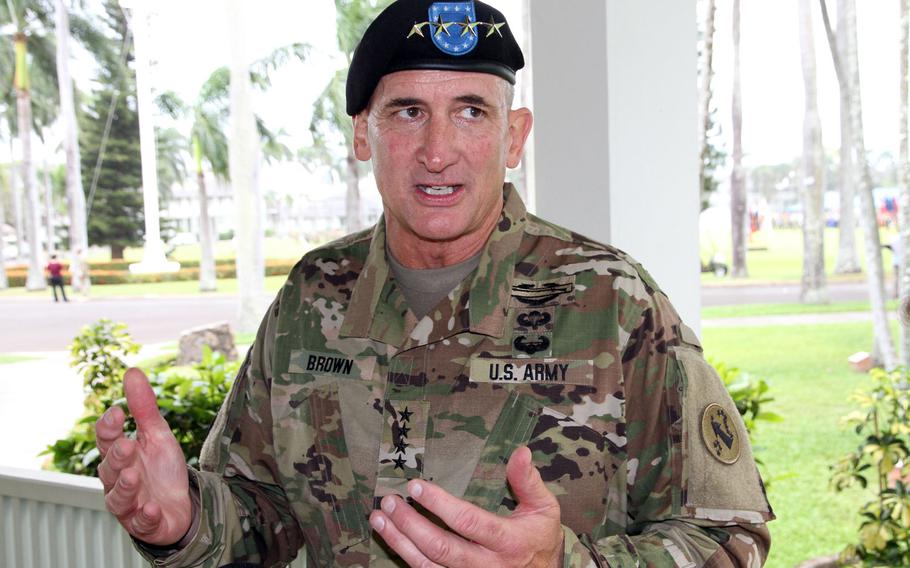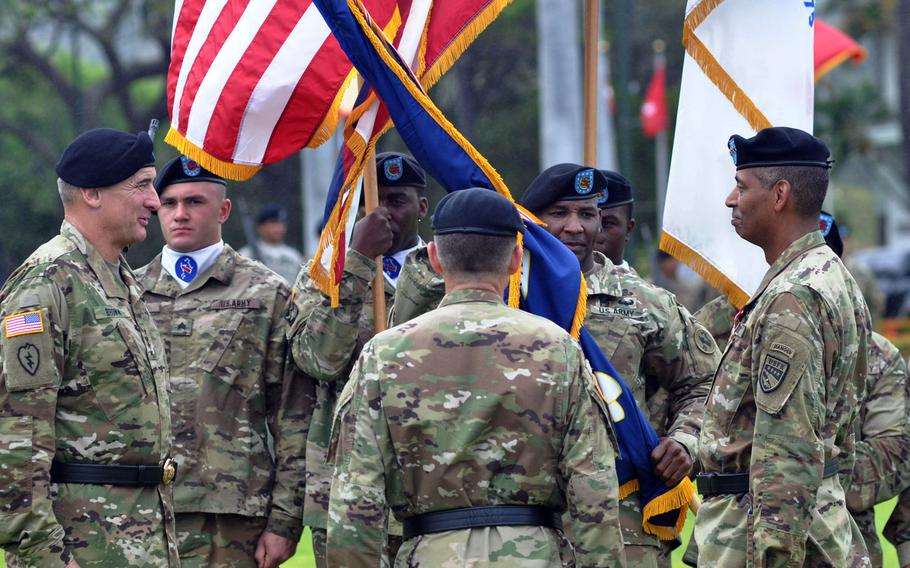 FORT SHAFTER, Hawaii — Gen. Robert B. Brown, who has spent more than a decade of his career in the region, took command of U.S. Army Pacific Wednesday, replacing Gen. Vincent Brooks.
It was a handoff the pair have repeated numerous times during their 35-year careers, Brooks told the audience after the official passing of colors.
"Bob has had the opportunity to replace me – maybe I should say displace me – three previous times before taking command of [U.S. Army Pacific] from me," said
Brooks, who now leads U.S. Forces Korea, said it all began when Brown replaced him on the West Point basketball team, then coached by the legendary Mike Krzyzewski.
"Bob came onto the court a year after me and took my place – I mean literally, down to the jersey," Brooks said.
Brown joked that when he told Krzyzewski the two former players would be passing colors, the coach said, "You know, when he played for me he never passed."
When Brooks assumed command three years ago, he was U.S. Army Pacific's first four-star commander since 1974. The elevation to a four-star command was touted as evidence of the government's commitment to the Army in the Pacific.
Brown, who was given his fourth star shortly before Wednesday's ceremony, most recently served as commanding general of the U.S. Army Combined Arms Center at Fort Leavenworth, Kansas.
Adm. Harry Harris, commander of U.S. Pacific Command, told the audience that Leavenworth "is called by many the intellectual center of the Army," so Brown "definitely has the brainpower needed in the job."
Brown is "a combat-tested and thoughtful leader, a warrior-scholar in the truest sense," said Gen. Daniel B. Allyn, vice chief of staff of the Army.
Brown, who served 12 years with units focused on the Pacific, is no stranger to the region. That experience includes commander of I Corps and Joint Base Lewis-McChord, deputy commanding general of the 25th Infantry Division, commander of the 1st Brigade Stryker team and director of training and exercises at Pacific Command headquarters.
"The No. 1 priority, without a doubt, is readiness," Brown told reporters after the ceremony. "We have to be ready for what we're called on to do."
The roughly 100,000 Army personnel now under his command will work to "shape" the security landscape in the Pacific, he said. He noted ongoing efforts to deter North Korea from more overt hostilities and that the Pacific's ability to prosper economically has come because of regional peace.
"We want to sustain that peace," he said. "But we have to be ready. It's a complex world out there."
Allyn and Harris praised Brooks for launching Pacific Pathways, a concept aimed at keeping soldiers forward deployed longer, lowering costs and increasing the Army's presence among partner nations. Under the initiative, soldiers and equipment move to two or three consecutive exercises before returning home.
"Pacific Pathways is all and more than its original vision entailed," Allyn said. "Today it increases our understanding of a complex area of operations, creates opportunities to rehearse core missions, strengthens relationships with friends and allies and raises the level of Army readiness at every echelon."
Brown had a hand in the evolution of Pacific Pathways – then dubbed the Southeast Asia Theater Engagement Platform – while he was I Corps commander. Brooks took the concept, gave it a sleeker name and expanded it to all of U.S. Army Pacific. Brown was upbeat about the status of U.S. Army Pacific forces, despite the Army's ongoing downsizing.
"Overall, we are in much better shape than other Army service component commands," he said. "While we're losing a little, we are going to be in great shape overall."
The biggest change was the loss of about 1,200 personnel with the conversion of a
Stryker unit to an infantry unit at Schofield Barracks, the Army's largest base in Hawaii.
"I think there's no question that the Army and our nation is committed to the Pacific and how important it is," Brown said. "Just look at the potential threats, you know.
With North Korea, you don't have to look hard."
Olson.wyatt@stripes.com Twitter: @WyattWOlson
---
---
---
---