Okinawa prefecture to scale down 75th anniversary Battle of Okinawa commemoration
by
Aya Ichihashi Matthew M. Burke
April 13, 2020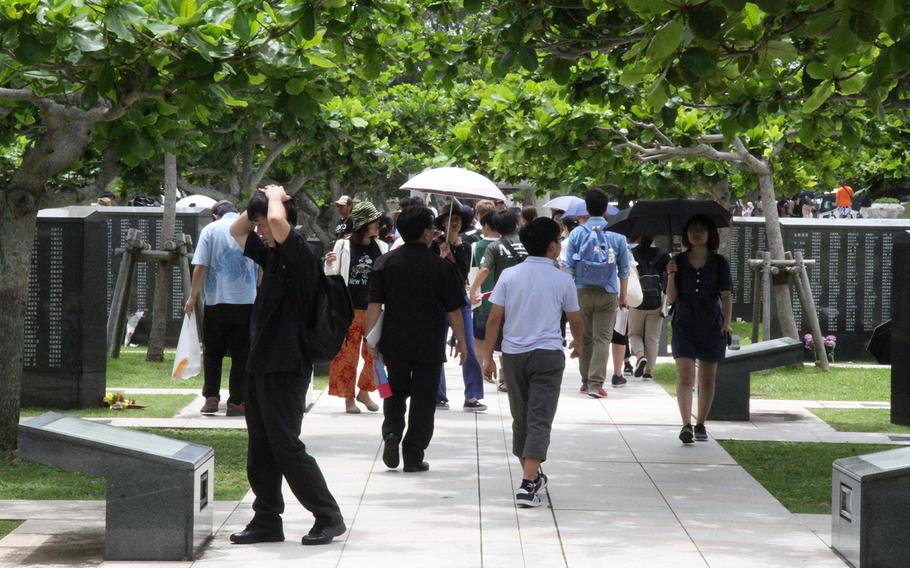 Stars and Stripes is making stories on the coronavirus pandemic available free of charge. See other free reports here. Sign up for our daily coronavirus newsletter here. Please support our journalism with a subscription. CAMP FOSTER, Okinawa — The Okinawa prefectural government will scale down its annual Irei no Hi ceremony to mark the 75th anniversary of the Battle of Okinawa due to concerns over the coronavirus, officials said last week.
The comments were made during a press conference Friday by Okinawa Gov. Denny Tamaki, a prefectural spokesman confirmed Monday. Prefectural officials have not yet decided what a smaller ceremony would look like, or if it would still include VIP attendees like Prime Minister Shinzo Abe and Defense Minister Taro Kono.
The annual ceremony, which takes place at Okinawa Peace Memorial Park in Itoman city, was slated for June 23. It typically draws upwards of 5,000 people, including a sizable contingent of U.S. service members.
"Due to concerns over the spreading of the coronavirus, we are planning to make it a smaller ceremony this year," the spokesman said. "We are not sure how small we are going to make it yet, but we must [observe] no closed space, no close contact and no mass gatherings."
Some government officials in Japan customarily speak on condition of anonymity.
A similar annual ceremony scheduled to take place on Iwo Jima — called the Reunion of Honor — commemorating the 75th anniversary of that battle was canceled last month. Organizers are eying October through November to potentially reschedule, Military Historical Tours Inc. said in a statement March 12.
The Okinawa government announced nine new cases of the coronavirus Sunday, bringing the island total to 69, including a girl who tested positive at the airport but was counted in a different prefecture's tally and two U.S. airmen and a family member from Kadena Air Base.
Tamaki has pleaded with travelers to stay away from the tropical tourist destination.
"Okinawa's leading industry is tourism, and this will affect our economy tremendously, but our people's lives are the most important here," Tamaki said Wednesday. He asked people who absolutely must come to self-quarantine for two weeks.
Tamaki also implored Okinawa's anti-U.S. military base protesters – many of whom are elderly – to wear masks and to observe social distancing guidelines.
The Battle of Okinawa began April 1, 1945, and lasted 82 days. More than 14,000 Americans, about 110,000 Japanese troops and at least 140,000 Okinawan civilians were killed during or after the fighting, though the total number of civilian deaths may never be known.
The battle rendered large swaths of Okinawa a scorched hellscape, more closely resembling the surface of the moon than the idyllic tropical paradise it is today. Echoes of the battle reverberate in the island's passionate anti-war movement.
For the Allies, the battle was pivotal. With airfields near the Japanese mainland, troops could begin their final assault on the Japanese homeland that would end World War II. The war ended several months after the Battle of Okinawa.
burke.matt@stripes.com Twitter: @MatthewMBurke1
ichihashi.aya@stripes.com Twitter: @AyaIchihashi