Okinawa Marines plan to bring Impossible Burger to mess halls across the island
by
James Bolinger
May 21, 2020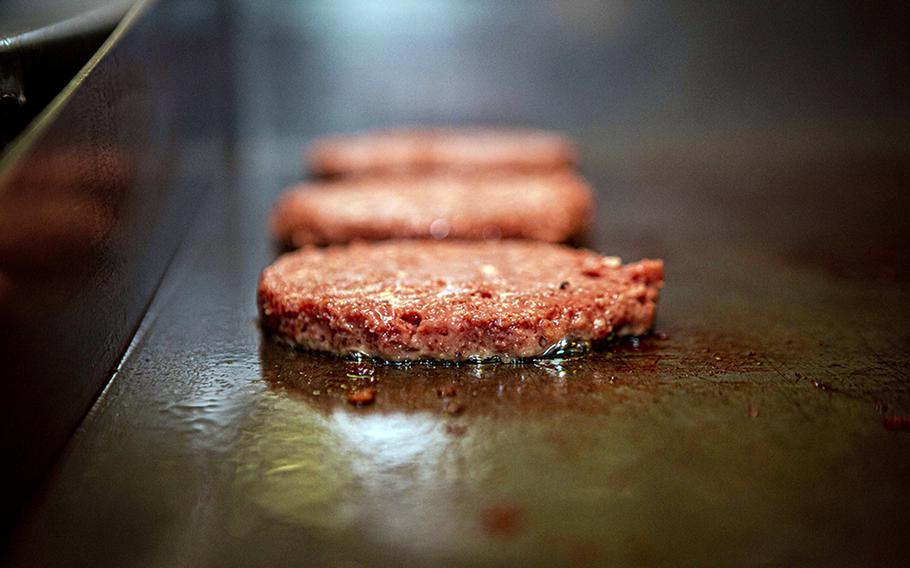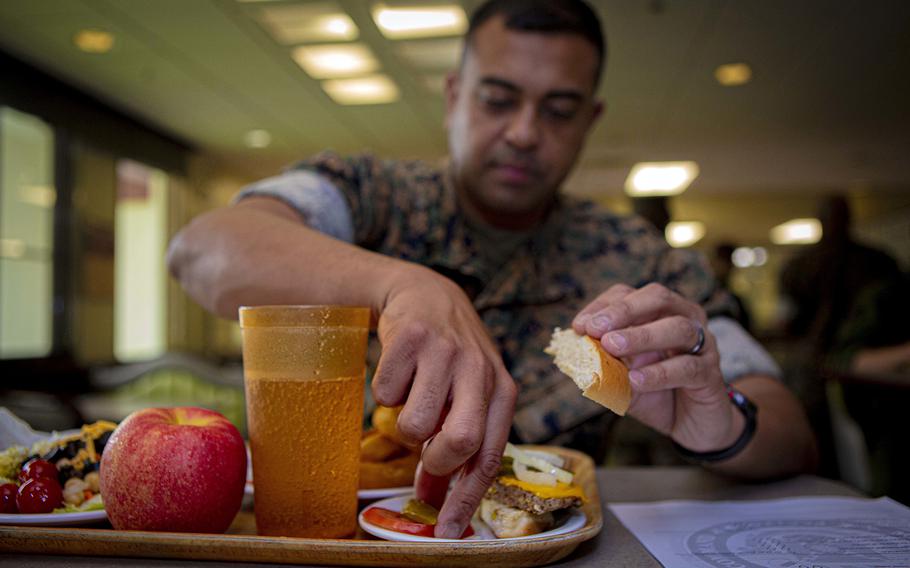 Marine dining facilities across Okinawa are adding the Impossible Burger, a plant-based alternative to ground beef, to their food lines.
Marines and sailors taste-tested the burger May 13 at Marine Corps Air Station Futenma, Gunnery Sgt. Maurice Toole, the subsistence chief for Marine Corps Installations Pacific, told Stars and Stripes on Thursday. He said the Impossible Burger will be just one of the plant-based items the Marine Corps plans to roll out in its dining facilities on Okinawa this fall.
"We like to get as much input as we can from Marines: What new things do they want to see, and what things they want to get rid of?" Toole said. "Lots of Marines are asking to eat healthier. And we are looking to have plant-based items represented in every area we serve – the mainline, specialty items and the snack or 'fast-food' line."
Toole said his team initially wanted to add a black-bean or other vegetarian burger to the snack line but changed its mind after the vendor offered the Impossible Burger, which had a satisfying texture and appearance.
"It was a great burger," said Lance Cpl. Alexander Skelton, an air support operations officer with 1st Marine Aircraft Wing, in a Marine Corps press release May 13. "It's nice to see the [mess hall] committed to giving more choices to Marines with different diets and beliefs."
The taste test was sprung on patrons out of the blue to avoid preconceived notions about plant-based meat, Toole said. It was added to the mainline, where traditional entrees are offered, and servers asked the Marines to try it.
"We wanted to shock the audience," he said. "We knew if we caught everyone off guard, that we would get better real-time reactions. Even some of the people who were not interested initially tried it and liked it."
A menu review board last year identified Marines' desire for meatless protein options.
Impossible Burger, made of soy and potato protein, was approved by the Corps' lead dietician, who must review all new menu items before they are pushed out to troops, Toole said. The dietician will also review all the plant-based options that will be made available to Okinawa Marines in the future.
Toole's team will introduce the burger to the snack line first as part of the Marine Corps Fuel-to-Fight initiative. The service wants Marines to see a trip to the mess hall as a way to refuel their bodies and get healthier.
The Impossible Burger and other plant-based meat alternatives are popular at stateside restaurants and have slowly made their way to troops overseas. The dining facilities on Okinawa are the first in Japan to offer the item to troops on base.
For now, it will only be available at Marine Corps facilities on Okinawa, but other Marine facilities on Hawaii and elsewhere in Japan can offer the item if they choose, Toole said.
Base residents who do not eat at dining facilities will have to wait a while longer for meatless options on restaurant menus.
"Currently, plant-based food options are available at our CONUS locations only," said Chris Ward, a spokesman for the Army & Air Force Exchange Service, referring to locations in the continental United States.
Burger King's popular Impossible Whopper, Qdoba's meatless burritos and Dunkin's meat-free breakfast sausage are sold on many Army, Air Force and Navy bases in the United States.
Ward in October said he expected those options to show up in locations outside the U.S. sometime in the future.
bolinger.james@stripes.com Twitter: @bolingerj2004
---
---
---