Off-base businesses in Japan feel the squeeze of US military's anti-virus measures
By
Aya Ichihashi James Bolinger
April 7, 2020
---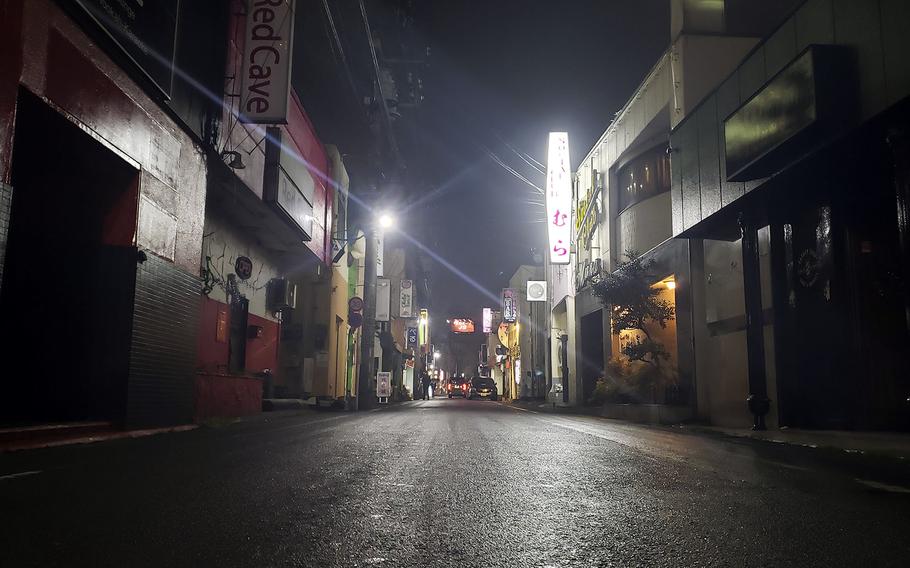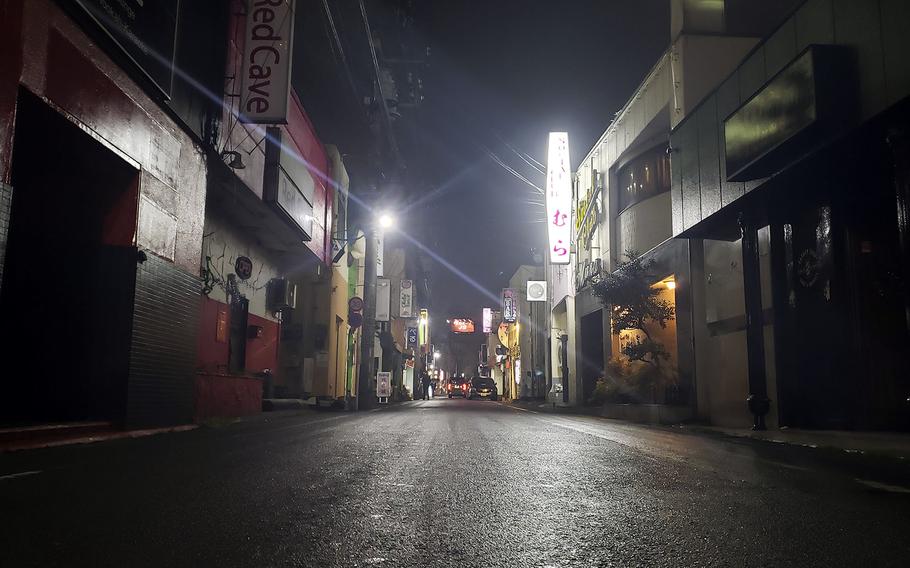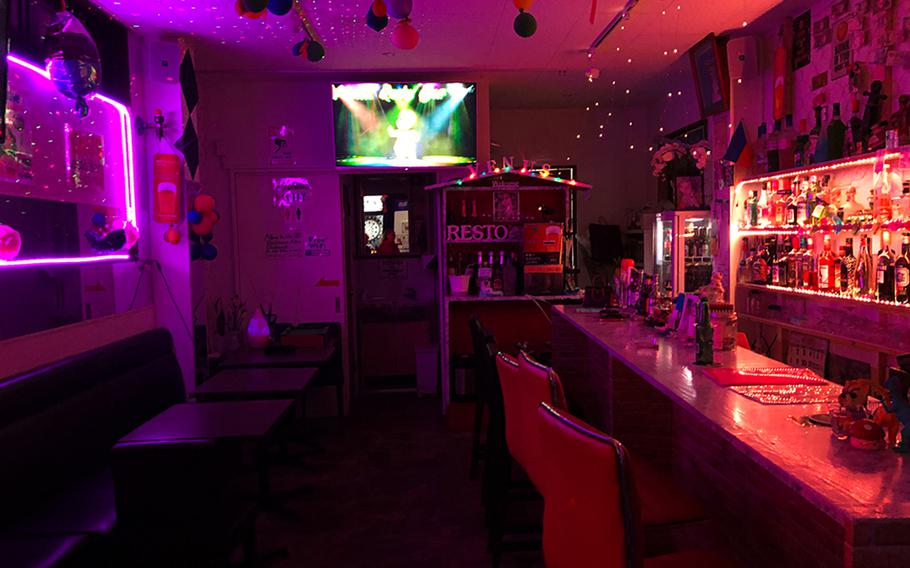 Stars and Stripes is making stories on the coronavirus pandemic available free of charge. See other free reports here. Sign up for our daily coronavirus newsletter here. Please support our journalism with a subscription.
MARINE CORPS AIR STATION IWAKUNI, Japan — Junki Kaku, the owner of Poem and Good Fellows, two bars in downtown Iwakuni, pointed to the empty streets of the Naka Dori district on St. Patrick's Day.
"It's like martial law here," he said. "There's no one."
Normally, American service members from nearby MCAS Iwakuni would be swarming Poem. It's the only place in Iwakuni to get Guinness beer on draft, and Kaku plays American football and wrestling on his big screen TV to keep the Americans entertained.
His businesses rely heavily on the Marines and sailors, but in the wake of the coronavirus pandemic and subsequent base lockdowns, he and other proprietors across Japan who count on American customers are feeling the squeeze.
Starting March 25, when the overarching Indo-Pacific Command authorized stringent measures across military bases from Hawaii to South Korea, commanders have imposed increasingly tighter restrictions to stem the coronavirus tide.
For example, many personnel living off base with their families may travel only to and from their duty stations. Bars, sit-down restaurants, karaoke joints, nightclubs and off-base theaters are off limits. Only essential trips for groceries, medical and dental appointments and similar visits are permitted.
With a declaration Monday of a public health emergency by U.S. Forces Japan, that order extends to family members and civilian employees of the Defense Department living in Tokyo and the surrounding area.
In the western Tokyo city of Fussa, the owner of El's Bar said her popular business is suffering along with scores of others on Bar Row, a 10-minute walk from the main gate at Yokota Air Base.
"We are open for food right now, so we can survive," Grace City said.
Outside Yokosuka Naval Base, about 40 miles south of central Tokyo, bar and club owners tell a similar story. The installation has been on the strictest lockdown among military bases in Japan since March 27 when it reported at least three cases of coronavirus.
"We still get a few Japanese locals and some of their foreign friends come in," said Mary Jane, the owner of Venus Resto Bar near Yokosuka, "but with the Americans restricted to base, business is noticeably slower since there isn't much volume."
On Okinawa, Kanako Ibuki, the popular Pour House Bar and Grill in American Village, closed up shop March 29 due to the coronavirus.
"We knew what we had to do to protect our employees, our valuable military customers and their families and prevent spreading the disease." Ibuki told Stars and Stripes last week.
Nearly 95% of her customers are America military and the rest are usually their guests, Ibuki said.
At Iwakuni, Shinichiro Morihashi of Iwakuni Taxi said fares from the base are down by half these days.
Many of the drivers make round trips to the Shin Iwakuni train station and the bars and Naka Dori district about a mile from MCAS Iwakuni's main gate. But Marines and sailors at the air station may not leave the base for anything other than essentials. Bars and nightclubs are off limits, and off-duty travel is also forbidden.
"We thought that we would be in a better situation compared to other businesses thanks to the base, but it's been very difficult," Morihashi said.
Some proprietors have plans to get through the pandemic.
In addition to The Pour House Bar and Grill, Ibuki owns Kukatsu Okinawa Food Delivery, the only food-delivery service on Okinawa.
"It's not only our restaurant that is hurting, this is hurting all of our industry," she said. "I can help and support other restaurants near bases to deliver their food to the service members to get by this hard time."
Keith Salyer, a Navy veteran, opened his own bar, DD-214, in Iwakuni on Jan. 27. He said March 24 he can rely on his late-night Japanese customers, who visit after the Americans' 1 a.m. curfew.
"Is it going to hurt? Yeah, it's going to hurt. I probably won't feel it until the end of next month," Salyer said. "Right now, my bills are payed, at least for [March]."
Stars and Stripes reporters Theron Godbold and Christian Lopez contributed to this report.
bolinger.james@stripes.com Twitter: @bolingerj2004
ichihashi.aya@stripes.com Twitter: @AyaIchihashi
---
---
---
---