Obama in Japan: Disputed islands fall under US-Japan defense pact
by
Seth Robson robson.seth@stripes.com
April 24, 2014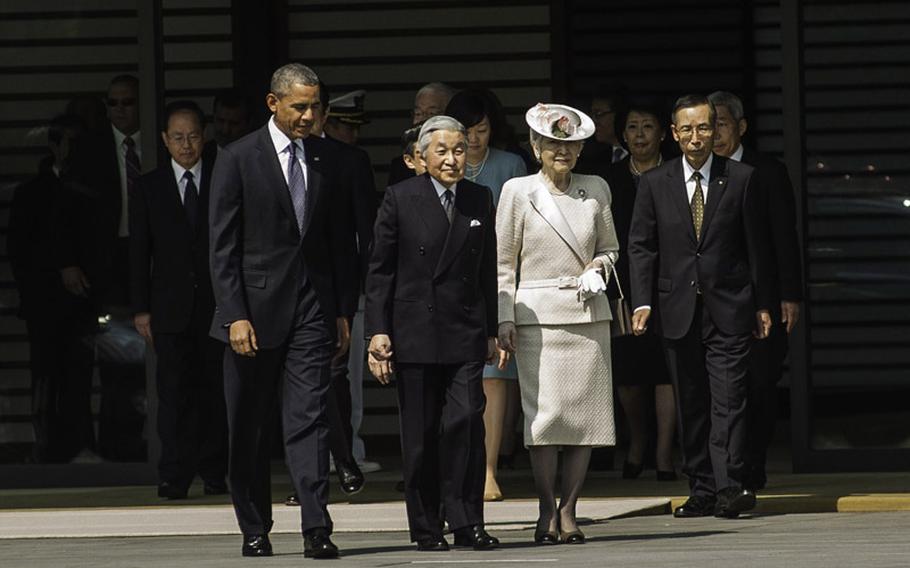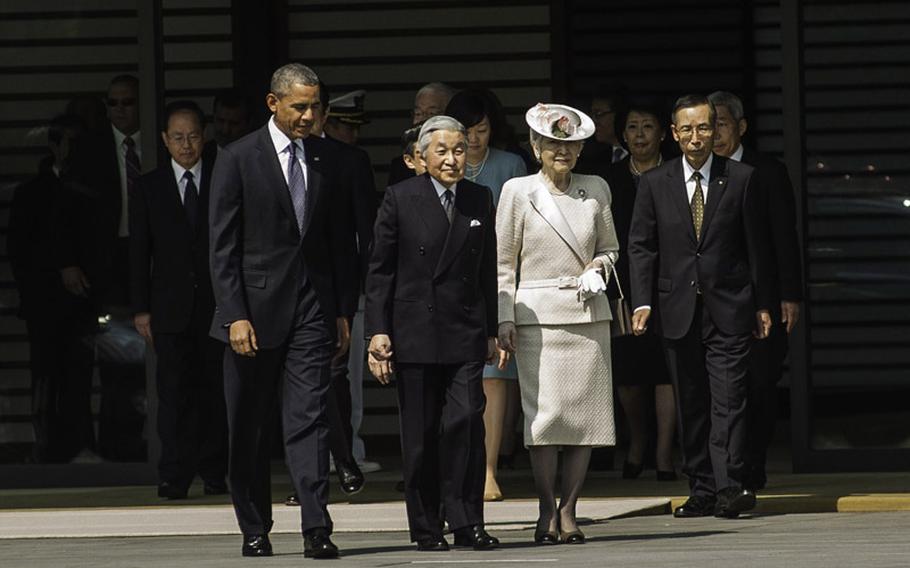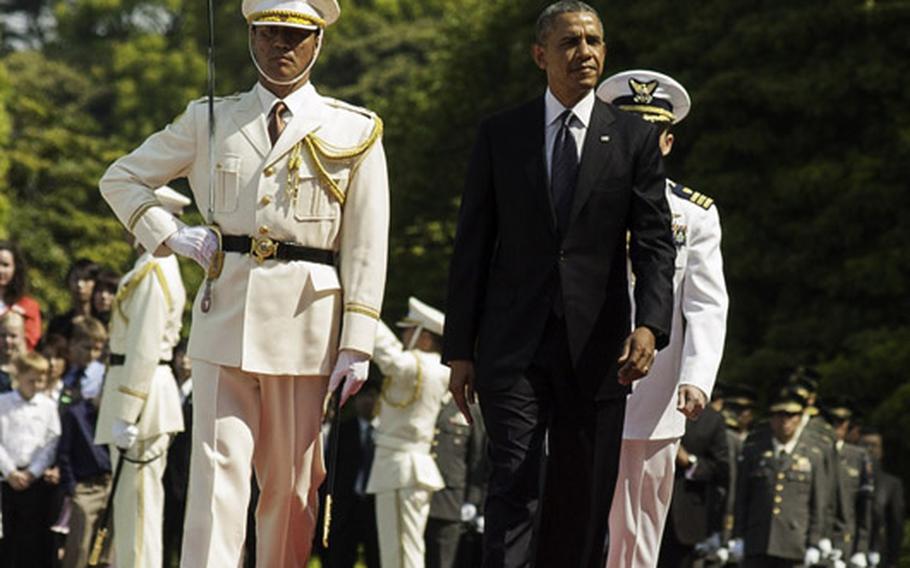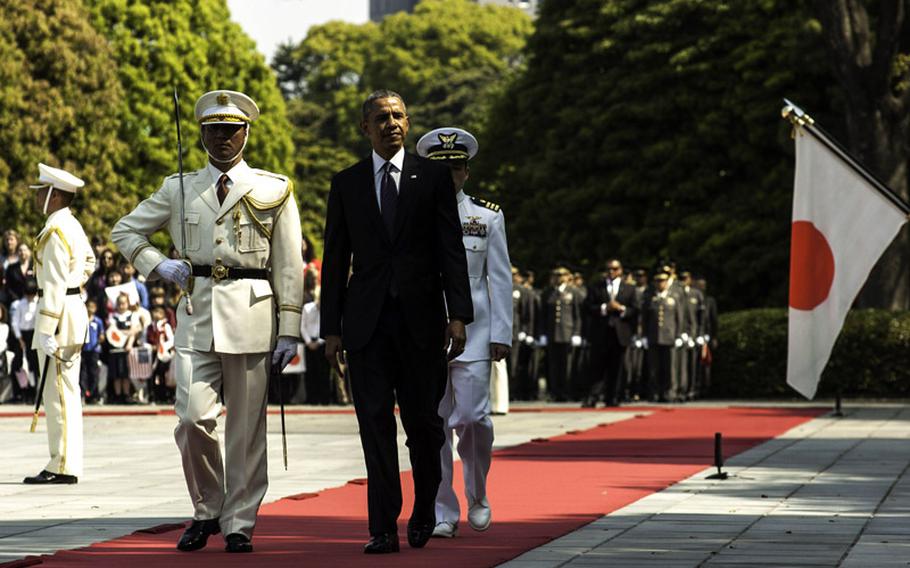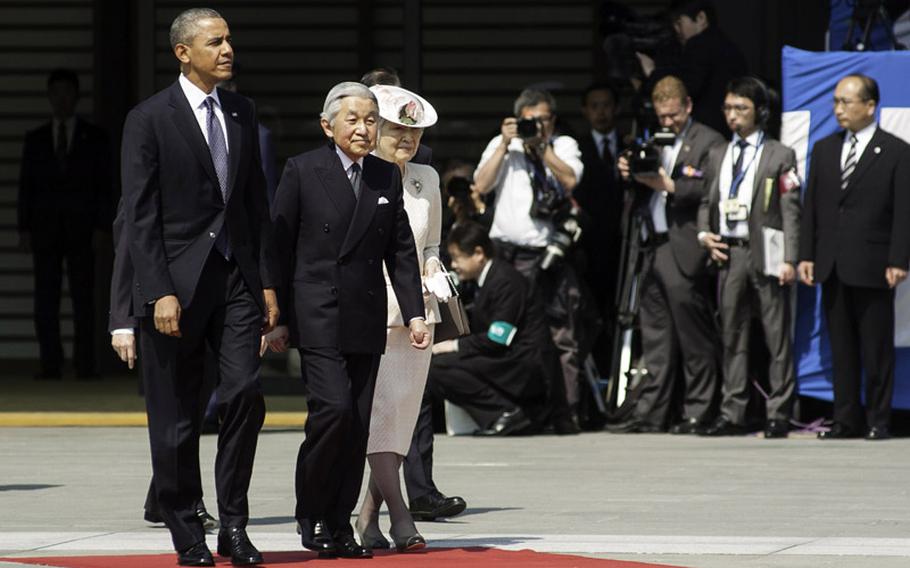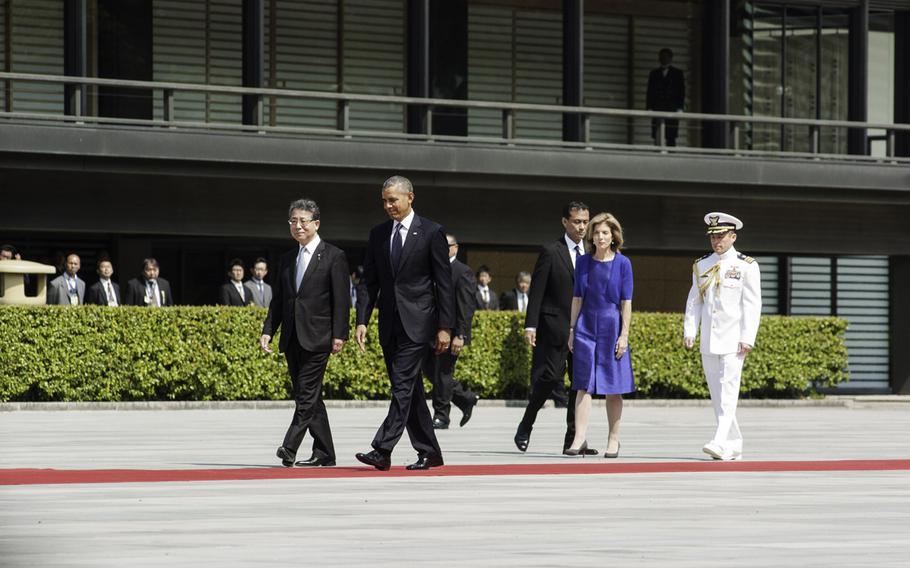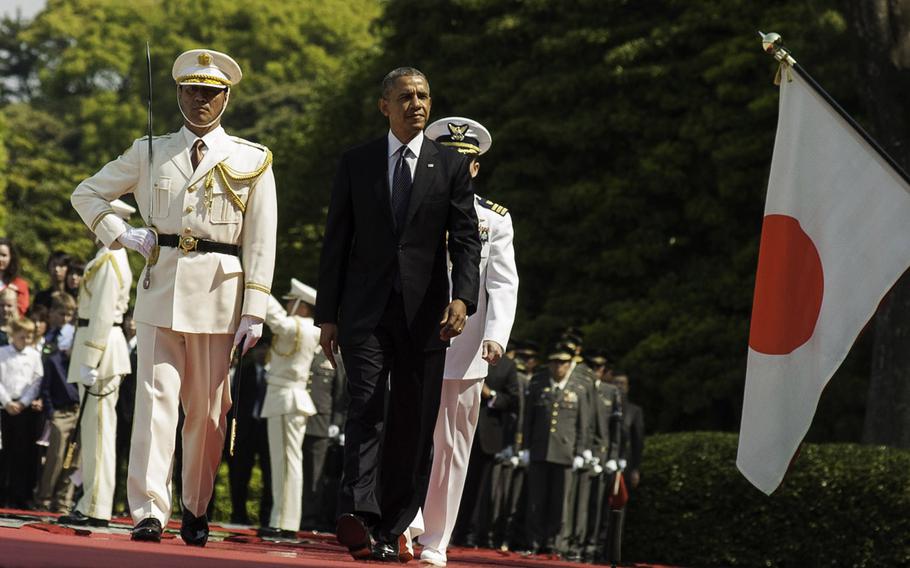 TOKYO — The disputed Senkaku Islands fall under the scope of the Japan-U.S. security alliance, President Barack Obama said Thursday, a statement that provoked a sharp critique from Beijing.
Standing beside Japanese Prime Minister Shinzo Abe at Tokyo's Akasaka Palace, Obama told a news conference that the defense treaty covers all areas administered by Japan, including the Senkakus.
The islands and the waters surrounding them — which encompass valuable fisheries and natural gas fields — are claimed by both Japan and China, and both countries have repeatedly scrambled fighter jets there in recent years. China has also established an air defense identification zone over the islands, which Japan and several other nations reject. Maritime incidents in nearby waters have also increased since Japan nationalized the islands in 2012.
"We don't take a position on final sovereignty determinations with respect to the Senkakus, but historically they have been administrated by Japan, and we don't believe that they should be subject to change unilaterally," Obama said.
He reaffirmed an article of the U.S.-Japan security treaty that calls on the United States to defend Japan if any of its territories are attacked.
"Article Five covers all territories under Japan's administration, including the Senkaku Islands," Obama said, adding later: "The treaty between the U.S. and Japan preceded my birth, so obviously this isn't a red line that I'm drawing."
Disputes in the region should be resolved peacefully and nations should respect international law and freedom of navigation, he said.
"In our discussions I emphasized with Prime Minister Abe the importance of resolving this issue peacefully… not escalating the situation… keeping the rhetoric low… not taking provocative actions," he said.
However, on Wednesday, China Foreign Ministry spokesman Qin Gang criticized the U.S. position on the islands, which China calls the Diaoyutai.
"China firmly opposes the inclusion of the Diaoyu Islands into the U.S.-Japan security treaty," Qin said. "The U.S. should respect facts, act responsibly, stick to its commitment of taking no sides in relevant territorial disputes, think twice before saying or doing anything and truly play a constructive role in ensuring regional peace and stability."
Obama said the U.S. has strong relations with China.
"They are a critical country not just to the region but the world. We want to continue to encourage the peaceful rise of China," he said. "But what we have also emphasized… is that all of us have responsibilities to help maintain the basic rules of the road and international order."
The alternative would be a world where large countries feel they can take actions which would disadvantage smaller nations, Obama said.
"That's not the type of world that's going to be stable and prosperous and secure for long," he said. "My hope is that China will continue to engage with us and other countries in the region."
Obama said he and Abe discussed a range of other issues during their meeting.
"I have said many times: the United States is and always will be a Pacific nation. America's security and prosperity are inseparable from the future of this region," he said at the start of a trip that also will take him to South Korea, Malaysia and the Philippines.
That position is built on a foundation of America's historic treaties, including the one with Japan, he said.
"We agreed to continue deepening our security cooperation," Obama said. "As we modernize our defense posture in the region, our forces in Japan will include our most advanced military capabilities."
Examples of U.S.-Japan cooperation cited by Obama included delivering relief supplies together in the Philippines following last year's typhoon and a unified response to Russian aggression in Ukraine.
Abe reaffirmed his commitment to "steady progress" in replacing Marine Corps Air Station Futenma with a permanent facility on Okinawa. The move is supported by both governments but faces opposition from Okinawa civic groups and from the mayor where the new facility is ready to be built.
The U.S. and Japan are moving closer to agreement on issues such as trade in agriculture and vehicles as part of the Trans Pacific Partnership trade talks, Obama said.
"American manufacturers and farmers need meaningful access to markets… that's my bottom line," he said.
Japan has an opportunity to play a leadership role in the Asia-Pacific region in the 21st Century, he said.
"Now is the time for bold steps," Obama said.
Stars and Stripes staffer Erik Slavin contributed to this story.
---
---
---
---