ANALYSIS
North Korean missile tests, saber-rattling test US-South Korean alliance
by
Kim Gamel
August 18, 2019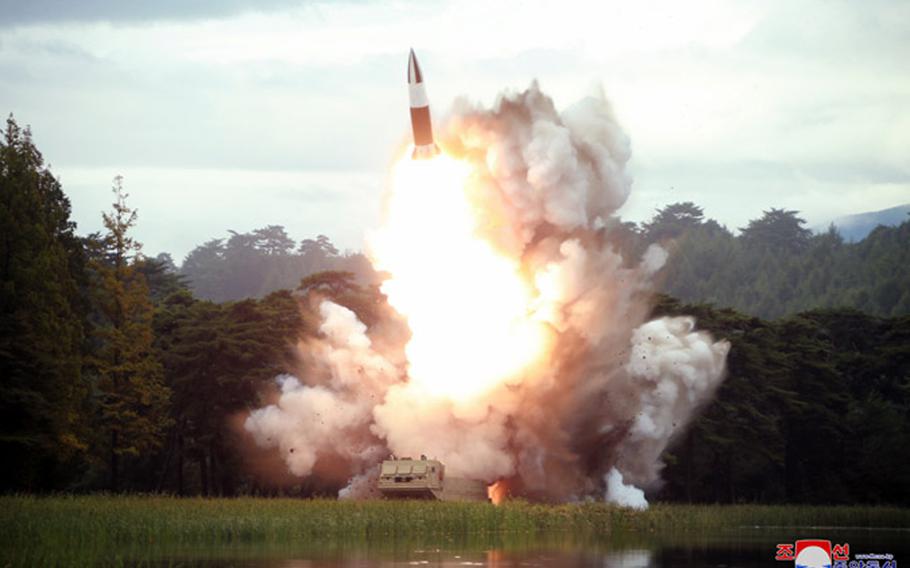 SEOUL, South Korea — North Korea stepped up its criticism of U.S.-South Korean military exercises on Sunday, warning the drills will have "disastrous consequences" despite allied efforts to scale them back.
It was the latest in a surge of saber-rattling and missile tests as the communist state sets the stage for what is likely to be another tough round of talks with the United States over its nuclear weapons program.
The North has raised the stakes by conducting six weapons tests in less than a month, which experts say may be short-range but could pose a new threat to U.S. military bases and evade defenses in the South.
Despite the rhetoric, Pyongyang has signaled it may return to the negotiating table after joint exercises due to end Tuesday. But experts say it is likely to come with a higher price and hopes of driving a wedge in the longstanding U.S.-South Korean alliance.
President Donald Trump has dismissed the launches as a bargaining tactic, saying they haven't violated North Korean leader Kim Jong Un's promise to suspend tests of long-range missiles and nuclear weapons that could threaten the U.S. mainland.
Instead, Trump has joined the North in its criticism of the "war games," which he has called very expensive and provocative. The president also has pressed South Korea to pay more to offset the costs of stationing some 28,500 American troops on its soil.
Raising the price Such comments represent an opportunity for the North Koreans, who are eager to take advantage of Trump's oft-stated antipathy to alliances, said David Maxwell, a senior fellow at the Washington, D.C.-based Defense of Democracies think tank.
"I think they're probably going to return to some kind of negotiations but in their mind they're going to come to the negotiating table from a position of military strength, and that's what I think all of this is designed to do," he said in a telephone interview.
Maxwell said the North may offer to dismantle intercontinental ballistic missiles and reduce its stockpile of nuclear warheads in exchange for the reduction or removal of U.S. troops.
"They may believe that Trump will be willing to give security guarantees, which could come in the form of removing U.S. forces from the peninsula," he said.
Trump's administration insists it will maintain punishing economic sanctions against North Korea until the communist state agrees to give up its nuclear weapons.
Special U.S. envoy Stephen Biegun is due to arrive in Seoul on Tuesday to "further strengthen coordination on the final, fully verified denuclearization of the DPRK," the State Department said, using the initials for the North's formal name the Democratic People's Republic of Korea.
The president also has said in the past that he wouldn't use U.S. troops as a bargaining chip in talks with North Korea, although he has frequently stated his desire to eventually withdraw them to save money.
Diplomatic efforts to persuade the North to abandon its nuclear weapons have eased tensions that raised fears of a new war as the North test-fired ICBMs and conducted three nuclear tests in 2016-17.
But talks stalled after Trump and Kim failed to reach an agreement during their second summit in February in Vietnam. The meeting exposed deep differences over the North's demands for relief from punishing sanctions in exchange for interim steps toward disarming.
Duyeon Kim, a Seoul-based fellow with the Center for a New American Security, said the recent missile-testing binge is aimed at persuading Trump to cancel the joint drills as well as to perfect short-range ballistic missiles and to offer a show of strength for North Korean hard-liners.
But she said Trump's dismissal of the drills was sending a worrisome message to U.S. allies in the region.
"Perhaps Trump is picking his battles, hoping to give yet-to-be held negotiations a chance to begin and blossom," Duyeon Kim wrote in a commentary for the Bulletin of the Atomic Scientists. "But his virtual blessing for short-range ballistic missile tests is telling his allies, South Korea and Japan, and American soldiers and expatriates that they are dispensable."
Improving defenses South Korea also has been largely mum about the latest spate of missile tests as well as the North's recent insults targeting President Moon Jae-in and its rejection of his appeal to resume inter-Korean talks.
But the country is clearly worried, with the defense ministry announcing last week that it will raise defense spending an average of 7.1% a year for the next five years.
The $240 billion blueprint would focus on improving radar detection and other defense capabilities "against new types of ballistic missiles North Korea has recently test-fired," the ministry said Wednesday.
South Korea also has begun receiving new American F-35 stealth jets after agreeing to buy 40 of the state-of-the-art fighters by 2021.
And its air force will be equipped with an RQ-4 Block 30 Global Hawk surveillance drone starting next month, local media reported.
Moon's administration also hopes to assume operational control of the military if war breaks out, a responsibility that currently would fall to the top U.S. general in South Korea.
The allies said that's the focus of the mainly computer simulated military exercises that began earlier this month.
North Korea was not appeased, saying Trump had agreed to suspend the drills in his first meeting with Kim last year in Singapore and again at their June 30 meeting on the Korean border.
"A stop to the joint military exercises is an issue which the man with the full command of the armed forces of the U.S. committed to do in person," the state-run Korean Central News Agency said in a report published Sunday.
"The right answer for removing all the potential and direct threats posed to the security of our state is the constant development of powerful physical means and their deployment for an actual war," it added. "The U.S. should keep in mind that our repeated warnings are not hot air."
gamel.kim@stripes.com Twitter: @kimgamel