North Korean leader orders production of more solid-fuel rocket engines
by
Kim Gamel
August 23, 2017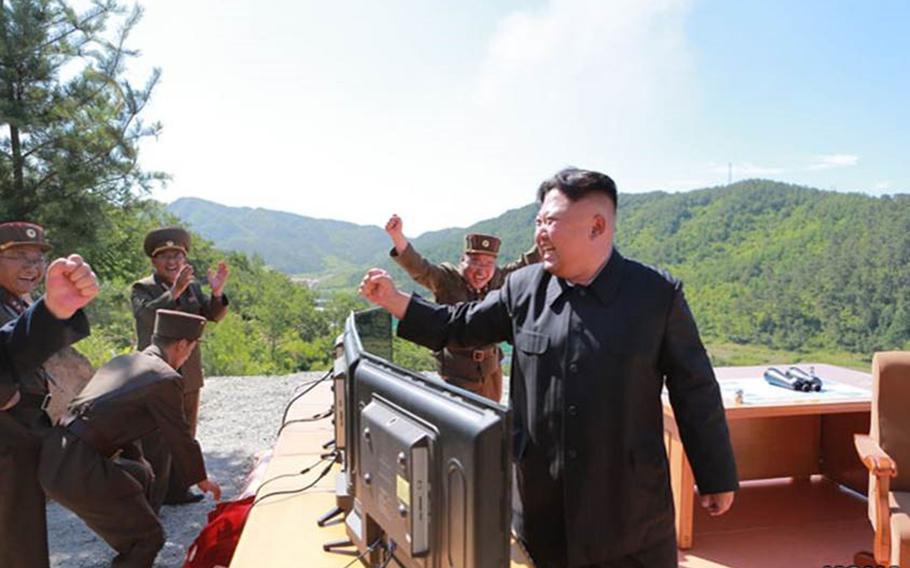 SEOUL, South Korea — North Korean leader Kim Jong Un has ordered the production of more solid-fuel rocket engines and warhead tips, the country's state-run media said Wednesday.
The Korean Central News Agency also published photos indicating that it is developing a new ballistic missile. The photos showed diagrams hanging on a wall behind Kim during a visit to a plant that makes the engines.
The report comes amid high tensions over the North's nuclear weapons program following more than a year of surprising progress, including the test-launches of two intercontinental ballistic missiles last month.
North Korea and President Donald Trump also traded a series of bellicose statements earlier this month that raised fears an actual conflict could break out, although tensions have subsided somewhat after Kim said he was putting on hold a plan to fire missiles into the waters near Guam.
The leader "instructed the institute to produce more solid-fuel rocket engines and rocket warhead tips by further expanding engine production process and the production capacity of rocket warhead tips and engine jets by carbon and carbon compound material," during his visit to the Chemical Material Institute of the Academy of Defense Science, KCNA said.
The diagrams on the wall behind him showed a missile called Pukguksong-3 as well as one that appeared to be in the Hwasong series, according to The Associated Press.
The United States and South Korea are watching North Korea carefully for any signs of provocations as U.S. and South Korean militaries began joint war games on Monday that are held every summer and always infuriate Pyongyang.
North Korea has made rapid progress in its march toward developing a nuclear-tipped ICBM that could target the U.S. mainland. Experts believe it has yet to perfect the technology needed to allow a warhead to re-enter the atmosphere.
It also has tested solid-fuel rocket engines, which are harder to detect before they are launched.
Stars and Stripes reporter Yoo Kyong Chang contributed to this report.gamel.kim@stripes.com Twitter: @kimgamel