North Korean ICBM appears to have broken up during re-entry, think tank says
by
Aaron Kidd
August 1, 2017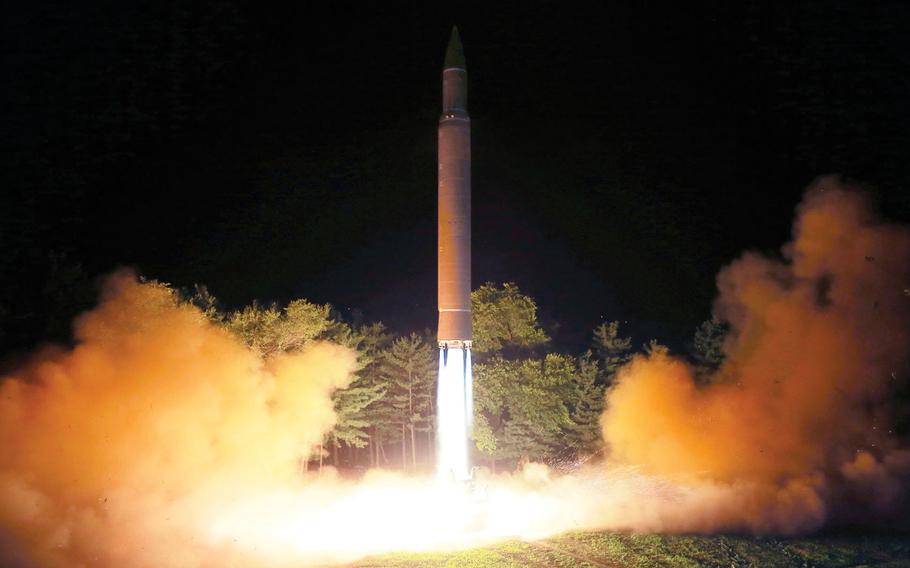 TOKYO — Video captured of North Korea's latest intercontinental ballistic missile test casts doubt on the regime's ability to field a reliable ICBM re-entry vehicle, a Washington-based think tank said Monday.
The footage — caught by a weather camera owned by Japanese broadcaster NHK not far from where the ICBM splashed down off Hokkaido — shows the re-entry vehicle "shedding small radiant objects" before dimming and disappearing at an altitude of 2.5 to 3 miles, said North Korean monitoring website 38 North.
"Had the [re-entry vehicle] survived the rigors of re-entry, it would have continued to glow," said the report written by Michael Elleman of the International Institute for Strategic Studies.
Based on the video evidence, he said, a "reasonable conclusion" is that the ICBM's re-entry vehicle did not survive the test.
"If this assessment accurately reflects reality, North Korea's engineers have yet to master re-entry technologies and more work remains before [North Korean leader Kim Jong Un] has an ICBM capable of striking the American mainland," Elleman said.
Kim expressed "great satisfaction" after the Hwasong-14 missile -- the second ICBM North Korea had tested in July -- reached its maximum altitude of 2,314 miles after being fired late Friday, said a statement released Saturday by the Korean Central News Agency. He also boasted that the test demonstrated Pyongyang's ability to conduct a surprise ICBM attack from any place and at any time and proved that the regime's missiles can now reach "all across the continental U.S."
However, the missile's reliability remains an "outstanding question," said the 38 North report, which added that future tests must show that Pyongyang's missiles are more likely to reach the U.S. mainland than they are to fail.
38 North also said it is "reasonable to assume North Korea can construct a bomb that weighs less than one metric ton, with a diameter of less than one meter."
"This could be easily carried by the Hwasong-14, though to reach the U.S. mainland, a lighter-weight bomb may be required," the report said.
38 North is run by Johns Hopkins University's School of Advanced International Studies.
kidd.aaron@stripes.com Twitter: @kiddaaron