North Korea warns US bombing drills risk pushing peninsula to 'tipping point'
---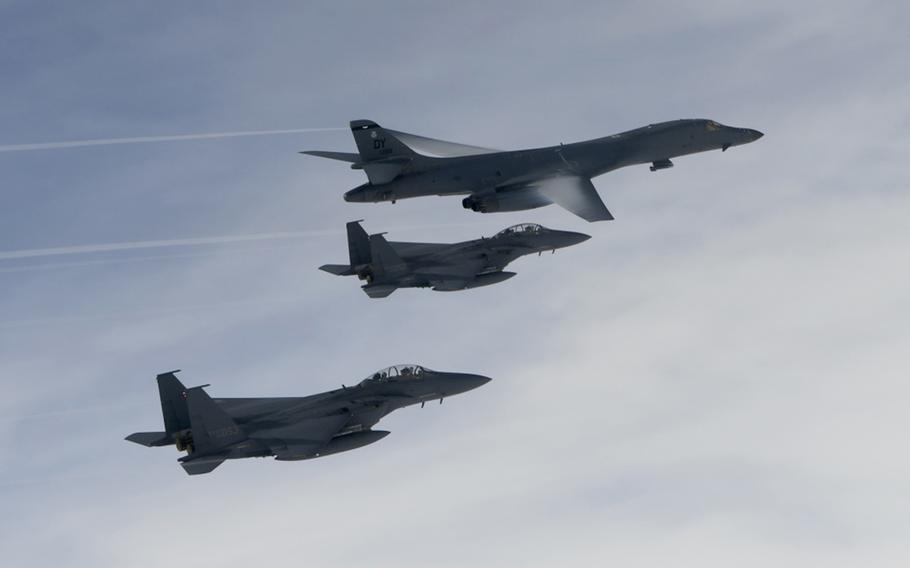 SEOUL, South Korea – North Korea warned recent U.S. bombing drills risked pushing the divided peninsula to the "tipping point" of war by stoking already-high tensions over the communist state's nuclear weapons program.
Two Guam-based U.S. supersonic bombers flew to South Korea on Friday and released inert weapons on a training range in a show of force three days after the North test-fired an intercontinental continental ballistic missile.
The B-1B Lancers were accompanied by U.S. and South Korean fighter jets as part of a 10-hour mission. They also flew with Japanese fighter jets over the East China Sea on their way back to Andersen Air Force Base.
North Korea's state-run media, which usually responds angrily to U.S.-South Korean military exercises, called the peninsula the "world's biggest tinderbox" and said the deployment of U.S. strategic assets was playing with fire.
"The US, with its dangerous military provocation, is pushing the risk of a nuclear war on the peninsula to a tipping point," said a commentary in Rodong Sinmun, the ruling party's official newspaper.
It also reiterated North Korea's insistence that its weapons program is part of "legitimate and justified measures to defend its sovereignty and dignity."
The United States has warned that all options including military action are on the table as it works with allies to counter the growing threat from the North. Experts warned the ICBM tested on Tuesday demonstrated a range that could put it in reach of Alaska.
The U.S. also plans to carry out a new test of an advanced missile defense system known as THAAD in coming days, Reuters reported, quoting two unnamed U.S. officials.
The interceptors will be fired from Alaska, it said.
Administration officials also have tempered talk of war, saying Washington will continue to pursue diplomatic actions.
President Donald Trump called North Korea a "problem and menace" and said "something has to be done about it" during a flurry of meetings Saturday, the final day of the Group of 20 summit in Germany.
Trump has expressed increasing frustration that China hasn't done more to use its economic influence to force North Korea to halt its programs.
Beijing, which opposes Pyongyang's nuclear program but fears strong measures could lead to instability in the region, has urged dialogue and restraint.
Chinese President Xi Jinping told Trump during their meeting on Saturday that China remains "firmly committed to denuclearizing" the Korean Peninsula. But he reiterated that a solution to the North Korean problem must come through dialogue and consultation.
The U.S. maintains about 28,500 servicemembers in South Korea, which remains technically at war since the 1950-53 conflict on the peninsula ended in an armistice instead of a peace treaty.
Twitter: @kimgamel
---
---
---
---