North Korea warns of 'merciless strikes' if US aircraft carrier violates its sovereignty
by
Kim Gamel
March 14, 2017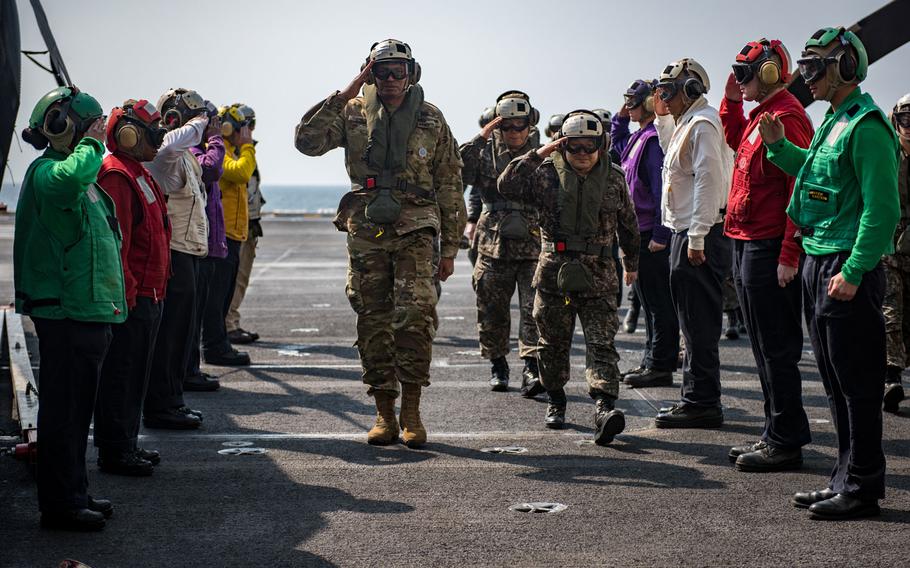 SEOUL, South Korea – North Korea warned of "merciless ultra-precision strikes" over U.S.-South Korean war games as a nuclear-powered U.S. aircraft carrier joined the drills.
The allies are conducting annual military exercises, which they insist are defensive in nature. But the drills are a major point of contention with Pyongyang, which alleges they are a rehearsal for an invasion.
North Korea's state-run news agency said the deployment of the USS Carl Vinson in the waters off the divided peninsula is part of a "reckless scheme" for pre-emptive strikes against it.
The Korean Central News Agency warned that "nuclear-powered carriers and all other strategic assets of the U.S. imperialists are in sight" of its army.
"If they infringe on [North Korea's] sovereignty and dignity even a bit, its army will launch merciless ultra-precision strikes from ground, air, sea and underwater," it said, adding "the war maniacs had better stop acting rashly."
The Nimitz-class Carl Vinson and about 5,500 crewmembers are on a patrol as part of Foal Eagle drills that began on March 1. The aircraft carrier and the guided-missile destroyer USS Wayne E. Meyer are due to visit the southern port of Busan on Wednesday.
The commander of U.S. Forces Korea, Gen. Vincent Brooks, and South Korea's chairman of the Joint Chiefs of Staff Gen. Lee Sun-jin visited the Carl Vinson as it conducted patrols on Sunday.
"The USS Carl Vinson's presence is another tangible example of how the [South Korean-U.S.] alliance continues to enhance interoperability and key capabilities to ensure security and stability on the Korean peninsula and the region," Brooks said in a statement.
KCNA claimed many carrier-based aircraft flew near North Korea's territorial air and waters on Saturday to stage drills simulating bomb drops and a surprise attack.
Foal Eagle is a field-training exercise that involves about 10,000 U.S. servicemembers, including 3,500 who are coming from off the peninsula.
USFK also began a computer-simulated, command-post drill called Key Resolve on Monday that will involve about 13,000 American forces, including 3,600 from off the peninsula, and 10,000 South Korean military personnel.
The military insists the exercises are aimed at strengthening regional security cooperation and demonstrating the U.S. commitment to its longstanding alliance with South Korea.
"Key Resolve scenarios do not reflect any real world situation or crisis," USFK said in a fact sheet issued by the public affair's office.
There are about 28,500 U.S. servicemembers in South Korea, which is separated from the North by the world's most fortified border. The countries remain technically at war after the 1950-53 conflict ended in an armistice instead of a peace treaty.
Tensions have risen sharply after North Korea stepped up its nuclear-weapons program last year, conducting two underground nuclear tests and test-firing two dozen ballistic missiles despite two rounds of tightened U.N. Security Council sanctions aimed at stopping it.
Pyongyang has launched two more missiles into the sea off the east coast this year, posing a major challenge to President Donald Trump's new administration.
The U.S. military has started to deploy an advanced anti-missile battery known as THAAD to South Korea despite strong objections from China, which fears the system could be used to spy on its military.
Beijing, which has been a traditional ally of North Korea, suggested last week that the communist state could suspend its nuclear-weapons program if Washington and Seoul would halt the exercises. The U.S. State Department rejected the offer, saying it was not a "viable deal."
gamel.kim@stripes.com Twitter: @kimgamel