North Korea tries but fails to launch missile ahead of Pence's arrival on peninsula
by
Kim Gamel
April 15, 2017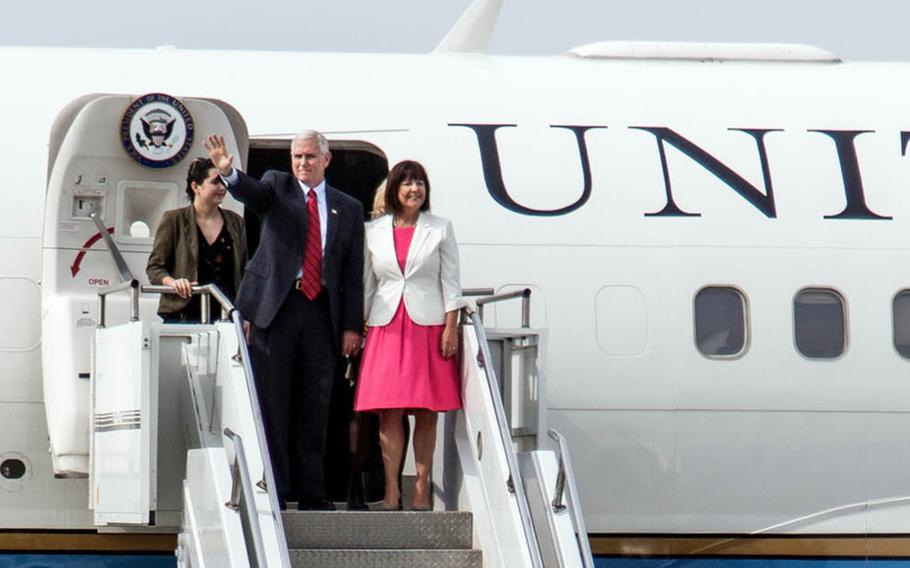 SEOUL, South Korea — A North Korean missile exploded seconds after launch Sunday - an embarrassing blow to the communist state - as Vice President Mike Pence arrived in the South to discuss the crisis over the North's nuclear weapons program.
In remarks to U.S. soldiers shortly after landing, Pence promised that Washington's resolve and commitment to defending South Korea has "never been stronger."
"This morning's provocation from the North is just the latest reminder of the risks each one of you face every day in the defense of the freedom of the people of South Korea and the defense of America in this part of the world," Pence told troops during a fellowship meal after Easter services in Seoul.
"Your willingness to step forward, to serve, to stand firm without fear, inspires the nation and inspires the world," he said after being introduced by Gen. Vincent Brooks, the top U.S. commander in South Korea.
The missile developments capped weeks of anticipation that Pyongyang would conduct a sixth nuclear test or try to launch an intercontinental missile Saturday to mark its biggest holiday - the 105th birthday of founding father Kim Il Sung.
Instead, what appeared to be ICBMs mounted on trucks rolled through a central square in Pyongyang as Kim Jong Un - the third leader in the Kim family dynasty – presided over a parade with tens of thousands of soldiers marching by his viewing platform and other citizens waving plastic flowers in unison.
The show of military might came as tensions have skyrocketed on the peninsula, which has been divided by the world's most fortified border since the 1950-53 Korean War ended in an armistice instead of a peace treaty.
North Korea fired a medium-range missile Sunday from near its east coast port city of Sinpo, but it exploded about four or five seconds after the launch, according to a White House foreign policy adviser.
The adviser, who spoke on condition of anonymity, said the Trump administration did not expect to respond to the test because it doesn't want to reinforce the failure, according to The Associated Press.
However, the adviser added that "other actions would have been taken by the U.S." if the North had conducted a nuclear test, as satellite imagery had indicated was possible.
It was the fifth missile test since President Donald Trump took office Jan. 20.
South Korea's Joint Chiefs of Staff also reported the failed missile launch, less than two weeks after the North fired another missile, which flew about 40 miles before landing in the sea.
Despite the failure, experts say the North Koreans are making clear progress toward their goal of developing a nuclear-tipped missile that could reach the U.S. mainland. Most believe the North already has the capability to strike U.S. bases in South Korea and Japan; and it's likely a matter of years before the North has an operational ICBM and miniaturized warheads that could fit on the missile.
Analysts and military officials pointed to missiles that were on display during the parade, including what appeared to be a new type of longer ICBM and a solid-fuel missile that could be fired from a submarine.
There also is another anniversary coming up to mark the founding of North Korea's army on April 25, raising speculation that Pyongyang may carry out another provocation.
Heightened uncertaintyNorth Korea has persisted in developing weapons despite U.N. Security Council resolutions and sanctions banning it from using ballistic technology. Pyongyang says the program is needed for self-defense.
Washington and Pyongyang have long sparred over North Korea's nuclear ambitions.
Former President George W. Bush branded the isolated state as part of an "axis of evil" along with Iran and Saddam Hussein's Iraq during his 2002 State of the Union speech.
The countries were on the brink of war when then-President Bill Clinton reached a deal with Kim's father, Kim Jong Il, in 1994.
But Trump has introduced a new element of uncertainty by promising to overturn the longstanding policy of relying on punishing sanctions and diplomatic pressure, while giving few details of how things will change.
Trump also called on China to do more to rein in its communist ally, saying the United States is prepared to act unilaterally against North Korea and diverting the USS Carl Vinson striker group back to the waters surrounding South Korea in a show of force.
"North Korea is a problem. The problem will be taken care of," he told reporters last week, the latest in a series of similar tweets and comments.
The U.S. military also is holding annual war games with its South Korean allies through the end of this month, a constant source of contention with the North, which considers the drills a rehearsal for an invasion. Washington insists they're defensive in nature.
North Korea defiantly says it's also prepared for a pre-emptive attack if provoked.
Kim Jong Un applauded and saluted but didn't speak during Saturday's parade. A senior North Korean official, however, blamed the United States for "creating a war situation."
"We will respond to an all-out war with an all-out war and a nuclear war with our style of a nuclear attack," Choe Ryong Hae said.
Choe, the vice chairman of North Korea's ruling Workers' Party, also referred to the U.S. strike against a Syrian government-controlled airbase earlier this month. That attack was widely seen as a warning to Pyongyang.
"Now the U.S. imperialists have struck a sovereign country," he said. "If the U.S. government pre-emptively strikes our country, we are ready to counter strongly."
North Korea has conducted two nuclear tests and test-fired more than two dozen missiles since last year. In all, it has carried out five underground nuclear explosions since 2006.
Pence arrivesPence, accompanied by his wife Karen, landed at Osan Air Base, then traveled to Seoul, the first stop on a 10-day tour of the region.
He placed a wreath at the National Cemetery in Seoul in a symbolic gesture to commemorate the 1950-53 Korean War; then he worshipped with U.S. military personnel at the Yongsan U.S. Army garrison.
The U.S. maintains about 28,500 servicemembers in the South and 50,000 in neighboring Japan. Pence will meet with acting President Hwang Kyo-ahn, other senior officials as well as U.S. soldiers before traveling to Japan on Tuesday.
The Trump administration has conducted a policy review but has not revealed details about its plans for dealing with the North, although U.S. officials say it will rely on "maximum pressure and engagement," according to AP.
The immediate emphasis will be on increasing pressure on Pyongyang with the help of Beijing, the officials said, speaking on condition of anonymity.
Pence is expected to try to explain the policy and try to reassure allies of U.S. support.
Twitter: @kimgamel