North Korea touts new 'super-large' rocket launching system
by
Kim Gamel
August 24, 2019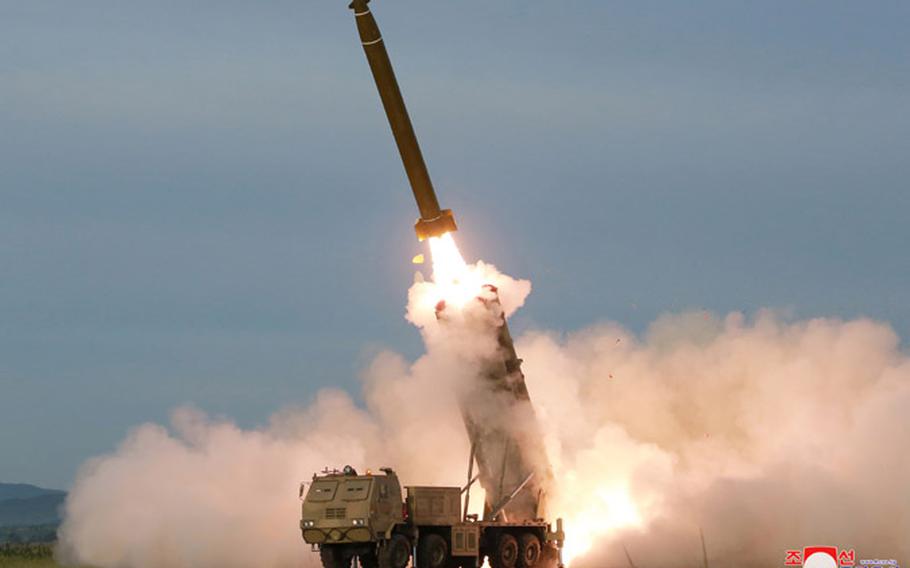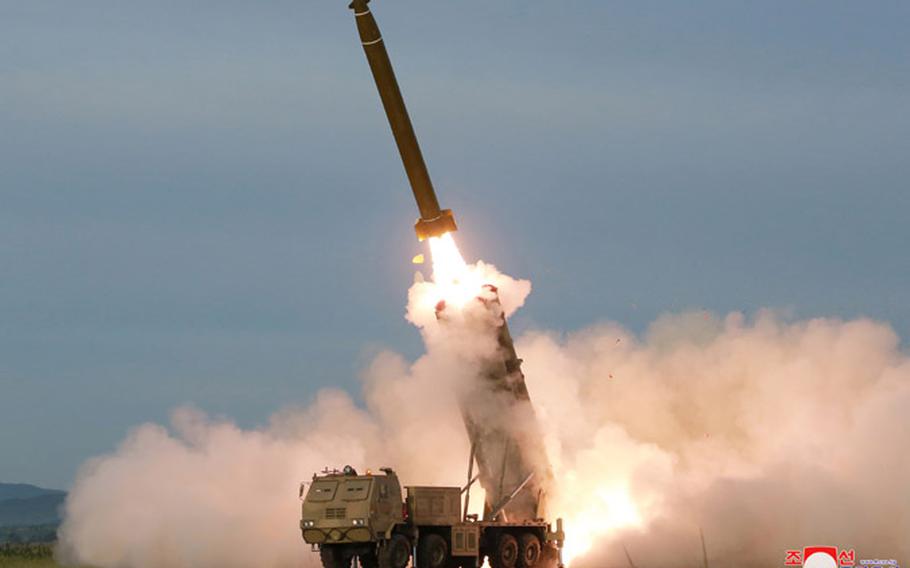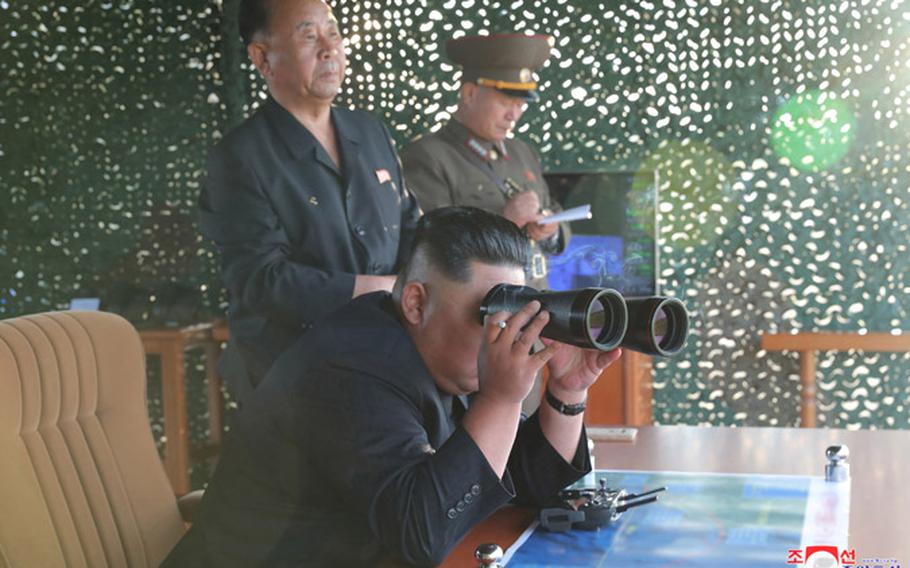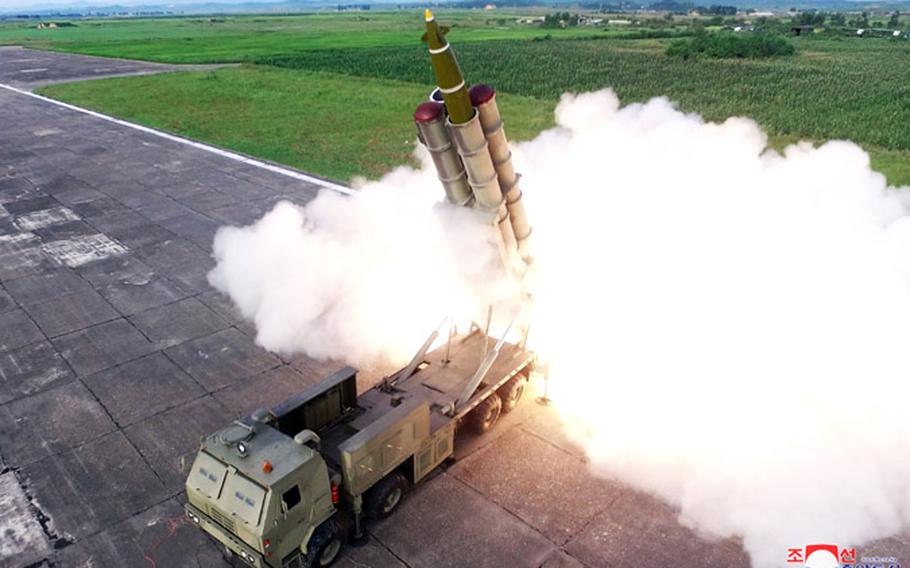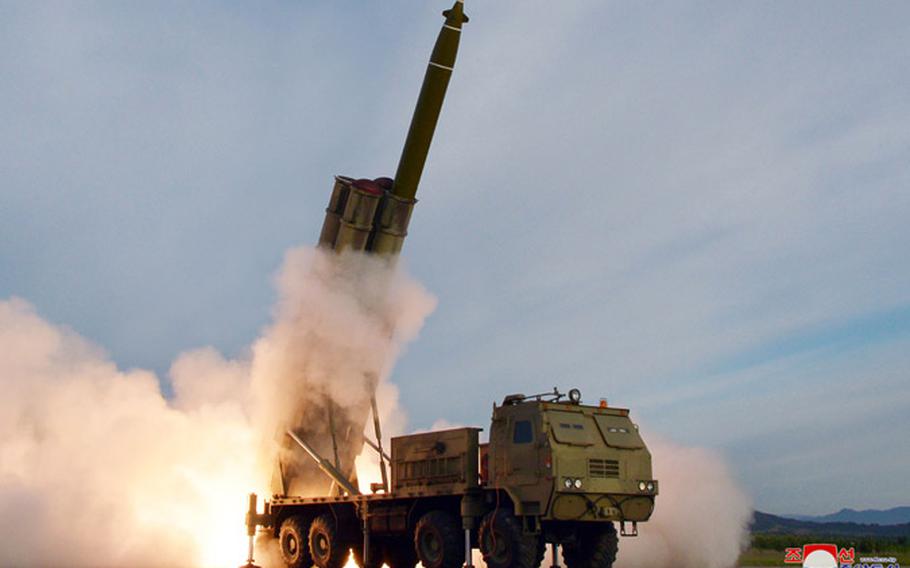 SEOUL, South Korea - North Korea said Sunday that it tested a new "super-large multiple rocket launcher system" the day before, showing off its growing arsenal amid stalled nuclear talks with the United States.
North Korean leader Kim Jong Un observed the launch, calling it a "great weapon" and praising the "young national defense scientists" who developed it from scratch, the state-run Korean Central News Agency reported.
Tensions also rose on another front, as South Korea began a two-day military exercise asserting its control over a cluster of islets that are also claimed by Japan.
The drills, conducted twice a year, followed Seoul's announcement that it was withdrawing from a military intelligence sharing agreement with Japan due to an escalating trade spat between the two U.S. allies.
The Yonhap News Agency reported that warships and planes as well as ground forces descended on the largely uninhabited rocky outcroppings, which South Korea calls Dokdo and Japan calls Takeshima.
Tokyo criticized the drills, as relations between the two countries have deteriorated to the worst levels in decades.
"It's an exercise to guard our sovereignty and territory," South Korean presidential spokeswoman Ko Min-jung was quoted as saying by the Yonhap News Agency.
She insisted the training was aimed at improving defenses against potential threats from "all forces," not just Japan.
But the timing drew scrutiny due to South Korea's exit from the 2016 General Security of Military Information Agreement, or GSOMIA, which will expire in November.
The Pentagon expressed "strong concern and disappointment" about the decision to end the pact, which came as the North has stepped up its weapons programs.
South Korea tracks missilesSouth Korea's military said the North had fired two projectiles that were presumed to be short-range ballistic missiles on Saturday. They flew nearly 240 miles and reached an altitude of 60 miles before splashing into the sea off the peninsula's east coast, according to the Joint Chiefs of Staff.
But KCNA said a "super-large multiple rocket launcher system" had been tested.
"The test-fire proved that all the tactical and technological specifications of the system correctly reached the preset indexes," it said.
KCNA also quoted Kim as underscoring "the need to push ahead with an indomitable offensive campaign … to continue to step up the development of Korean-style strategic and tactical weapons for resolutely frustrating the ever-mounting military threats and pressure offensive of the hostile forces."
Photos showed rockets blasting off from a mobile launcher as well as Kim smiling as he watched.
It was the seventh such launch in a month, dashing hopes for a resumption of stalled nuclear talks soon.
Trump downplays testsPresident Donald Trump has so far played down concerns about the testing activity because the missiles have been short-range.
U.N. Security Council sanctions resolutions ban the North from using ballistic missile technology.
However, Trump has suggested his red line would be a return to the long-range missile and nuclear testing that raised fears of war in 2016-17 before diplomacy gained momentum.
Following Saturday's test, Trump insisted that he and Kim maintain "a very good relationship."
"Kim Jong Un has been, you know, pretty straight with me," Trump told reporters outside the White House. "He likes testing missiles, but we never restricted short-range missiles. We'll see what happens."
Trump also said earlier this month that Kim had sent him a letter promising to stop the tests after the allies finish joint drills, which North Korea protested because it considers them a rehearsal for an invasion. Those drills were finished Tuesday.
North Korea has conducted seven missile and rocket tests since July 25. The communist state also test-fired projectiles in early May, breaking a lull in such activity amid talks with the United States and South Korea.
Nuclear negotiations stalled after Kim and Trump failed to reach agreement in their second summit in Vietnam in late February. The two leaders agreed to resume negotiations during a June 30 meeting on the Korean border, but no date has been set.
The U.S. envoy to North Korea, Stephen Biegun, visited Seoul after the exercises finished on Tuesday and said Washington was "prepared to engage as soon as we hear from our counterparts in North Korea."
Instead, the North on Friday criticized Secretary of State Mike Pompeo for insisting that the Trump administration will maintain tough economic sanctions amid diplomatic efforts to persuade Pyongyang to abandon its nuclear weapons.
"We are ready for both dialogue and stand-off," Foreign Minister Ri Yong Ho was quoted as saying by KCNA on Friday.
In addition to sending a strong message to Washington, the North is using the tests to advance its short-range strike capabilities, which threaten the South and some 28,500 American troops based on the divided peninsula.
Officials and experts say the weapons tested recently include versions of the U.S. Army Tactical Missile System and the Russian Iskander, which are designed to evade U.S. and South Korean missile defenses.gamel.kim@stripes.com Twitter: @kimgamel