North Korea test-fires two more missiles into sea, South says
by
Yoo Kyong Chang Kim Gamel
August 9, 2019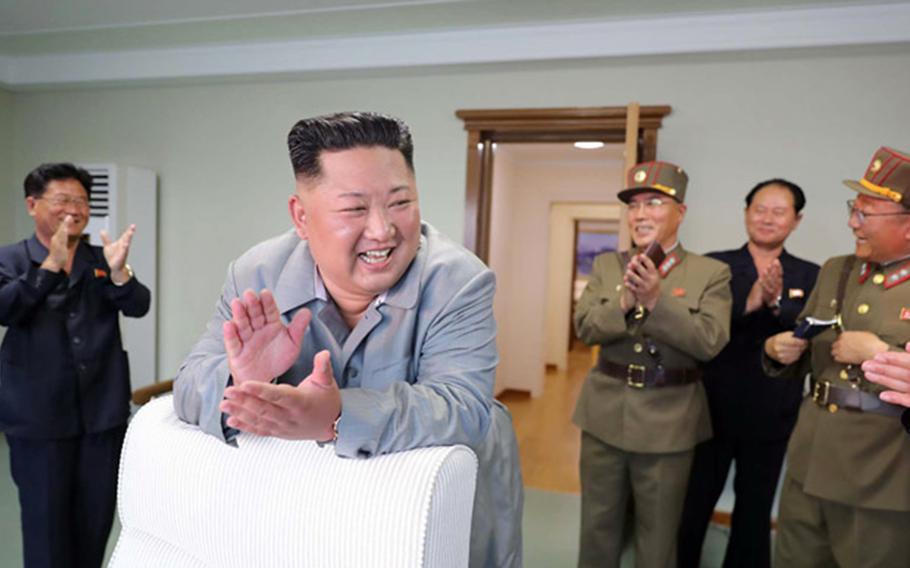 SEOUL, South Korea — North Korea fired two more missiles into the sea off its eastern coast on Saturday in its latest protest against joint U.S.-South Korean military exercises, officials said.
The latest launch — the fifth in just over two weeks — came hours after President Donald Trump said North Korean leader Kim Jong Un sent him a "beautiful letter" and complained about the "war games."
South Korea's military warned it expects the North to conduct more weapons tests in connection with the drills.
The North fired the two projectiles presumed to be short-range ballistic missiles from Hamheung, according to South Korea's Joint Chiefs of Staff.
The missiles flew more than 250 miles at a flight speed of Mach 6.1, and reached an altitude of nearly 30 miles, the military said.
The United States and South Korea were analyzing the launch for more details, it added.
South Korea's defense and national security officials convened a meeting to discuss the launch.
They said that Saturday's launch was aimed at checking the performance of a new short-range ballistic missile developed on its own as well as an "armed protest" against the exercise.
The allies began drills and preparations on Monday, but the officials said the main joint command post exercise is due to begin on Sunday.
The launches were part of a North Korean summer exercise and no unusual threat to the South Was detected, according to the statement from the presidential office.
But it called on Pyongyang "to stop its launches because it is feared that the consecutive launches can raise military tension on the Korean Peninsula."
Trump has largely dismissed the latest round of weapons tests, saying the "short-range" missiles that were launched didn't break Kim's promise not to test long-range missiles or nuclear weapons.
He reiterated that on Friday, saying that Kim had sent him a three-page, "really beautiful letter" in which the North Korean leader expressed displeasure with the "war games" that began Monday in South Korea.
Trump also noted that he doesn't like the drills but had agreed to let them go ahead to test South Korea's capabilities.
"As you know I've never liked it either," Trump said. "I've never been a fan. You know why? I don't like paying for it."
"We should be reimbursed for it, and I've told that to South Korea," he added.
The North is banned from using any ballistic missile technology under U.N. Security Council sanctions resolutions.
gamel.kim@stripes.com Twitter: @kimgamel