North Korea test-fires two missiles after warning it's losing patience with the US
By
Yoo Kyong Chang Kim Gamel
October 31, 2019
---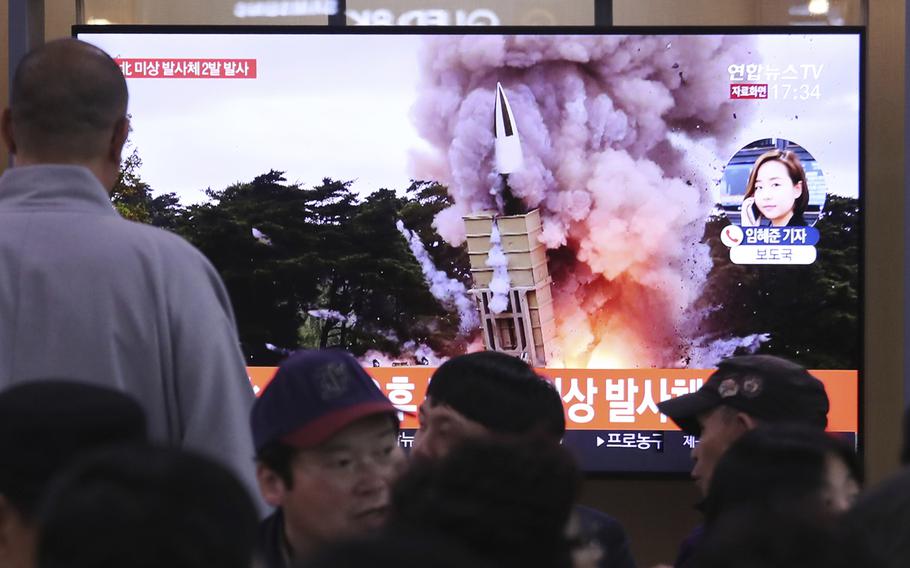 SEOUL, South Korea – North Korea fired two short-range missiles on Thursday, officials said, days after the communist state warned it was losing patience with the United States over stalled nuclear talks.
The launch, which came about a month after the North test-fired a new missile capable of being launched from a submarine, was be the 12th this year, raising fears of new tensions.
The projectiles were fired from the western city of Suncheon, northeast of Pyongyang, the Joint Chiefs of Staff in Seoul said.
They flew a maximum distance of 230 miles and reached an altitude of 55 miles before landing in the sea between the Korean Peninsula and Japan, it added.
"This kind of action from North Korea does not help efforts to ease tensions on the Korean Peninsula and we urge the North to stop immediately," it said.
"Our military is tracking and monitoring relevant movements and maintaining readiness posture in case of additional launches," it said.
The national security council expressed "strong concern" about the launch.
The South Koreans didn't immediately identify the projectiles, but Japan's Defense Minister Taro Kono was quoted as saying they were short-range ballistic missiles.
Misawa Air Base, 700 miles north of Tokyo on the northern tip of the island of Honshu, issued a "real world missile alert" and urged personnel to "seek shelter" on its official Facebook page at 4:50 p.m. Thursday.
The base declared "all clear" within minutes, according to the 35th Fighter Wing public affairs office.
North Korea has expressed increasing frustration over the lack of progress in diplomatic efforts over its nuclear weapons program as a year-end deadline set by leader Kim Jong Un looms.
A senior official hinted Sunday that even the "close personal" relationship between Kim and President Donald Trump was being tested and warned "there can be the exchange of fire any moment."
"The U.S. is now more desperately resorting to the hostile policy towards (North Korea), misjudging the patience and tolerance," of the North, Kim Yong Chol said in a statement carried on the state-run Korean Central News Agency.
Trump has dismissed concerns about past launches and his administration has maintained confidence that it can get diplomatic efforts back on track.
North Korea has demanded that Washington present a more flexible approach before the end of the year. after The second summit between Trump and Kim broke down in February in Vietnam due to sharp differences over the North's demands for sanctions relief.
The two leaders promised to resume talks during an impromptu meeting on June 30 on the Korean border. But the working-level negotiations that took place in Sweden earlier this month also ended without agreement.
Experts believe the North Koreans are trying to project strength to increase their bargaining power in future negotiations with Washington while improving their capabilities.
"North Korea has warned time and time again that if there is no mutually acceptable deal on denuclearization by the end of the year they will set out on a 'new way,'" said Harry Kazianis of the Washington, D.C.-based Center for the National Interest.
"That new way seems to me what Pyongyang always does when it wants attention - setting off a crisis that can't be ignored," he said in an email.
Kazianis predicted that the North could do that by ending its self-imposed moratorium on long-range missile and nuclear tests with an intercontinental ballistic missile test early next year.
The launches occurred hours after South Korea said that Kim had sent a message of condolence to President Moon Jae-in over the death of his 92-year-old mother earlier this week.
gamel.kim@stripes.com Twitter: @kimgamelchang.kyong@stripes.com
---
---
---
---