North Korea test-fires rocket launchers, then lashes out at Pompeo
By
Yoo Kyong Chang Kim Gamel
March 30, 2020
---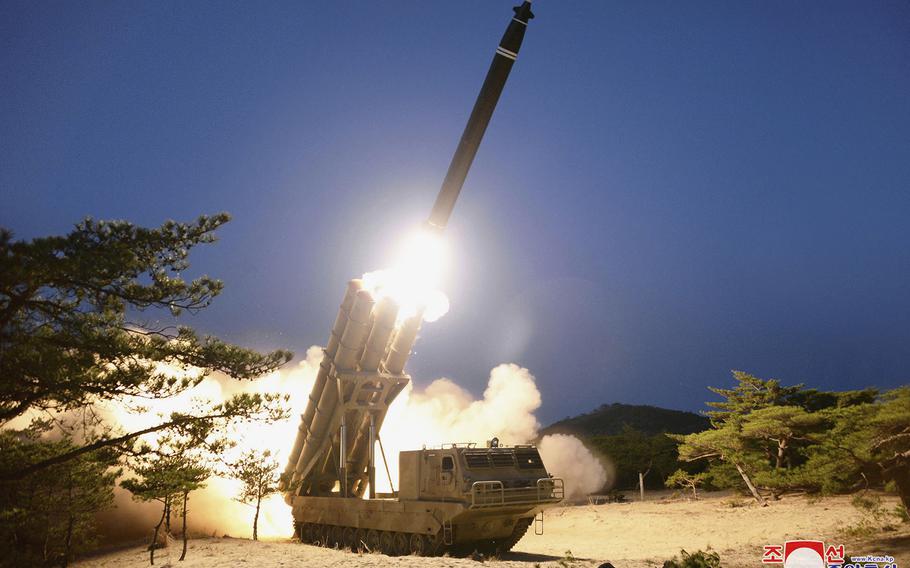 This story has been updated.
SEOUL, South Korea — North Korea warned it has lost interest in nuclear talks with the United States on Monday, a day after the communist state test-fired what it called "super-large" multiple rocket launchers.
The challenges came as the North has stepped up military activity in recent weeks in what experts say is a bid by the regime to tighten its grip on power amid the coronavirus pandemic and to try to raise the price in negotiations.
The North accused Secretary of State Mike Pompeo of "slander" for remarks last week in which he urged the international community to remain united in coaxing the North back to the negotiating table and in continuing to apply pressure on its nuclear and missile programs.
State-run media said Pompeo was going against the will of President Donald Trump, who professes a good relationship with North Korea leader Kim Jong Un and sent a letter earlier this month offering help in fighting the coronavirus.
"This makes us misjudge who is the real chief executive in the U.S.," according to the statement attributed to a new foreign ministry official in charge of negotiations with Washington.
"The reckless remarks made by Pompeo seriously impaired the signboard of dialogue put up by the U.S. president as a decoy to buy time and create the environment favorable for himself," KCNA reported, adding the North had "dropped the interest in dialogue with further conviction."
"If the U.S. bothers us, it will be hurt," KCNA added, without elaborating.
North Korea has expressed increasing frustration since talks stalled after Trump and Kim failed to reach an agreement during their second summit in February 2019 in Vietnam.
Kim said in a New Year's message that his country was no longer bound by a self-imposed moratorium on nuclear and missile testing.
He also promised that the North would unveil a "new strategic weapons" soon, raising fears it would launch an intercontinental ballistic missile that Trump has signaled would be a red line.
KCNA reported earlier Monday that the North had successfully test-fired "super-large" multiple rocket launchers on Sunday in a step toward operational deployment.
South Korea's military said Sunday that two short-range ballistic missiles had been fired by the North, flying more than 140 miles, with a maximum altitude of nearly 20 miles before splashing into the sea off the eastern coast.
It was the fourth such launch this month as the communist state presses forward with efforts to develop its weapons program despite coronavirus concerns.
But unlike the other three, Sunday's test was overseen by defense and munitions officials, not Kim Jong Un.
The test by the North's Academy of Defense Science was "to verify once again the tactical and technological specifications of the launch system," which is to be delivered to army units, KCNA said, adding it had been "conducted successfully.
North Korea, which largely sealed its borders and quarantined thousands of people after the virus first appeared in China late last year, claims it has had no coronavirus cases.
U.S. and South Korean officials have expressed skepticism considering the North's shared border with China and poor health infrastructure.
"North Korea can't help but have COVID-19 cases, but it's hiding them by acting as if it has no problem domestically," said Moon Keun Sik of the Korea Defense and Security Forum. "These are its camouflage tactics."
Moon also noted that Trump has not responded to the recent military activity, including artillery drills.
"Washington has had an indifferent reaction to Pyongyang's launches, and Seoul is lukewarm to them too, so I believe the effect of Kim's appearances has diminished," he said.
gamel.kim@stripes.com Twitter: @kimgamel
---
---
---
---