North Korea says nuke test, missile launches looming
---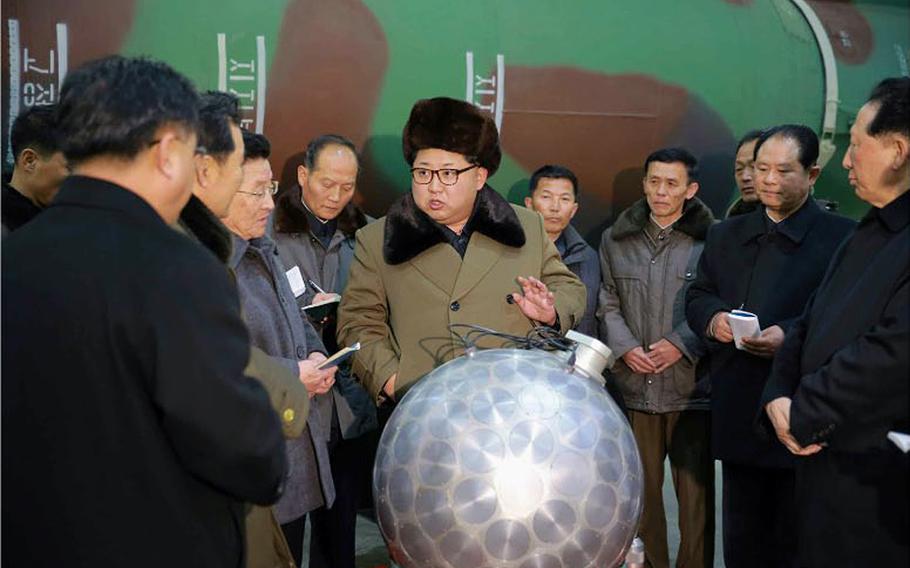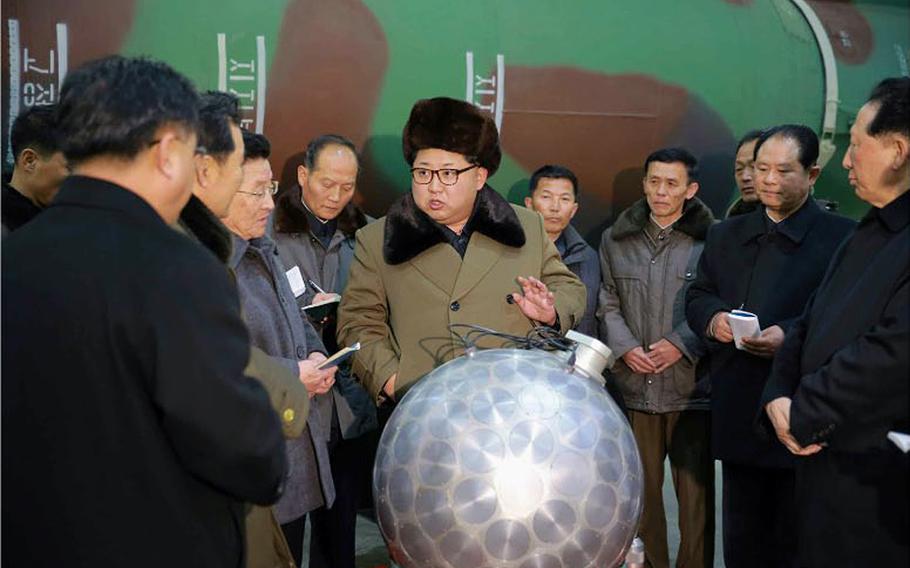 North Korea took a slap at United Nations sanctions Tuesday as leader Kim Jong Un warned it soon would carry out another nuclear test and try out several types of ballistic missiles capable of carrying nuclear warheads.
The threats were the latest in a string of virulent rhetoric that has coincided with the largest-ever U.S.-South Korean joint exercises and followed what the U.N. Security Council has called the toughest sanctions against Pyongyang in 20 years.
Kim has personally led the verbal assault in what appears to be an effort to show his poverty-wracked country that he is fully in charge amid reports he has not consolidated power more than four years after taking over following his father's death. He may also be rallying support ahead of the first ruling Workers' Party congress in three decades in May.
The reclusive country's media have shown his signature on the order for the North's fourth nuclear test on Jan. 6, carried photos of him attending a multistage rocket launch a month later and inspecting what Pyongyang called a miniaturized nuclear bomb with a variety of missiles in the background.
He has been quoted as ordering the production of more nuclear bombs and preparations for using them on short notice, including possible pre-emptive attacks, and making threats to turn South Korea, the U.S. mainland and U.S. bases in the Pacific into a "sea of fire and ashes."
"A nuclear warhead explosion test and a test-fire of several kinds of ballistic rockets able to carry nuclear warheads will be conducted in a short time to further enhance the reliance of nuclear attack capability," the official Korean Central News Agency quoted Kim as saying Tuesday.
This time he reportedly spoke while overseeing an environmental simulation for re-entry technology, one of the key elements in completing a system capable of delivering a nuclear weapon into space, then having it survive the rigors of the descent back through the atmosphere.
"We have proudly acquired the re-entry technology, possessed by a few countries styling themselves as military powers ... thus making a great progress in the ballistic rocket technology that helps strengthen the independence of the country's defense capability and munitions industry," KCNA said.
In the past, experts have used satellite photos of the North's nuclear test site and launch facility to determine that a provocation is likely. But the North has apparently set up camouflage to cover what it is doing.
Pyongyang has made a series of boasts in recent months that analysts have questioned, including that the latest test involved a more powerful hydrogen bomb for the first time (the data collected indicate a similar yield to previous underground tests), that it has successfully fired ballistic missiles from a submarine (U.S. officials said photos appeared to have been faked), that it has made a nuclear bomb small enough to fit into a warhead and that it could flatten Manhattan with one of its bombs.
If all of the claims are true, the North could bring to reality the bizarre videos it produced during the last crisis on the peninsula in 2013 that showed U.S. cities, including Washington, in flames.
Even if they aren't true yet, it's clear that Pyongyang is working hard to bring its nuclear dreams to fruition.
It also appears that war games on both sides of the Demilitarized Zone have taken on increasingly realistic scenarios. South Korean media have reported that the U.S.-South Korean exercises, which involve about 300,000 South Korean and 17,000 U.S. troops, are including drills on destroying the North's nuclear facilities and taking out its leadership.
Tuesday's activities included a raid on a mock chemical weapons facility; the North is believed to have stockpiles of both chemical and biological weapons.
South Korea's ruling Saenuri Party met Tuesday with security-related state agencies, Yonhap news reported. Rep. Lee Cheol-woo said legislators were told that North Korea is carrying out a military assault exercise to destroy key public facilities in a replica of South Korea's capital. On Saturday, Pyongyang threatened to advance into Seoul to "liberate" it.
Lee told reporters that North Korea also might carry out terrorist attacks in the capital or rear areas, launch missiles, carry out provocations along the border, jam GPS equipment or send drones into South Korea.
---
---
---
---