North Korea raises stakes after Esper says US may 'adjust' military exercises
by
Kim Gamel
November 14, 2019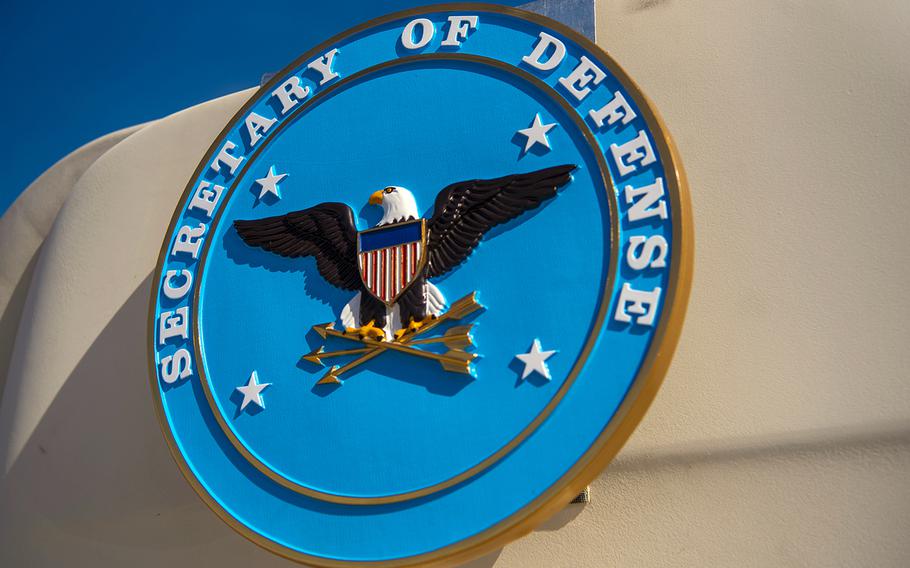 SEOUL, South Korea — The United States may adjust military exercises in South Korea for the sake of diplomacy with the North, the defense secretary said, as the communist state warned that it's running out of patience for the U.S. to soften its denuclearization demands.
Defense Secretary Mark Esper made his comments to reporters traveling with him to Seoul, where he is due to hold alliance talks with senior South Korean officials on Friday.
Washington already has canceled or reduced the scope of several annual exercises after President Donald Trump announced he was "stopping the war games" after his first summit with North Korean leader Kim Jong Un last year.
But the North considers all allied military activity on the divided peninsula a rehearsal for an invasion and was not appeased when training continued.
The allies have said they plan to hold a joint air force exercise next month to replace the drills previously known as Vigilant Ace.
"We will adjust our exercise posture either more or less depending on what diplomacy may require," Esper said, while stressing the need to maintain readiness.
Any decision on "dialing up or dialing down exercises and training stuff like that," would be made in close collaboration with the South Koreans, Esper said, according to a transcript provided by the Pentagon.
Esper also insisted the decision would not be "a concession to North Korea or anything, but again, as a means to keep the door open to diplomacy."
North Korean warnings North Korea responded by raising the stakes on Thursday with separate statements in quick succession rebuffing what it said was a U.S. offer to hold talks next month and calling on Esper to cancel upcoming drills.
Former nuclear negotiator Kim Yong Chol noted that Esper's comments came after another North Korean official warned the country would retaliate against the drills in a statement on the state-run Korean Central News Agency.
"I would like to understand it as the U.S. intention to drop out of the joint military drill or complete stop it," Kim said of Esper's comment.
Kim, the chairman of the Korea Asia-Pacific Peace Committee, said he hoped Esper's remarks reflected Trump's intentions to maintain momentum in the U.S.-North Korean nuclear negotiations.
"However, if this ends up with our naive interpretation and the hostile provocation is committed … we will be compelled to answer with shocking punishment that would be difficult for the U.S. to cope with," he said.
The response to Esper appeared on KCNA shortly after another North Korean official said that the U.S. special envoy for North Korea Stephen Biegun had sent a request via a third party to hold negotiations next month.
Kim Myong Gil, a roving ambassador with the North Korean Foreign Ministry, said the North is ready to meet with the Americans "at any place and any time" but only if the United States is willing to change its negotiating stance.
Talks aimed at persuading the North to give up its nuclear weapons program have faltered after the two sides failed to reach an agreement during the second Trump-Kim summit in February and subsequent working-level talks.
Kim Jong Un has warned the North may abandon talks and resume long-range missile and nuclear tests if the United States doesn't come up with a more flexible approach by the end of the year.
"The ball is in the U.S. court," the foreign ministry official said.
Kim Myong Gil also dismissed the idea of the United States offering a declaration to formally end the 1950-53 Korean War, which was concluded with an armistice instead of a peace treaty, or the establishment of a liaison office.
"I intuitively feel that the U.S. is not ready to give a satisfactory answer to us and its proposal for dialogue with us is a trick to earn time," he said. "Explicitly speaking once again, I am not interested in such a meeting."
The flurry of statements came a day after North Korea lashed out at a planned exercise and warned that Washington will face a "greater threat" if it ignores the end-of-year deadline.
Possible escalation Experts said the North could be trying to take advantage of Trump's domestic political woes by ramping up demands for sanctions relief and security guarantees as the impeachment hearings are underway in Washington.
Harry Kazianis, of the Washington-based Center for the National Interest, noted that Trump wouldn't likely risk losing support from hawkish Republican senators and predicted more missile tests in coming days.
The North has conducted a series of short-range missile and rocket launches this year but so far refrained from long-range missile and nuclear tests.
"I think they're making it very clear they're willing to escalate this if the U.S. and (South Korea) are going to continue with these military exercises," Kazianis said in a telephone interview.
Esper, who is making his second trip to South Korea since taking office, also reiterated that he will press Seoul to reverse its decision to terminate a military intelligence sharing agreement with Japan, which expires on Nov. 23.
South Korea gave notice in August that it would cancel the General Security of Military Information Agreement, known as GSOMIA, due to a dispute with Japan over trade and historical issues.
"The GSOMI agreement must be maintained," Esper said. "It's critical to sharing intelligence, particularly in a timely manner with regard to any type of North Korean actions."
"The only folks who are benefiting from this dispute right now are North Korea and China," he added.
Esper will travel to Thailand, the Philippines and Vietnam after his visit to South Korea ends this weekend.
"The broader message is that we are postured to deal with China in the long run," he said. "China is our number one priority in this new era of global — of great power competition."
gamel.kim@stripes.com Twitter: @kimgamel