North Korea punctuates offer for talks by firing short-range projectiles
by
Yoo Kyong Chang Kim Gamel
September 9, 2019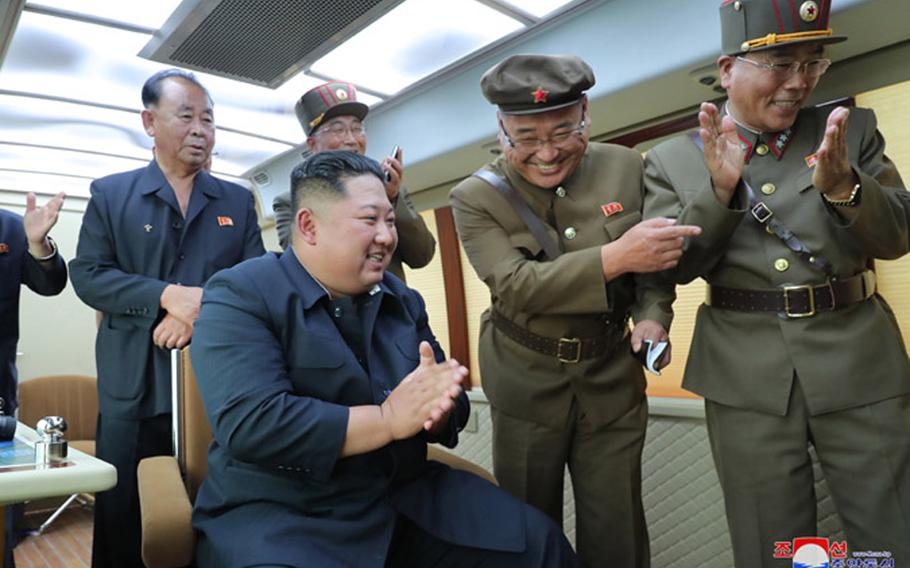 SEOUL, South Korea — North Korea fired two short-range projectiles Tuesday, officials said, hours after the communist state offered to restart stalled nuclear negotiations with the United States.
The latest launch — the 10th since May — raised pressure on President Donald Trump, who is eager for talks to resume and so far has downplayed the surge in weapons testing as routine.
Experts say the North is likely trying to gain leverage in future negotiations by showing strength while continuing to improve its weapons capabilities without crossing Trump's red line.
Two short-range projectiles were launched eastward from an area in Kaechon, north of the nation's capital, about 20 minutes apart starting at 6:53 a.m. Tuesday, according to a statement by South Korea's Joint Chiefs of Staff.
They flew more than 200 miles and reached a maximum altitude of 31 to 37 miles, the military said.
Officials said they could not provide the speed or confirm whether the projectiles had landed in the sea because U.S. and South Korean intelligence authorities were still analyzing the data.
"This provocative behavior is not helpful to efforts to ease tensions on the Korean Peninsula," the JCS said. "We again call on North Korea to stop such actions immediately."
U.S. Forces Korea said it was "aware of reports of two North Korean missile launches" and was "consulting closely with our South Korean and Japanese allies."
South Korea's national security council also expressed "strong concern that North Korea has continued to launch short-range projectiles since May."
On Guam, a U.S. Pacific territory, the public information office issued an alert, which it said was a standard practice, announcing that the launches posed no immediate threat.
Japan's Defense Ministry also said it didn't detect a threat to Japanese territory, according to the Kyodo news agency.
The weapons tested previously have apparently included a guided multiple rocket launcher system, and short-range ballistic missiles designed to evade U.S. and South Korean defenses.
While their traveling distance has been short, experts warned they could pose a threat to South Korea and the 28,500 American troops stationed on the divided peninsula.
Trump has insisted the weapons tests are standard and don't violate Kim's promise to suspend long-range missile and nuclear testing that raised fears of war in 2016-17.
His administration, meanwhile, has been trying to restart diplomatic efforts with the North, which have been stalled since Trump and Kim failed to reach an agreement during their second summit in February in Vietnam.
The two leaders met again on June 30 on the Korean border and agreed to resume working-level talks, but no date has been set.
North Korea's vice foreign minister Choe Son Hui said Monday that she has taken note of U.S. appeals to resume talks, but she warned that the North expects new proposals from the American side.
"We have willingness to sit with the U.S. side for comprehensive discussions of the issues we have so far taken up at the time and place to be agreed late in September," she said, according to the state-run Korean Central News Agency.
Choe warned that North Korean-U.S. "dealings may come to an end" if the Americans stick to their previous stance.
Before departing the White House for a rally in North Carolina on Monday, Trump said he was aware of the North Korean offer for talks but did not say he would accept.
"We'll see what happens, but I always say having meetings is a good thing," he told reporters.
But the president has shown that his patience has limits. Trump announced over the weekend that he was canceling talks with the Taliban in Afghanistan after an attack in Kabul killed several people, including an American soldier.
Kim Jong Un has overseen the other weapons tests, with KCNA usually releasing photos and a statement the following day.
"I would say these short range tests are becoming so routine - just as Kim wants them to be, to desensitize us and to operationalize them for deployment, as he said he would," Vipin Narang, a nuclear proliferation specialist at MIT, wrote on Twitter.
gamel.kim@stripes.comTwitter: @kimgamelkyong.chang@stripes.com