North Korea plans military parade despite coronavirus concerns, think tank says
by
Kim Gamel
September 3, 2020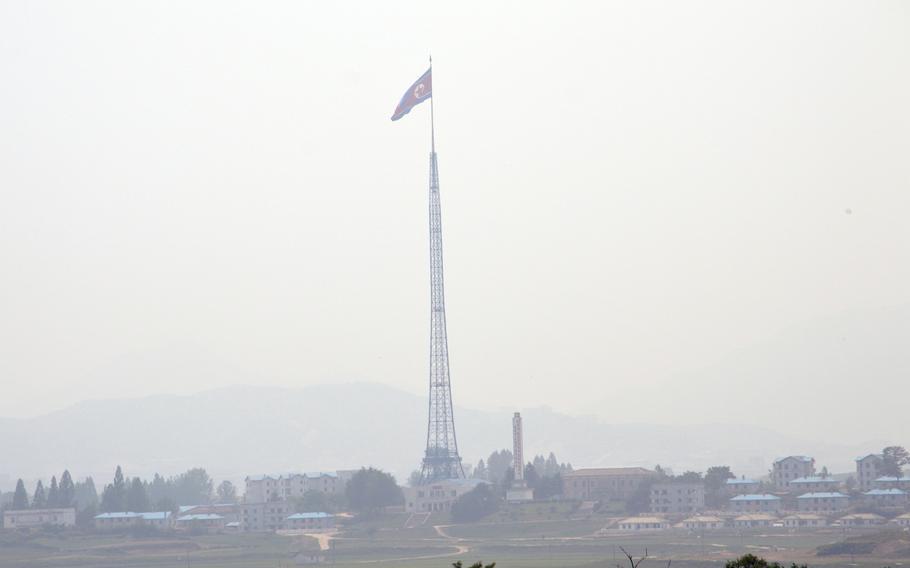 Stars and Stripes is making stories on the coronavirus pandemic available free of charge. See other free reports here. Sign up for our daily coronavirus newsletter here. Please support our journalism with a subscription.
SEOUL, South Korea — Recent satellite images indicate that North Korea has started rehearsing for a military parade, probably to celebrate the 75th anniversary of its ruling party, despite coronavirus concerns, a think tank said.
Two images taken 30 minutes apart on Monday show hundreds of vehicles parked in lots adjacent to the parade grounds and thousands of troops in formations, according to 38 North, a website that monitors activity in the North.
The rehearsals were held in an area of eastern Pyongyang that simulates Kim Il Sung Square, named for the country's founder and the current leader's grandfather.
Such parades have been highly provocative in the past because they were used to showcase North Korea's arsenal of ballistic missiles, which are being developed as part of its nuclear weapons program.
The communist state has toned down such displays since it began engaging in diplomacy with the United States in 2018, including an unprecedented summit between leader Kim Jong Un and President Donald Trump in Singapore.
Those talks have stalled following a failed summit between the two leaders in February 2019 in Vietnam that exposed sharp differences over the extent of sanctions relief in exchange for disarmament steps.
At the beginning of the year, Kim declared that his country was no longer bound by a self-imposed long-range missile and nuclear testing moratorium and vowed to unveil a new strategic weapon.
Many observers have predicted that North Korea would hold a military parade on Oct. 10 to mark the 75th anniversary of the founding of the ruling Workers' Party.
"These images provide the first evidence that rehearsals are underway," 38 North said in an article posted on Tuesday.
However, the rehearsals at the Miriam Parade Training Ground in Pyongyang appear to have started slightly later than usual, possibly due to the coronavirus, anti-pandemic measures or recent severe flooding, according to the website.
Key differences in preparations this year include the lack of a "tent city" for troops participating in the parade. The area is now the site of a large construction project that has been underway for several months, 38 North said.
Makeshift shelters that used to be erected to protect and conceal heavy equipment being featured in the parade such as tanks and mobile missile launchers also were absent.
Instead, a large fenced-in area with about 100 garages was built on the lot, "making it now impossible to tell based on imagery alone how much or what kind of heavy equipment may be integrated into the parade," 38 North said.
"That said, numerous tire tracks in the newly concreted area servicing the garages indicate heavy activity has taken place in and around the garages," it added.
North Korea has not confirmed any coronavirus cases, but has imposed strict border closures and quarantines to prevent the spread of the respiratory disease.
Experts have expressed skepticism that the impoverished country could have escaped the global pandemic that began in neighboring China late last year.
gamel.kim@stripes.com Twitter: @kimgamel