North Korea leader praises 'perfect combat readiness' after long-range artillery drill
---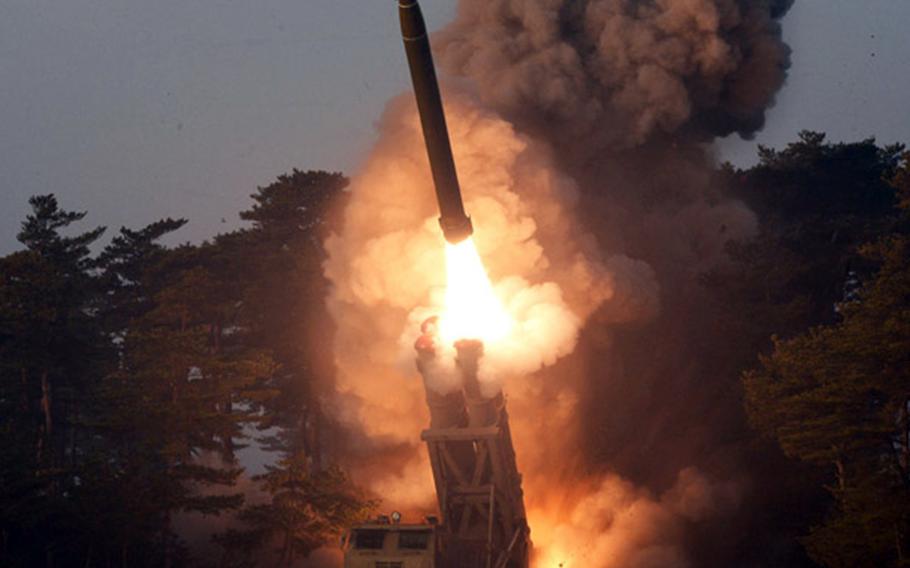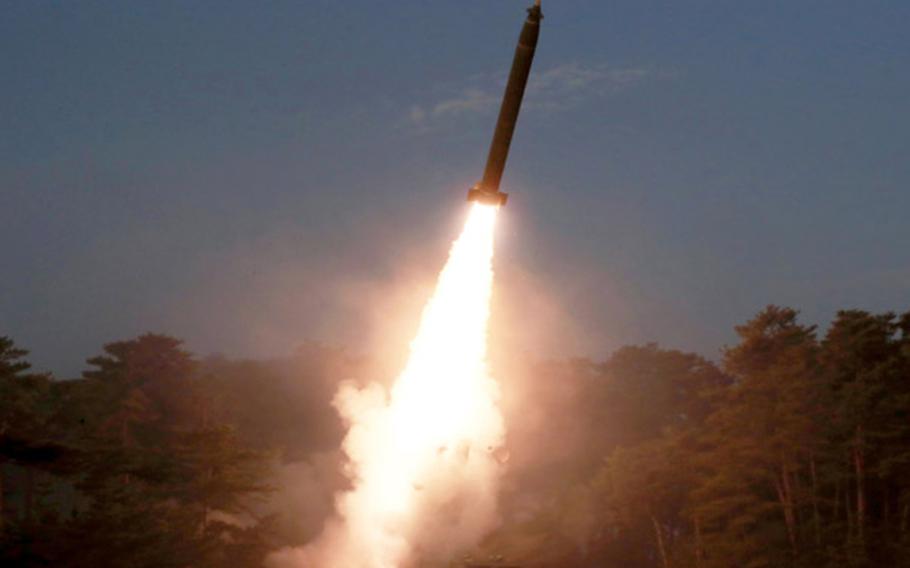 SEOUL, South Korea — North Korean leader Kim Jong Un praised his army's "perfect combat readiness" after overseeing a long-range artillery drill, state-run media said Tuesday.
It was the latest launch as the North conducts annual winter training in a show of strength after the United States and South Korea canceled plans for a joint military exercise due to coronavirus fears.
The South Korean military said the North fired three projectiles that flew up to 125 miles before splashing into the sea off its eastern coast on Monday. It was the second such test in a week.
North Korea's state-run media reported that Kim had "guided another firepower strike drill of long-range artillery sub-units of the Korean People's Army on the front" on Monday. It didn't give more details about the weapons tested.
Photos showed rounds being fired from a multiple-rocket launcher and an islet up in flames. A smiling Kim watches over a berm along with an officer wearing a face mask used as protection against the virus.
"The purpose of the firepower strike drill was to inspect the sudden military counterattack capability" of the front-line units, the Korean Central News Agency reported, adding the artillerymen "hit the target with excellent marksmanship."
Kim expressed great satisfaction and "highly appreciated the perfect combat readiness of the long-range artillery sub-units on the front," it said.
He also ordered the units to improve their training and "conduct drills under the simulated conditions of an actual war," suggesting there may be more launches as the North continues to grow its weapons program amid stalled nuclear talks with the United States.
Michael Elleman, a missile defense expert, said the North Koreans appeared in both cases to have fired KN-25 rockets, which were first tested last year.
"The missile's payload bay is too small to deliver a North Korean nuclear weapon but likely carries a 400 to 500 kg (881 to 1,100 pounds) conventional, blast-fragmentation warhead instead," he wrote in a commentary for 38 North after the earlier launch.
"It appears the KN-25 was again launched in this most recent episode," he said Tuesday in an email. "Most likely we are seeing more troop training on this new weapon."
South Korea's presidential office accused the North of raising tensions on Monday, saying military exercises aren't helpful to bring peace to the divided peninsula.
gamel.kim@stripes.com Twitter: @kimgamel
---
---
---
---