North Korea leader hails missile test; analysts question authenticity
---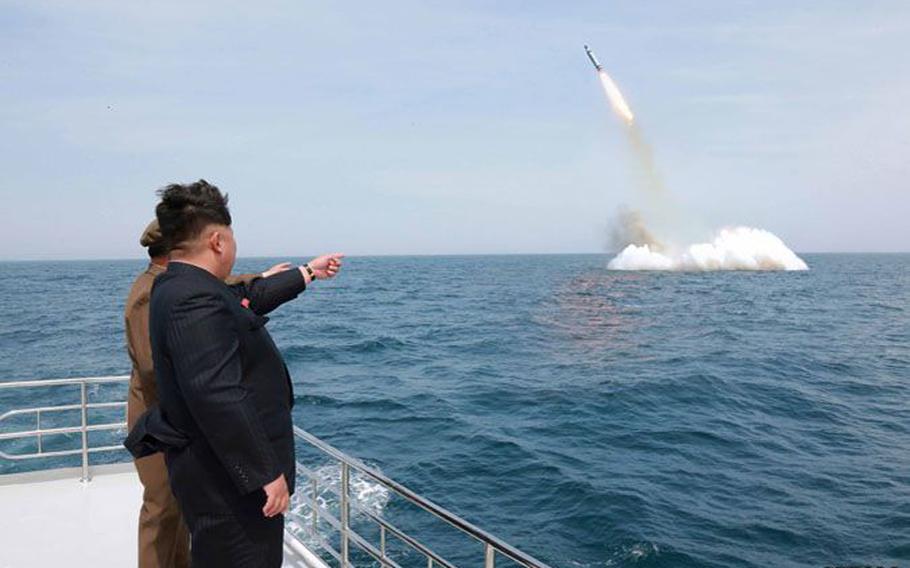 SEOUL, South Korea — North Korean leader Kim Jong Un praised scientists' recent test of a submarine-launched ballistic missile, calling it an "eye-opening miracle" and a "historical event" that has given the country a powerful new weapon.
The authenticity of the May 9 test has been widely doubted, with analysts questioning whether images released by Pyongyang were doctored and whether the test was conducted from a submerged barge instead of a submarine.
South Korean military officials said Tuesday that North Korea also is building military camps on a border island that may be used for guard posts or rocket launchers. South Korea's Yonhap News reported that the five bunker-shaped camps are being constructed on Gal island, a few kilometers from the South's Yeonpyeong Island, the target of November 2010 shelling by the North that killed four people.
Yonhap cited military authorities who spoke anonymously, as is customary in South Korea. One official told Yonhap that the camps are expected to house 122-millimeter multiple rocket launchers or be used as guard posts.
The North's boast of having submarine-based missile technology — posted by the official Korean Central News Agency on Tuesday — is the latest in a string of messages from Pyongyang that has left many wondering what capabilities it really has and what is going on behind the scenes in the reclusive state. It has North Korea watchers on heightened alert for signs of aggression and instability.
Kim reportedly executed a top military official earlier this month for dozing off during an event and not following Kim's directives. And last week, the North claimed it had developed nuclear warheads small enough to fit on a missile warhead – an assertion dismissed by the U.S. State Department.
Also Tuesday, China said in a new defense policy paper that Korean Peninsula issues pose "a negative impact on the security and stability along China's periphery," Yonhap reported.
"The Korean Peninsula and Northeast Asia are shrouded in instability and uncertainty," the paper said.
Bruce Bechtol, a North Korea expert at Angelo State University in Texas, said the confluence of recent events in the North shows that Kim has yet to consolidate his power, and that the regime remains unstable and in a state of flux. Turnover in the military, the party and security services remains high, and "purges continue to rock the highest levels of the (North Korean) leadership infrastructure."
"This has an effect on the readiness of the country to maintain its military effectively, and on Kim Jong Un's ability to rule," he said.
Bechtol said he knows of no publicly available evidence that the North has been able to manufacture a nuclear warhead for an intercontinental ballistic missile, even though two U.S. four-star generals have said Pyongyang likely has that technology.
"If there is evidence that, in fact, North Korea has the ability to manufacture a nuclear warhead for a missile, this evidence remains in classified channels, at least for now," Bechtol said. "But the confidence that we have seen in unclassified testimony by high-ranking military officials before Congress suggests that there is in fact evidence pointing to an assessment that North Korea is able to build a nuclear warhead for an ICBM."
U.S. Forces Korea commander Gen. Curtis Scaparrotti said last October that he believed the North already had miniaturization technology for a nuclear warhead, and that he has to prepare as though it does.
"They've had the right connections, and so I believe have the capability to have miniaturized a device at this point, and they have the technology to potentially actually deliver what they say they have," he said. "We have not seen it tested. And I don't think as a commander we can afford the luxury of believing perhaps they haven't gotten there."
Adm. James Winnefeld, vice chairman of the Joint Chiefs of Staff, said last week in Washington that he has doubts about the North's claim of successful ballistic missile launches from a sub.
"Just a few weeks ago, we saw Pyongyang raving about a test of its submarine-launched ballistic missile capability. Fortunately, they've not gotten as far as their clever video editors and spinmeisters would have us believe," he said. "They are years away from developing this capability."
---
---
---
---