North Korea keeps world guessing with latest nuclear bomb claim
---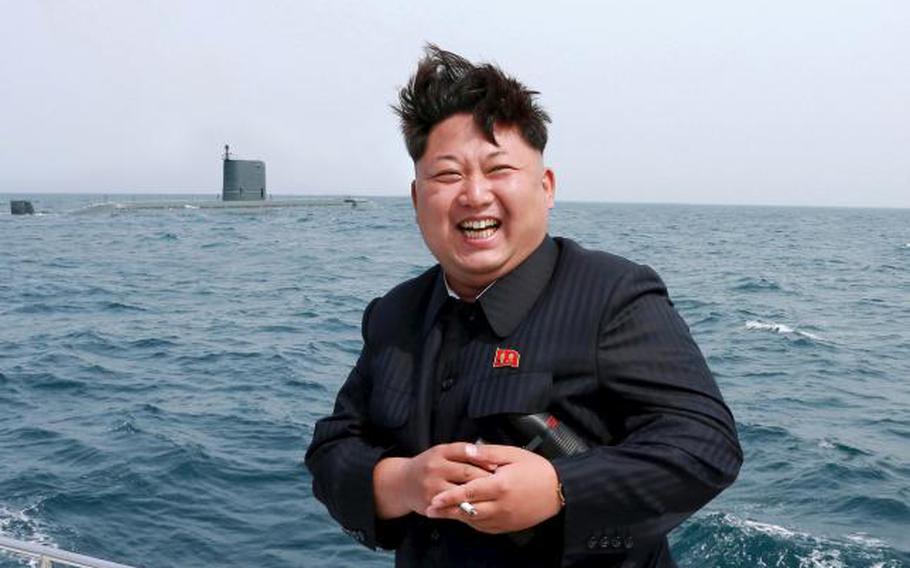 North Korea's claim that it has developed the capacity to build a nuclear bomb small enough to fit inside the tight confines of a missile warhead sparked concern Wednesday but also drew skepticism about the country's weapons and delivery systems.
If true, the bomb would represent a heightened threat to South Korea, Japan and even the United States, given Pyongyang's successful launch of a three-stage rocket in December 2012. But experts say many questions remain about the North's ability to launch an attack, particularly with any accuracy.
David Garretson, a professor of international relations at the University of Maryland University College in Seoul, questioned the North's miniaturization claim.
"The problem is warhead re-entry," he said.
The claim, by a spokesman for the North's powerful National Defense Commission on the official Korean Central News Agency, followed North Korea's recent claim that it had successfully launched ballistic missiles from a submarine. That was about the same time that Pyongyang's youthful leader, Kim Jong Un, reportedly executed the country's armed forces chief..
Pyongyang has a history of using brinkmanship to enter into negotiations with the West with the goal of getting food, oil and other international aid in exchange for concessions on its nuclear program — concessions it later discards.
The United States, which had followed a policy of "strategic patience" under the Obama administration, recently said it was willing to sit down to negotiations with the so-called six-party group, which also includes both Koreas, Japan, China and Russia.
The North has conducted three increasingly powerful underground nuclear tests. After the last one, in early 2013, scientists said it would still take a long time to make a bomb small enough to fit inside a missile warhead and strong enough to survive the rigors of launch.
Alexander Neill, a senior fellow at the International Institute for Strategic Studiessaid such miniaturization requires advanced technology and expertise gained over a long period of time. "If North Korea has achieved this goal, then of course it is of extreme concern to the international community," he said.
But Neill also said that the reclusive regime isn't above overstating its capabilities.
"The DPRK regime is extremely good at denial and deception operations, at keeping their adversary guessing," he said. "This miniaturization story could just be part of that."
Adm. James Winnefeld, vice chairman of the Joint Chiefs of Staff, said Tuesday in Washington that he has doubts about the North's claim about successful ballistic missile launches from a sub.
"Just a few weeks ago, we saw Pyongyang raving about a test of its submarine-launched ballistic missile capability. Fortunately, they've not gotten as far as their clever video editors and spinmeisters would have us believe," he said. "They are years away from developing this capability."
The U.S.-Korea Institute at Johns Hopkins University also raised questions about the test, saying it may have been conducted from a submerged barge instead of a submarine, and that images released by North Korea may have been altered. The analysis concluded that the North's seaborne ballistic missile threat is "emerging" rather than "imminent."
South Korea's Yonhap News says analysts believe the missiles traveled only about 100 yards after breaking through the sea's surface.
But Reuters reported that a South Korean defense official said North Korean photographs purporting to show an underwater launch appeared to be real. That official estimated the North could develop a submarine armed with ballistic missiles in two to three years.
Winnefeld, speaking on missile defense at the Center for Strategic and International Studies, said the North poses "the most immediate concern" of catastrophic missile attack to the U.S. because of its capabilities. And if North Korea eventually develops submarine-launched ballistic missile capabilities, "it will present a hard-to-detect danger for Japan and South Korea as well as our servicemembers stationed in the region."
He said the U.S. remains interested in deploying the Terminal High Altitude Area Defense system, or THAAD, to South Korea, a possibility that has spawned concern in Seoul because China and Russia view THAAD as a threat.
U.S. Forces Korea said it does not comment on intelligence and operational matters. However, commander Gen. Curtis Scaparrotti said in Washington last October that he believed the North already had miniaturization technology, and that he has to prepare as though it does.
"They've had the right connections, and so I believe have the capability to have miniaturized a device at this point, and they have the technology to potentially actually deliver what they say they have," he said. "We have not seen it tested. And I don't think as a commander we can afford the luxury of believing perhaps they haven't gotten there."
Daniel Pinkston of the International Crisis Group described North Korea's claim as "bluster," possibly aimed at an internal audience.
He believes the North probably has weapons but wouldn't be able to use them in a real-world conflict situation. In a wartime scenario, the regime would likely face broken lines of communication with the military and command-and-control issues.
"I don't think they would delegate any kind of launch authority or anything else because it's a very, very centralized dictatorship," he said.
"The things that have to be sorted out are not trivial, and I question their ability to have all of those issues sorted out, and in an actual crisis how they would do it," he said.
One big question is where China stands on the developments in North Korea, particularly anything that would affect the status quo of the two Koreas.
"I think there are limits to how far China is prepared to go," Neill said. "I have no doubt that on the international stage, if China believes miniaturization has taken place, it will actively show its displeasure at this.
"Ultimately, China's goal is not to have a unified Korea garrisoned by the United States on its border," Neill said. "Whether or not it's willing to allow proliferation of this nature as an offset to that is a good question. I think ultimately if it sees an imminent nuclear threat from the North destabilizing the regime, China might take further action."
Stars and Stripes reporters Ashley Rowland, Erik Slavin and Wyatt Olson contributed to this report.
---
---
---
---