North Korea fires two short-range missiles in latest weapons test, South says
By
Yoo Kyong Chang Kim Gamel
March 28, 2020
---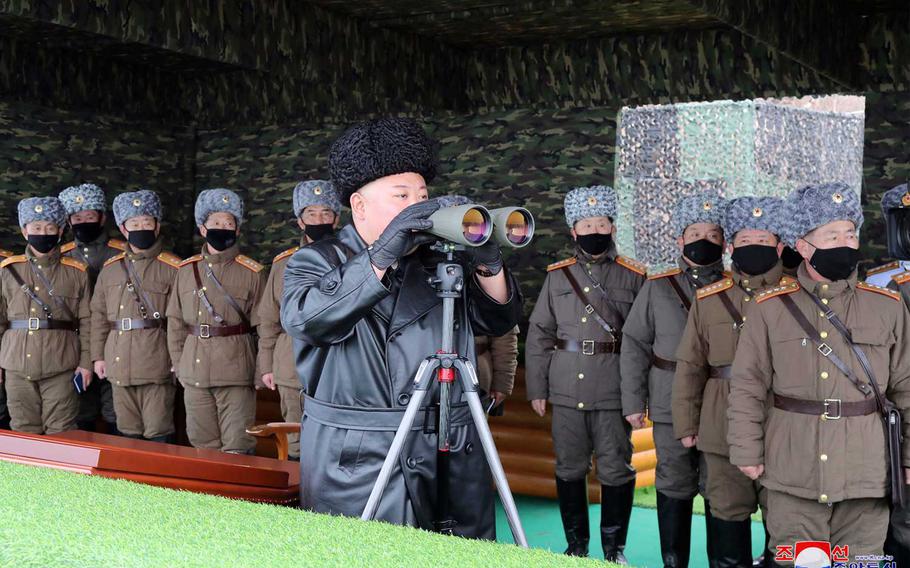 SEOUL, South Korea — North Korea fired two short-range ballistic missiles into the sea off its eastern coast on Sunday, South Korea's military said, the latest in a series of launches this month as the regime flouts concern about the global coronavirus pandemic.
The launch came a week after the North welcomed a letter sent by President Donald Trump offering help in fighting the virus but expressed continued frustration over stalled nuclear talks.
The missiles were launched within a 20-second interval from the eastern city of Wonsan and flew more than 140 miles, with a maximum altitude of nearly 20 miles, according to the Joint Chiefs of Staff in Seoul.
A U.S. surveillance plane, the Navy's EP-3E, was spotted at about 25,000 feet over South Korea on Sunday, the monitoring site Aircraft Spots said in a tweet. It didn't give a specific time.
It was the fourth such test this month as the North continues to develop its weapons program amid stalled nuclear talks with the United States. Experts say the North Korean regime is likely trying to project confidence and tighten its grip on power amid concern about the coronavirus.
North Korea also has conducted artillery drills in what officials have said are part of its annual winter training.
The military activity resumed after the North went on lockdown for about 30 days after the virus first appeared in China late last year, said Gen. Robert Abrams, commander of U.S. Forces Korea.
"As evidenced by made-for-TV events, we've seen a beginning of relaxation of some of that," Abrams told Stars and Stripes on Friday, pointing to the artillery drills and previous missile tests. "That'll all end here pretty soon."
"They're at the end of their winter training cycle and they've got to get ready for planting season," he said during the interview at his office on Camp Humphreys. "They've got to feed their people and their military is a full participant in the spring planting season."
South Korea's military said it was closely monitoring the situation and maintaining a readiness posture.
"Such military actions by North Korea's military are very inappropriate at a time when the world has hit a rough patch due to [the coronavirus]," the joint chiefs said. "We call upon North Korea to stop such behavior immediately."
South Korean national security adviser Chung Eui-yong, Defense Minister Jeong Kyeong-doo and other senior officials also held an emergency video conference to discuss the launch, according to the presidential office.
North Korean leader Kim Jong Un announced in a New Year's message that his country was no longer bound by a self-imposed moratorium on nuclear and long-range missile tests due to the diplomatic deadlock with Washington.
He also vowed to strengthen the North's self-defense capabilities and warned a "new strategic weapons" would be unveiled soon.
North Korea, which sharply restricted travel and quarantined foreigners after the virus first appeared in China in late December, has not confirmed any cases of the virus.
Officials have expressed skepticism about that claim and warned the isolated nation would be especially vulnerable to an outbreak because of its weak medical infrastructure.
Trump has said he's not concerned about the short-range missile launches but signaled that an intercontinental ballistic missile test would be a red line.
In announcing Trump's letter last week, Kim's sister Kim Jo Yong stressed the relationship between the two leaders remained "very excellent" but warned that was not a guarantee for peace.
She alluded to the fact that the country faces hardship from stringent U.S.-led economic sanctions aimed at driving it back to the nuclear negotiating table.
"Even at this moment we are working hard to develop and defend ourselves on our own under the cruel environment which the U.S. is keen to provide," she said.
gamel.kim@stripes.com Twitter: @kimgamelchang.kyong@stripes.com
---
---
---
---