North Korea fires two missiles into sea to protest US-South Korean military exercises
by
Yoo Kyong Chang Kim Gamel
August 5, 2019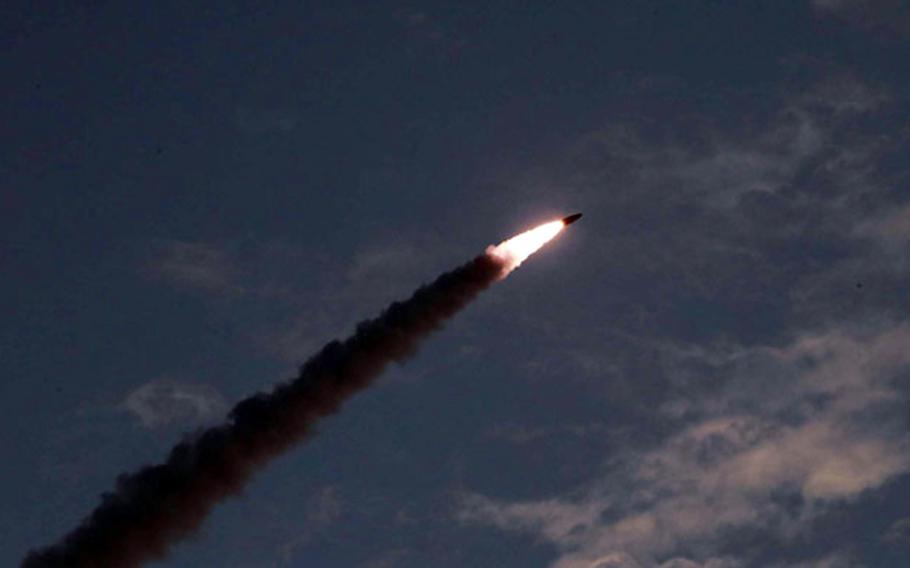 SEOUL, South Korea — North Korea fired two missiles into the sea on Tuesday, warning that the United States and South Korea will pay a "heavy price" for conducting joint military exercises.
The launch — the fourth in less than two weeks — came a day after the longtime allies began a two-week command post drill that has been scaled back in size from past years.
The North fired two short-range ballistic missiles that flew more than 270 miles and reached an altitude of about 23 miles before splashing into the sea off its eastern coast, according to South Korea's military.
"South Korean and U.S. intelligence authorities believe that these short-range missiles have similar flight features as the ballistic missiles test-fired by North Korea on July 25," the Joint Chiefs of Staff said.
It added the military was monitoring the situation and maintaining a readiness posture in case of additional launches.
The surge in such activity is a slap against U.S. efforts to resume talks aimed at persuading the North to give up its nuclear weapons.
Many experts believe Pyongyang is trying to raise the pressure on Washington to gain leverage in any new negotiations.
The North fired two missiles July 25 that were believed to be similar to Russia's Iskander. It called the launch a "solemn warning" to South Korea against joining the military exercises with the United States.
The communist state also conducted two other weapons tests on July 31 and Aug. 2, which it said were from a new guided multiple rocket launcher system. South Korea called them short-range ballistic missiles.
President Donald Trump has played down concerns about the earlier launches, saying they were "short-range missiles" and "very standard" as his administration struggles to get talks back on track.
But the persistent saber rattling was testing his patience.
"Chairman Kim does not want to disappoint me with a violation of trust, there is far too much for North Korea to gain," Trump wrote in a tweet on Saturday.
Kim has promised to suspend only long-range missile and nuclear tests, although all ballistic missile activity is banned under U.N. Security Council sanctions resolutions.
Seoul and Washington have kept the training low-key, but the North still lashed out against it.
A Foreign Ministry spokesperson accused the allies of violating agreements made during the recent détente, including the pact reached by Trump and North Korean leader Kim Jong Un during their first summit last year in Singapore.
"Despite our repeated warnings, the United States and South Korean authorities have finally started the joint military exercise targeting the [North]," the unnamed spokesperson was quoted as saying by the state-run Korean Central News Agency.
"Although the U.S. and South Korean authorities are playing all sorts of tricks to justify the joint military exercise, its aggressive nature can neither be covered up nor whitewashed in any manner," it said.
South Korea made its initial announcement about Tuesday's launches, which it initially said were unidentified projectiles, shortly before the North Korean statement appeared.
The missiles were fired at 5:24 a.m. and 5:36 a.m. from the southwestern Hwanghae province, the JCS said.
North Korea said it was "compelled to develop, test and deploy the powerful physical means essential for national defense" as long as its adversaries continued their military exercises.
The North remains committed to dialogue but may be forced "to seek a new road" if Seoul and Washington don't change their positions, the spokesperson said.
The report warned that if the allies continue to disregard its warnings, "we will make them pay [a] heavy price."
North Korea conducted dozens of missile tests in 2016-17 as it showed strong progress toward developing a nuclear weapon that could target the U.S. mainland.
Trump has frequently touted the suspension of the testing activity as progress in talks that began last year.
But negotiations have stalled since a second summit between Trump and Kim in Vietnam collapsed without agreement in February.
The two leaders agreed to resume working-level negotiations during an impromptu meeting on June 30 on the Korean border, but the two sides have not set a date.
gamel.kim@stripes.com Twitter: @kimgamel