North Korea fires two missiles into sea in fiery answer to US call for talks
By
Kim Gamel and Yoo Kyong Chang
August 24, 2019
---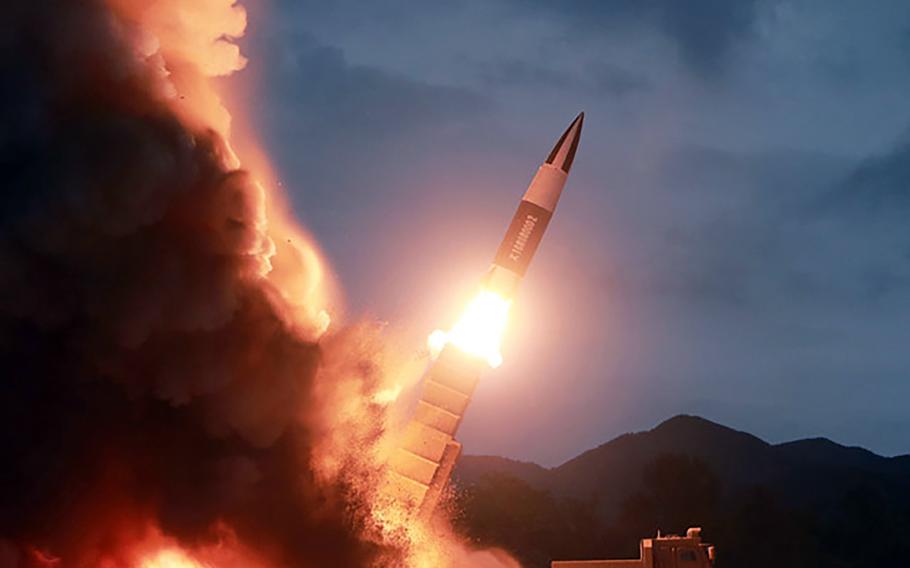 SEOUL, South Korea — North Korea fired two missiles into the sea on Saturday, South Korea's military said, a blow to U.S hopes that the launches would stop and nuclear talks would resume after military exercises concluded earlier this week.
It was the seventh weapons test in a month and occurred despite what President Donald Trump had said was a promise by North Korean leader Kim Jong Un to stop the launches after the joint U.S.-South Korean drills.
As he has in the past, Trump played down concerns about the launch, stressing that he maintains a "very good relationship" with the North Korean leader.
The presumed short-range ballistic missiles flew nearly 240 miles at a speed of Mach 6.5 – about 5,000 mph -- and reached an altitude of 60 miles before splashing into the sea, South Korea's Joint Chiefs of Staff said in a statement.
They were launched from the northeastern Sunduk area at 6:45 a.m. and 7:02 a.m., the military said, adding it was working with U.S. intelligence officials to determine the exact type of missiles fired.
"Our military is monitoring the situation in case of additional launches and maintaining a readiness posture," the JCS said.
The launch also came a day after South Korea announced that it would withdrawing from a military intelligence sharing agreement with Japan, which expires in November, amid an escalating trade spat between the historical rivals.
Japan's Defense Minister Takeshi Iwaya denounced the launches as a "clear violation" of U.N. Security Council resolutions that ban the North from using ballistic missile technology.
He noted that the missile test occurred after Seoul informed Tokyo of its decision on the intelligence sharing pact.
"As North Korea closely monitors regional affairs, I believe the country took advantage of the situation," Iwaya was quoted as saying by the Kyodo news agency.
North Korea has conducted seven missile and rocket tests since July 25. The communist state also test-fired projectiles in early May, breaking a lull in such activity amid talks with the United States and South Korea.
Trump said earlier this month that he had received a letter from Kim with a "small apology" for the tests and a promise to stop them after the United States and South Korea finish the military exercise, which the North considers a rehearsal for an invasion.
After the launches Saturday, Trump focused on the fact that the launches haven't violated Kim's promise last year to suspend long-range missile and nuclear tests.
"Kim Jong Un has been, you know, pretty straight with me," Trump told reporters outside the White House. "He likes testing missiles, but we never restricted short-range missiles. We'll see what happens."
"Many nations test those missiles. We tested a very big one the other day as you probably noticed," Trump added. He was referring to the first test of a ground-launched cruise missile since the United States withdrew from the Intermediate-Range Nuclear Forces treaty with Russia.
Nuclear negotiations stalled after Kim and Trump failed to reach agreement in their second summit in Vietnam in late February. The two leaders agreed to resume negotiations during a June 30 meeting on the Korean border, but no date has been set.
The U.S. envoy to North Korea, Stephen Biegun, visited Seoul after the exercises finished on Tuesday and said Washington was "prepared to engage as soon as we hear from our counterparts in North Korea."
Instead, the North on Friday criticized Secretary of State Mike Pompeo for insisting that the Trump administration will maintain tough economic sanctions amid diplomatic efforts to persuade Pyongyang to abandon its nuclear weapons.
"We are ready for both dialogue and stand-off," Foreign Minister Ri Yong Ho said in a statement on the state-run Korean Central News Agency.
"The U.S. is sadly mistaken if it still thinks of standing in confrontation with (North Korea) with sanctions, not dropping its confrontational stand," he said. "Then, we will remain as the biggest 'threat' to the U.S. for long and long and will make it understand for sure what it has to do for the denuclearization."
In addition to sending a strong message to Washington, the North is using the tests to advance its short-range strike capabilities, which threaten the South and some 28,500 American troops based on the divided peninsula.
Officials and experts say the weapons tested recently include versions of the U.S. Army Tactical Missile System and the Russian Iskander, which are designed to evade U.S. and South Korean missile defenses.gamel.kim@stripes.com Twitter: @kimgamel chang.kyong@stripes.com
---
---
---
---