North Korea fires two ballistic missiles in challenge to US, South amid COVID-19 struggle
By
Kim Gamel and Yoo Kyong Chang
March 2, 2020
---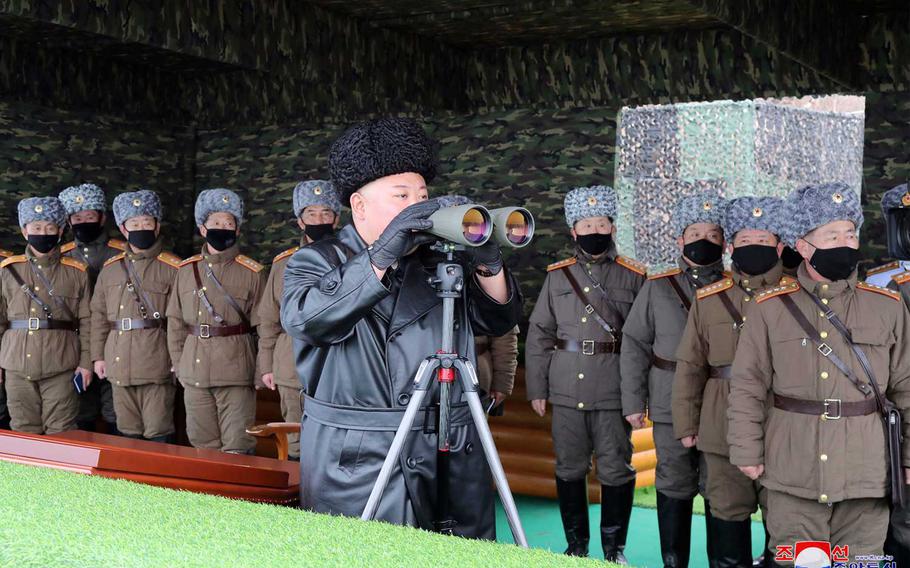 SEOUL, South Korea — North Korea fired two short-range missiles into the sea off its eastern coast on Monday, South Korea's military said, in a new challenge to Seoul and Washington amid the growing coronavirus crisis.
The ballistic missiles were fired from a mobile launcher in a 20-second interval from an area near the city of Wonsan, according to South Korea's Joint Chiefs of Staff. They flew about 150 miles and reached an altitude of 22 miles, the JCS said.
The launch, the first in more than three months, and an artillery drill conducted on Friday appeared to be part of the North's annual winter exercises, a JCS official told reporters.
It also occurred as South Korea, the United States and other governments are focused on fighting the rapid spread of the deadly new virus.
North Korea also has implemented strict measures against the virus, including sealing its borders and quarantining foreign diplomats.
Analysts said Pyongyang is likely seeking to project continued military strength.
The United States and South Korea have decided to postpone joint military exercises that had been due to begin this week because of the rapid spread of COVID-19.
"North Korea might have carried out the launches in order to show they're maintaining their military capabilities in spite of the coronavirus crisis," Lee Ho Ryung, a research fellow at the Korea Institute for Defense Analyses.
South Korea raised the total number of COVID-19 cases to 4,335 on Monday, the biggest outbreak outside China, where the virus first appeared in December before spreading to dozens of other countries, including the United States.
Duyeon Kim, an adviser with the International Crisis Group, said the North's message was likely two-pronged -- to show order on the domestic front, and "foreshadowing more provocations" in preparation for an expected "long confrontation" with Washington.
"COVID-19 will likely put nuclear diplomacy and Korean Peninsular security issues on hold for a while until it's contained," she said. "But the concern is if Pyongyang tries to take advantage of a vulnerable time for everyone and COVID-19 already seems to be fueling geopolitical rifts in this region."
U.S. Forces Korea, which commands some 28,500 American troops on the divided peninsula, has restricted access to bases and banned nonessential travel for service members after a soldier and his wife were infected.
USFK spokesman Col. Lee Peters said the command was aware of the missile launch and would continue to monitor the situation and consult with its South Korean and Japanese allies.
"Additionally, USFK remains ready to defend [South Korea] against adversary or threat … including COVID-19," he said.
The renewed military activity also coincided with the anniversary of the last U.S.-North Korean nuclear summit, which broke down on Feb. 28, 2019, after the two sides failed to reach an agreement.
"This behavior from the North is not helpful to efforts to ease tension on the Korean Peninsula, and we call upon Pyongyang to stop such actions immediately," the South Korean military said Monday.
North Korean leader Kim Jong Un expressed frustration with deadlocked nuclear talks with the United States during a New Year's address and warned his country would unveil a "new strategic weapon" soon.
He said the communist state was no longer bound by a self-imposed moratorium on nuclear or long-range missile tests.
The North launched two rockets from a large-caliber launcher on Nov. 28 but has so far avoided firing an intercontinental ballistic missile, which President Donald Trump has signaled would be a red line.
The launch also was a slap to President Moon Jae-in, who appealed for cross-border cooperation as the number of confirmed COVID-19 cases in South Korea rose past 4,000.
North Korea, which sealed its borders shortly after the virus first appeared in China in late December, claims it doesn't have a single case.
However, aid groups have expressed concern about the ill-equipped, impoverished nation's susceptibility to the virus and the situation is difficult to confirm.
The State Department said earlier this month that it supported efforts to contain the spread in the North by working to approve exceptions needed to overcome U.S.-led economic sanctions aimed at punishing the nuclear program.
Leif-Eric Easley, a professor at Ewha University in Seoul, said the North appeared determined to raise the stakes as South Korea and the U.S. face key elections.
He said the U.S. and South Korean decisions to postpone their defense drills and to offer humanitarian assistance had "earned no goodwill from a Kim regime that sees little benefit in restarting diplomacy."
"Yet, these tests are less provocative than what North Korea is capable of," Easley added. "In the short-term, the worsening COVID-19 crisis will preoccupy all relevant governments, leaving little bandwidth for either military escalation or productive denuclearization diplomacy."
gamel.kim@stripes.com Twitter: @kimgamelchang.kyong@stripes.com
---
---
---
---